Welcome to our May 2019 edition!
In this month's issue
Nimue's orchestra

Mirabilia

Heritage / John Clayton

More collections from Vervaco and Lanarte

Crochet Cotton

Riolis Review, May Bargains and Margaret Sherry
Patterns
Nimue Fee Main
has completed
Winter Love
is the latest
Mirabilia
lady. With dark blue wings she stands before a sparkling tree. And of course we can expect Spring, Summer and Autumn in due course.
While we're on the subject of Mirabilia, more embellishment packs have recently become available
Winter White Santa, Circle of Friends, Mediterranean Mermaid, Shakespeare Fairies, Spring Topiary Garden, Merchant Mermaid, Golden Girl Apple
s and
Silver Moon Tea
.
The new packs for MD104
Day Nymph
and MD105
Night Nymph
have the Valdani floss included as well as all the beads and treasures.
We'll be adding all these to the website over the next week or two.
Kits
The latest
Elegance lady
by
John Clayton
and
Heritage Crafts
is
one wedding record and two baby samplers
.
From Lanarte we have chosen
see her review of this interesting kit
.
Bargains for May
There are hardanger books, table covers and fabric in the Bargain Basement for the month of May. All are by Rico Design and as usual are at half the previous price while stocks last.
Margaret Sherry - In Memoriam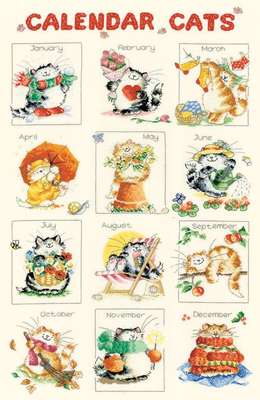 We were very sorry to hear of the death of Margaret Sherry, one of the great names of British cross stitch design. Her designs were manufactured by many of the top makers including Heritage Crafts, Bothy Threads and Anchor.
Her witty cartoon cats, mice and other animals were enormously popular and brought pleasure to lots of stitchers for many years.
And Finally
Our title is from
The Land of Heart's Desire
by the Irish poet
William Butler Yeats (1865-1939)
:
...
«
Faeries, come take me out of this dull world,
For I would ride with you upon the wind,
Run on the top of the dishevelled tide,
And dance upon the mountains like a flame.
»
...
We hope that Margaret has found her eternal dance.
Have a peaceful and productive May!