«... and to lie sometimes on the grass under trees on a summer's day, listening to the murmur of the water, or watching the clouds float across the sky, is by no means a waste of time.» - John Lubbock,
The Use Of Life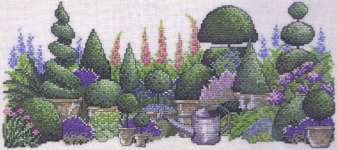 But Summer isn't over yet so let's enjoy the sunshine, the grass and the colour with
Cats Rule series
:
Crazy Cat Lady
is surrounded not only be cats but by cat objects down to her slippers;
Santa Paws
reminds us that Christmas is never far away for stitchers a cute cartoon kitten in a Santa hat. (OK, it is a Christmas design but a customer requested it specially so we sneaked it in).
Keeping with the cat theme, there's also a new plump cartoon cat kit in the
Catz & Co
series by
Karen Carter
called
A striking new landscape from Maia
has a three dimensional feel that has been achieved with the clever use of stitches from half cross stitch to whole cross stitch in one, two and three strands to make the butterfly in the foreground stand out.
Bothy Threads'
cartoon designs are always popular and this month we have two new ones from the artwork of
Pete Smith
who brought us
Kings and Queens
:
Femmes Fatale
. There are two so far
Diamonds
and
Dolce Vita
.
The evergreen
Rose Swalwell
of
Derwentwater Designs
has come up with two very brightly coloured silken long stitch kits of
Embellishment pack for the Queen Mariposa
.
In the same vein, we now have in stock
Sadwana I and get Sadwana II free
(
Only while stocks last
).
«From sea to shining sea»,
Thea Gouverneur
has introduced another major kit in her bid to take over the world and this time it's a whole country and not just a city.
America
features many of the country's most iconic landmarks and is available in 3 fabrics: White Aida, Black Aida or Evenweave. As usual we offer this superb kit at a generous discount and with free shipping.
And finally, as we lie on the grass listening to the murmur of the river, we resolve to start thinking about Christmas next month ...