Maybe we no longer think of
February, bitter February, Month of hope withheld and promise vain
as Arthur Christopher Benson rather dismally described it. As we become more encapsulated by our home comforts we tend to forget how harsh the natural world can be.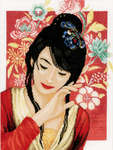 Lanarte
have released their new
Spring Collection
- in January! There's plenty there to raise your spirits in these cold, wet weeks, though ... more nature pictures from
Marjolein Bastin
and lots of
stylish ladies
(see image); and also some
cartoon cats
. We have them all on order and they should be with us next week.
Mr Men and Little Miss kits
by
Bothy Threads
are now no longer available to order so when the ones we have in stock are finished, we can obtain no more.
Ursula Michael has produced a few more «Let's ...» designs for
Imaginating
. These patterns take the form of shapes made out of related words and are very popular
Looking ahead to Easter, we now have in stock a
Christmas papercrafts
to make way for new stock so check out our Bargain Basement. The dark days of "February, bitter February" might be a good time to make next year's cards leaving the Autumn free for larger projects.
With Spring approaching we are featuring kits with
Apple and Cherry blossom
which we hope will inspire you!