«Well,» said Pooh, «what I like best,» and then he had to stop and think. Because although Eating Honey was a very good thing to do, there was a moment just before you began to eat it which was better than when you were, but he didn't know what it was called."
A.A. Milne, Winnie-the-Pooh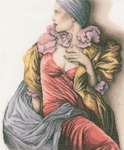 October is a time to look forward - Hallowe'en and Christmas are approaching but - before all the hectic rush - there's still time to savour those mellow moments.
For our Needlecrafters
...
Bothy Threads
have a lovely new range of kit for the nursery
2012 Special Christmas Issue
with 78 Christmas Ornaments each by a different well known designer. There's plenty of time to stitch several of these small projects this year and return to the booklet year after year for interesting ideas.
We also have their
Autumn Collection
this month.
We have some kits on
special introductory offer
while stocks last
Thistle Bees
a pretty wild flower design by
Marjolein Bastin
.
and for our papercrafters
...
Special Delivery
range of papercraft supplies from the talented
Helz Cuppleditch
. The range includes a wealth of exciting Christmas-themed supplies, including clear stamps, glitter stickers, 3D stickers, decoupage packs, wooden ornaments and much more! The range features Santa himself, as well as his cute teddy bear, bunny, cat, dog and penguin friends. Everything you need to decorate your Christmas cards this year!
And finally,
Remember to enjoy each and every
moment just before ...