Three Things
A hearty welcome to this midsummer (or midwinter if you're in Oz, NZ or Antarctica) edition of our needlecraft newsletter.

In this month's issue we have news on kits from Bree Merryn, Golden Fleece, Riolis, Anchor and many others; and there's a new Mirabilia/Nora Corbett chart for her many aficionados. There's also news for European Union customers.


Hello Kitties

We have a super new range of cute, fun and striking animal pictures by Bree Merryn the Yorkshire based artist and maker.

Here's a tantalising picture of a Caribbean scene new from Russian maker Golden Fleece.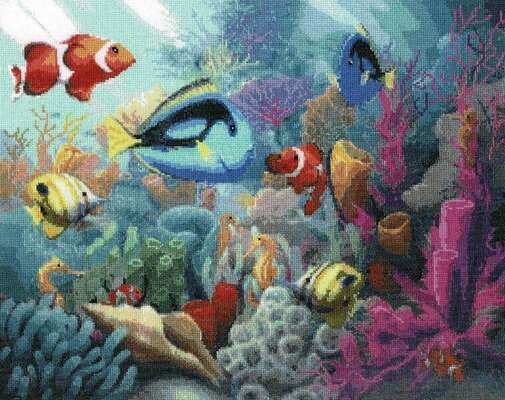 The stitches cover the entire design area so there's plenty to keep the most ardent stitcher engrossed. We don't expect to see the actual Caribbean any time soon so this might be a stitchy substitute for you. It's good value like many kits from eastern Europe.
Click here to see the latest kits!

There are two new designs from Glorafilia of tropical birds in the rainforest.


Patterns

The Twisted Mermaids with entwined tails is the latest Mirabilia design by Nora Corbett. It's sold out once already and there are more embellishment packs are in transit.

Also, we hope to receive a batch of the next 3 zodiac girls from Nora in the next week or two watch this space!


Kreinik Braid

We're afraid that Kreinik #4 braid is still very difficult to obtain. We think they are having trouble with production and/or raw materials. Anne has looked at Rainbow Gallery Petite Treasure braid as an alternative and has written a review comparing the two brands of metallic floss. It's definitely worth considering Petite Treasure braid (and they didn't pay us to say that).


Price Rises

We usually see prices going up a little at this time of year and this year is no exception.

Kreinik braid, Permin fabric, Glorafilia kits, Heritage kits and charts, Vervaco kits and Lanarte kits have announced so far. We will sell all remaining stock at the current price so the prices will go up as replacement items come in.


EU Price Cuts

Well we got your attention! From 1st July the European Union (EU) tightened its import rules. If you're in the EU you'll now have to pay VAT/TVA on all imports from outside the EU - including those from us here in jolly old Blighty.

As we mentioned in last month's newsletter we have a cunning plan: we are going to reduce our prices to EU customers to help offset the importation costs. (We had hoped to have this running by now but there were a couple of technical hitches so we hope to make it live this weekend. We'd like to hear your experiences of how (or if) this works in practice.)


Bargain Basement

This month there are DMC kits in the Bargain Basement, as usual at half the previous low price while stocks last. Don't miss out on these great value offers.


Holidays

Please note that we will be closed for orders between the 19th and the 31st of July while we enjoy the delights of a Scottish summer (torrential rain, high winds and bitey insects).


And Finally

Our title is from a quote attributed to the Buddha (Indian philosopher, 4th Century BC)

Three Things cannot be long hidden the sun, the moon and the truth

We can only hope that normal service will soon be resumed and we can all continue on our paths to enlightenment. Have a great July!


by Arts and Designs on Fri, 02 Jul 2021, 18:18