Seeking refuge with needle and thread
Welcome to our April Newsletter!

What's On and what's Off

We are continuing to work as nearly to normal as we can manage and thankfully most mail services are still operating, albeit with a reduced service.

Most of our suppliers are soldiering on but some have decided to close so we can't renew our stocks at the moment for Heritage Crafts or Bothy Threads. Bella Filipina has also told us that they can't send our order.

This month we're rather short of new kits - but there are plenty in the pipeline just waiting for the current situation to improve. More on this next month!


Patterns

Following the Nashville show a few weeks ago we've had a busy month of new patterns. Most US designers had charts ready for Nashville. Many of those patterns have already come and gone from our stock but don't worry if you've missed something as we have more on order.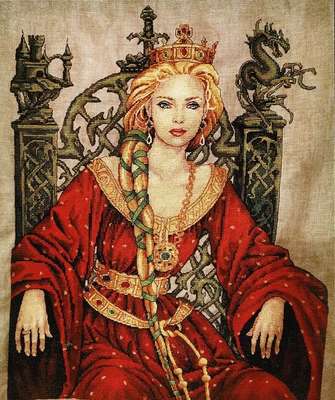 French designer Nimue recently came out with Guinevere (illustrated), a stunning interpretation of the beautiful queen of Arthurian legend. We believe King Arthur will join her in the not too distant future. As for Sir Lancelot - well, we'll have to wait and see.

Among the new designs from Nashville are several from Blackbird Designs, Rosewood Manor, Jeannette Douglas, Hands Across the Sea, Cuore e Batticuore, Heartstring Samplery, Ink Circles and Jardin Prive.

We also have charts from designers new to us Blackberry Rabbit, The Blue Flower, Madame Chantilly, Serenita di Campagna (previously Dewdrop)

See all the new releases in our Spring 2020 patterns gallery!

Nora Corbett has two new fairies from the Orchid Party Collection and another pretty house from the Holiday Village.

The latest sampler Seeking Refuge by The Scarlett House has a verse that's particularly apt for the current situation:

«When the world seems to be out of control
I find a way to nurture my soul
Seeking refuge with needle and thread
The angst and anxiety no longer I dread»

We have been rather busier than usual and it's clear that many stitchers have found solace in these trying times. We hope that you and yours avoid the worst effects of the pandemic and that we can all return to normal as soon as possible.


by Arts and Designs on Fri, 27 Mar 2020, 19:07
Summer in the Light
Hello and a windy welcome to March's newsletter!
In this month's issue ...
Lots of new kits by Lanarte, Vervaco, Julie Lynes, Haandarbejdets Fremme, Bothy Threads and Heritage Crafts

VDV bead embroidery kits

New patterns from Mirabilia, AuryTM, Stoney Creek, Cross Eyed Cricket and others

Floss Storage

Hardanger Bargains
Kits

We have the new season Lanarte kits and some of the colourful new Vervaco kits in stock. Some of the Lanarte kits are re-releases of old favourites and others are new designs.

The Lanarte release features some old favourites from Marjolein Bastin and some traditional romantic designs.

The Vervaco catalogue has a horticultural flavour with bright and cheerful garden images to cheer up dull days.

Julie Lynes has designed more bottle aprons not necessarily for wine bottles this time with an Alice in Wonderland theme. A talking point for your next tea party.

It's a busy month for new kits. We have three new designs from the Danish art company Haandarbejdets Fremme a flower cushion and a bunny cushion with a colourful Easter egg table runner. All are stitched with Danish Flower Thread on 100% linen fabric.

The new Bothy collection has arrived with five more Wrendale designs, two more Beryl Cook cartoons, new Margaret Sherry, flowers and sampler.

Betty and Norman are a sweet elderly couple produced by Heritage Crafts from the artwork of Peter Underhill. The kits are all in whole cross stitch with backstitch detail.

Anne has stitched Winter Warmth by Panna and you can see her review of this pretty design from the long-established Russian maker.


Bead Embroidery

We now have some VDV bead embroidery kits in stock. They come with colour printed background and you just add the beads. One big attraction with bead embroidery is that you never have to change thread!


Patterns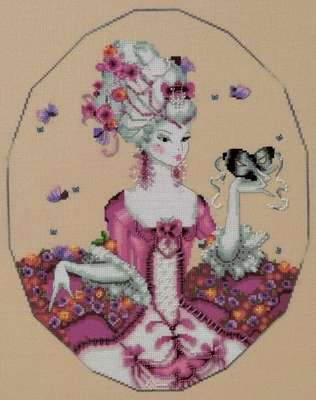 The Duchess of Rouen by Mirabilia, companion picture to The Baker's Wife has arrived. She displays all the elegance of the French court in her gown and jewels.

Mirabilia seem to have discontinued the delightful Crystal Christmas and Queen of Freedom, so we will be unable to replace those. They may still be available elsewhere.

We have some new patterns from AuryTM, Stoney Creek, Cross Eyed Cricket and others.

In early March, there is a Needlework show in Nashville, TN, USA. With four floors of exhibitors there will be lots of new designs on show and hopefully we'll have many of them next month.


Floss Storage

We all have problems storing our threads. Anne keeps hers in plastic ice cream tubs, sorted by number (we eat far too much ice cream). It re-uses plastic containers but the thread still gets tangled and some numbers part company with the cottons. A customer asked us to get Floss-A-Way bags by DMC with grip and seal bags which can be labelled and used to store single colours.

We have also found a system for storing threads short term while stitching a project and we hope to have this in stock next month.


Competition

We hope you had a chance to enter our recent competition on Facebook. If not, then don't worry as we'll be running more in the future! The winner of the Mirabilia pattern lives in the West Midlands, England but there were entries from all over the world. So keep an eye on our Facebook page for the next compo.


Bargains

The Bargain Basement has blackwork this month as usual at half previous low price.


And Finally

This month's title is taken from Great Expectations (a coming-of-age tale in which good does eventually triumph) by Charles Dickens (English writer 1812-1870):
«It was one of those March days when the sun shines hot and the wind blows cold: when it is summer in the light, and winter in the shade. »

If, with the prospect of a pandemic, you do decide to go out a little less this March then it will be a great opportunity to catch up with all those unfinished projects,. Every cloud ...
by Arts and Designs on Fri, 28 Feb 2020, 20:10
What a Tangled Web
A wet and windy welcome to our February newsletter!
In this month's newsletter
New kits from Glorafilia and Julie Lynes

New patterns from Nora Corbett and Bella Filipina

Rainbow gallery floss and Anchor crochet cotton
Kits

There are two new Glorafilia cushion front kits in the style of the Victorian Arts and Crafts designer William de Morgan. These may be stitched in tent stitch throughout or texture added using a variety of tapestry stitches.

Julie Lynes has designed some more bottle aprons this time for the popular tipple derived from the Juniper berry Gin! Julie's Gin Bottle Aprons are available as kits that include a blank apron and are quick and easy to stitch.

It's the season for new kits and Lanarte and Vervaco have announced their first Collections for 2020 which should be available later this month.

Bothy's spring collection will be released on the 11th February and they are tempting us with titbits on their facebook page. New kits are also on the way from Oven, MP Studios and Golden Fleece.

Anne finished stitching the little Lanarte kit Rock Cat, one of a series with quirky dogs as well as cats. Anne has written a short article reviewing this kit.


Patterns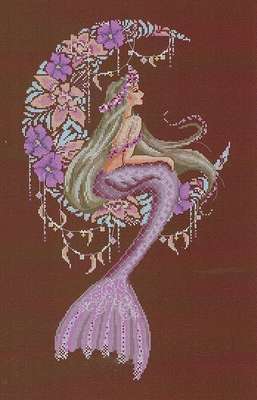 We are pleased to announce that we've just started stocking a selection of patterns by Bella Filipina. The mermaids are stitched in DMC floss with lots of Kreinik floss and Mill Hill beads. Very attractive and challenging designs and a challenger to Nora Corbett's dominance in this area.

This month Nora Corbett has introduced two new pond Pixies. Water Sprite sits on a lily pad and Dewdrops carries a leaf with water dripping from it.


Thread and Floss

We now have all the Rainbow Gallery floss which are substitutes for the Needlepaints flosses used in Lavender and Lace designs. Unfortunately the L & L designs are getting harder to find so let's hope that they are all reprinted soon.

Crochet Cotton Comeback! After an extended absence from the market, Anchor Mercer crochet cotton is again available in thicknesses 20, 40, 60, 80 and a range of colours. Please let us know if you'd like us to order some for you.


February's Bargain Basement

We have motto kits in this month's Bargain Basement as usual at half previous low price and while stocks last.


And Finally

As you probably know, the UK has now officially left the European Union. We in Scotland voted to remain in the EU partly because we believe it has generally been a force for good in the world. We are leaving against our better judgement. Things will remain as they are until the end of this year but prices will likely increase next year when the transition period ends and we have to pay Duty on goods imported from the EU.

Our title this month is from Marmion Canto VI, stanza XVII by Scots writer Sir Walter Scott (1771-1832):

«Oh! what a tangled web we weave
When first we practise to deceive!»

Perhaps we should add that this is not one of the mottos in the Bargain Basement.

As always we wish you a pleasant and mild February and remind you (and ourselves) to Be thankful for all your blessings (which is in the Bargain Basement!).



by Arts and Designs on Fri, 31 Jan 2020, 18:45
A Guid New Year to Ane an' A'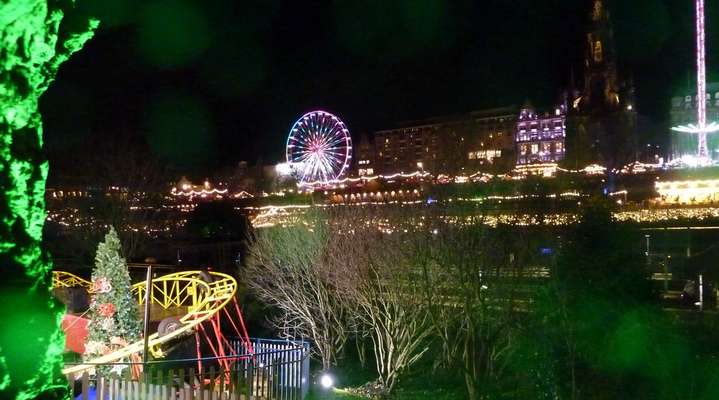 We wish you a very warm welcome to 2020 and we have only a very brief newsletter to bring in the new year as we've been on holiday over the festive season.


New Charts

Predictably, the latest Plum Street Sampler stack of animals pattern is Rack Stack a design of reindeer in the snow by Paulette Stewart.

Paulette has also completed the seasonal saltboxes set with Winter Saltboxes.


Lilith of Labrador is the new Mirabilia design. A mermaid in icy waters, she sparkles with beads and metallic floss. We feel she should perhaps wrap up warmer as it's cold off Labrador at this time of year.


Bargains for Babies

If a new baby is on the way in your family or friends in the New Year, then there are lots of birth samplers and nursery pictures in our Bargain Basement at half previous low price.


And Finally ...

We have to be positive about the future despite the many terrible things that grab the headlines. Our thoughts go out to anyone caught up in bush fires or warfare and we can only hope that things will settle down.

Our New Year anthem is all about the future and we've given the first verse (which includes the chorus). We hope you don't need a translation!

«A guid new year to ane an' a'
An' mony may ye see,
An' during a' the years to come,
O happy may ye be.
An' may ye ne'er hae cause to mourn,
To sigh or shed a tear;
To ane an' a' baith great an' sma'
A hearty guid New year.»

(traditional Scottish song)
by Arts and Designs on Fri, 03 Jan 2020, 18:38
Awhile no cares encumber
Welcome to our December 2019 Newsletter

We hope that all the political nonsense going on around the world hasn't been keeping you awake at night. Our solution - turn off the news and do something more constructive instead.

In this month's issue ...

Kits from A to ... er ... V - Anne Peden, Bothy Threads, Glorafilia, Julie Lynes and Vervaco/Disney

Charts from Satsuma, Nora Corbett

Gorjuss Bargains

Kits

We have two lovely new needlepoint kits from Glorafilia. These have flowers in Jacobean style and may be worked in a variety of stitches or completely in tent stitch.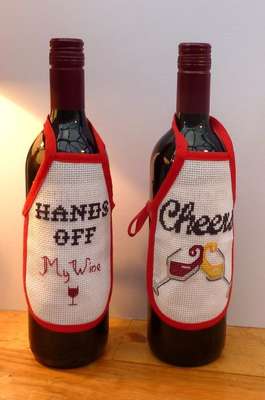 Also new and in time for Christmas are two new wine bottle aprons for Christmas designed by Julie. Quick to do and with a suitably festive motto.

Bothy Threads Winter Collection has lots of new collections Elly the elephant, long stitch cats, traditional style cushions and flowers based on Japanese wood block designs as well as some more Historical, Wrendale and Love designs.

As Disney bring out the second Frozen film, Vervaco have two new kits of Anna and Elsa taken from it. Your daughter or grand-daughter will love it.

Anne has been busy with new designs for Christmas. Her plastic canvas and ribbon Christmas Tree ornaments can be worked quickly and are very eye catching. There are more colours in the pipeline.


Charts

There are two fairies in the Orchid Party by Nora Corbett Miss Cymbi and Imperial Lady D both are elegant and colourful.

Jody Rice of Satsuma has a Zodiac series each circular cartoon design stitched on black.


Gorjuss Bargains

They don't come with better discounts than this! Our Bargain Basement this month has Gorjuss kits by Bothy threads, both tapestries and cross stitch kits and all at half their previous low price.


And Finally ...

Our title comes from one of our favourite poems - London Snow by Robert Bridges (English poet and writer, 1844-1930)

«When men were all asleep the snow came flying,
In large white flakes falling on the city brown,
Stealthily and perpetually settling and loosely lying,
...
But even for them awhile no cares encumber
Their minds diverted; the daily word is unspoken,
The daily thoughts of labour and sorrow slumber
At the sight of the beauty that greets them, for the charm they have broken.»

We hope your December is blessed with moments that touch your heart and we wish you a peaceful and productive month.

by Arts and Designs on Fri, 29 Nov 2019, 20:48
Treasure your legacy of skills
Welcome to our November Newsletter!

We hope your Halloween festivities went well and you have plenty of time to prepare for Christmas as it is most definitely a-Comin'.

In this month's issue


kits - from Just Nan and new a new elegant Lady from John Clayton

Patterns - Satsuma Street, Permin and Cottage Garden Samplings
Kits

We have recently introduced some sweet intricate designs by Just Nan. They're half way between pure designs and kits as the patterns come with the special items needed beads and charms - and you provide your own fabric and floss.


John Clayton's latest Elegance lady has arrived. Paula in her red dress is sitting on a bar stool and sipping a cocktail.


Patterns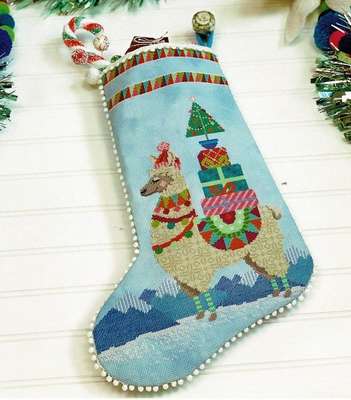 Jody Rice of Satsuma Street has designed a colourful Christmas stocking with a smiling llama - Fa-La-La-Llama! An unusual take on Christmas tradition that's sure to make Santa stop and want to fill it up.

Hardanger enthusiasts will be delighted with the new Permin Hardanger design book which features six recent patterns with ideas for different colour combinations.

The twelfth and final design in the Songbirds Garden series by Cottage Garden Samplings is now available. A sampler with a traditional message and a contemporary feel.

Apparently, there's a story behind the Baker`s Wife - the new pattern by Nora Corbett of Mirabilia Designs. Perhaps the salacious details will be revealed in the second part of this two part series. We love a good bit of gossip.

Fat Cat Cross Stitch have told us they are no longer producing greetings cards and we have put together packs of five of their Christmas cards at a much reduced price to clear.


Embroidery Bargains

There are printed table covers for embroidery in the Bargain Basement this month and, as usual, at half the previous low price. Some are stitched in surface cross stitch and some in a variety of stitches. Why not give them a go and enjoy learning a new technique?


And Finally ...

Well, Brexit had a 3 month stay of execution - so that particular can has been kicked down the road until the end of January next year. We now have the joy of an election with all the nonsense that goes with it. Who will rid us of these troublesome priests?

We were at the recent Craft/Christmas Fair in Glasgow and some of our customers were kind enough to drop by our display. We really appreciated that some of you made lengthy journeys and it was a great pleasure to meet you. We hope you enjoyed the fair - although we heard the car park was exorbitantly expensive!

In deference to our European cultural heritage this month's title is taken from Child of Europe, a poem by Czeslaw Milosz (Polish-American, 1911 2004) :

«...
Treasure your legacy of skills, child of Europe.
Inheritor of Gothic cathedrals, of baroque churches.
Of synagogues filled with the wailing of a wronged people.
Successor of Descartes, Spinoza, inheritor of the word 'honor',
Posthumous child of Leonidas
Treasure the skills acquired in the hour of terror.
...»

On that rather dark note may we lighten up a little and wish you a happy and productive November!
by Arts and Designs on Fri, 01 Nov 2019, 19:26
Here's to October
A warm welcome to our October Newsletter!

With the usual apologies to our antipodean cousins who are of course celebrating the arrival of Spring we have an Autumnal (Fall) flavour this month.

There are new patterns from the ever-prolific Nora Corbett (Mirabilia) and Plum Street Samplers, new kits from John Clayton and Peter Underhill (Heritage Crafts) and new ranges of floss from Rainbow Gallery.

And a reminder that we'll have a stand at the Creative Craft Show at the SEC in Glasgow (24-27 October). If you can come along we'll be delighted to see you!


Patterns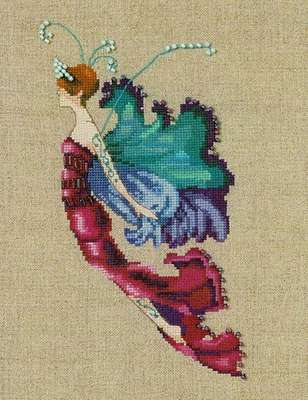 There are two new designs from Nora Corbett this month. Red Cabbage Sprite is an Autumn Pixie in a red dress with blue and green wings. The Victorian House is another in the Holiday Village series and is decorated for Christmas. There are now four buildings in the series - and probably more on the drawing board.

Plum Street Samplers continue to pile up animals cows, sheep, goats, foxes, turkeys, hens, llamas, pigs and now ... sloths. We can't wait to see which animal they come up with next (we may have an office sweepstake).

We've had many requests for Lavender and Lace patterns but sadly we've been unable to obtain these recently. The designer Marilyn Leavitt-Imblum died in 2012 and prints of her designs have been dwindling since. We checked the Lavender and Lace Facebook page and found a posting in June saying that the following patterns need to be reprinted
L&L11 Spirit of Christmas

L&L12 Enchanted Alphabet

L&L24 Oh Christmas Tree

L&L25 Angel of LoveL

L&L48 Firefly Fairies

L&L54 Secret Santa

L&L62 Dance of the Roses

BR11 Rose Sampler

but there is no indication of when that will happen.

There is a complete listing of designs reachable from the L&L Facebook page.


Kits

With plenty of time left until Christmas Peter Underhill of Heritage Crafts has brought out a Santa kit in the Simply Heritage series. We love the slightly subversive undertones in this witty design.

John Clayton and Heritage Crafts have also added a new lady to their Elegance Collection. Paula in a red dress and sparkly shoes is sipping a cocktail. We expect to have her in stock next week.


Supplies

We now have more Rainbow Gallery floss in stock including Petite Treasure braid in gold.


Permin have informed us that there are no longer manufacturing 32 count Milk Chocolate linen. This fabric is used in many Nora Corbett and Mirabilia kits.

We have several pieces still in stock in both fat quarter and 46 by 46 centimetre sizes and there are several close shades like Amber and the new Dark Chestnut.


Anne's October Review

Anne stitched and reviewed Winter Ruby Christmas Tree Decoration by MP Studios which is a Christmas bauble sewn on plastic canvas with an ingenious 3-D appearance.


October Bargains

We have cartoon kits in our Bargain Basement for the month of October as usual at half previous price. There's quite a varied range.


And Finally ...

This month's title is from an essay by A A Milne, creator of Winnie the Pooh. The essay is called A Word for Autumn and is from a 1920 publication titled Not That It Matters.

«Yes, I can face the winter with calm. I suppose I had forgotten what it was really like. I had been thinking of the winter as a horrid wet, dreary time fit only for professional football. Now I can see other things - crisp and sparkling days, long pleasant evenings, cheery fires. Good work shall be done this winter. Life shall be lived well. The end of the summer is not the end of the world. Here's to October - and, waiter, some more celery!»

We ourselves may not be able to face the winter with calm. The embarrassing fiasco that is 'Brexit' has left us all entirely uncertain as to its consequences on our business - and our society.

We hope your own Autumn is somewhat less fraught. Here's to October may it never end!






by Arts and Designs on Fri, 27 Sep 2019, 18:46
All in the golden afternoon
Hello again and welcome to our September newsletter.

As you're a stitcher you will always be thinking ahead and now that the schools are back, it's time to start thinking about - shh... you know what again. New kit releases from Bothy Threads and Heritage Crafts give a hint of what's coming up over the next couple of months.


Patterns and Charts

We have dozens of brilliant new cross-stitch charts by Jody Rice of Satsuma Street. They are all fun to do and come in high quality full colour.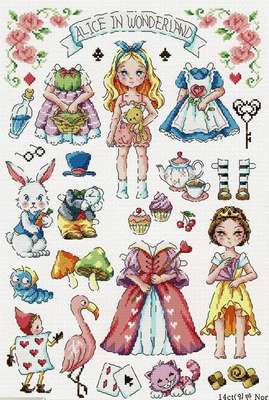 Also new in this month are charts by Soda Stitch with fairy tale themes. Create your own variation with the 'paper doll' Alice in Wonderland sampler from this range.

The latest Mirabilia Garden Prelude is stunning. It's a lady playing a violin in the Metropolitan Cloisters. Our first delivery sold out very quickly and we now have more charts in stock. The embellishment packs also sold out quickly and there are more coming in next week.


Kits

Heritage Crafts have introduced a new Thread Bears kit William at Christmas - with a little teddy gazing wistfully out of the window waiting for Santa.

Bothy Threads have released their Autumn Collection which has lots of designs with Christmas in mind including four cute Christmas cards from the artwork of the late Margaret Sherry.


Hangers

We are trying out a new bellpull hanger from Permin. It's metal with black enamel and is available in sizes from 16 centimetres to 65 centimetres. We only have a few sizes at the moment and would be happy to order any of the others.


Bargain Basement

There are maps in the Bargain Basement for the month of September and as usual they're at half the previous discounted price. Don't miss out and lose your way!


Offline

We've been online for nearly 15 years now and so we've decided to go offline to see what the real world looks like! Which is just a roundabout way of saying that we'll have a stall at the Creative Craft Show in the SECC, Glasgow at the end of October (Thursday 24th to Sunday 27th). If you live near Glasgow why not come along - we'd love to see you there!


And Finally

Our title comes from the poem by Lewis Carroll (1832-1898) in Alice's Adventures in Wonderland:

«All in the golden afternoon
Full leisurely we glide;
For both our oars, with little skill,
By little arms are plied,
While little hands make vain pretence
Our wanderings to guide.»

We trust your afternoons are golden and we wish you a leisurely September.
by Arts and Designs on Fri, 30 Aug 2019, 20:07
In the blue and glowing days
A sunny welcome to our August newsletter!

As you might expect in the Summer holidays, there's very little that's new in needle-crafting this month.

New Releases

Regular as clockwork, Mirabilia brought out two new Nora Corbett designs in the middle of July. Miss Honey Bee and Miss Queen Bee are the latest designs by Nora from the Intriguing Insects series.

Our image this month is by Lanarte and you can see her details here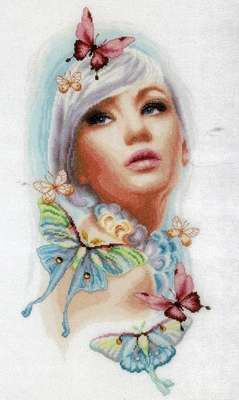 Heritage Crafts have added a new design to their Simply Heritage collection The Misfit by Peter Underhill and they have re-released William in the Window by John Clayton.


Reviews

Julie tried out the new Super Tight Plastic Embroidery hoops by Siesta Frames. The inner frame has a 'lip which fits snugly into the groove of the outer frame and they have a strong adjustment screw. She was delighted with the results since she didn't have to adjust the tension as she did with a wooden hoop. We have added more sizes and we hope you will also find them an improvement on wooden hoops.

Anne has been busy stitching this month. She stitched the very popular Chickadee kit by Valerie Pfeiffer from Heritage Crafts and you can see her review here.

She also stitched a small Needlecart World kit Nasturtium Fan and you can see here how it worked out.


Sew and So

Like so many in the needle-crafting world, we were saddened to hear of the demise of Sew and So. They gave us useful advice when we first started nearly 15 years ago and we were very grateful for it. It's a pity that a well-run and friendly online shop has fallen foul of a badly managed conglomerate and there are lessons to be learned for all UK small businesses. We wish their staff the very best for the future and we hope to live up to the standard of good service online that Sew and So pioneered.


Bargain Basement

We have Imaginating kits in our Bargain Basement this month at half previous low price.


And Finally

Our title is from the poem Summer Sun by Robert Louis Stevenson (Scottish writer, 1850-1894)

«Great is the sun, and wide he goes
Through empty heaven with repose
And in the blue and glowing days
More thick than rain he showers his rays.»

We hope that the sun is showering his rays on you whichever hemisphere you happen to be in and that your summer is long, fruitful and relaxed!
by Arts and Designs on Fri, 02 Aug 2019, 17:42
Sing Oak, and Ash, and Thorn, good sirs
A hot and sticky welcome to our July '19 newsletter!
This month
New kits from RTO, Luca-S, Bothy Threads and Lanarte

New patterns from Karen Kluba and Nora Corbett

Bargain cities
Kits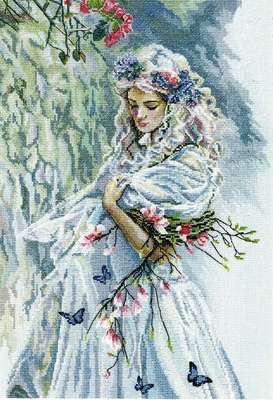 We have some interesting kits from RTO`s summer collection. Listening to the Silence is a lovely lady among flowers and Tree Nymph (Illustrated) is an ethereal figure with flowers also in woodland. The other designs are set in jungles Jaguar, Zebra and two designs of exotic blue flowers with palm leaves.

Also new this summer from Luca-S there are flowers, fruits and a pretty pillow of Paris complete with blue linen backing fabric and zipper.

The new Bothy Threads kits are now in stock. We've chosen three New England seaside designs, two Bayeaux tapestry excerpts, two new Wrendale designs, two tapestry cushions and a Tree of Plenty. You can see the full summer collection in our online catalogue and we'll be happy to order any of the kits we don't currently have.

The early release of kits from Lanarte`s third 2019 Collection has a lovely fantasy picture of a lady from the Romance series and for cute little animals from Marjolein Bastin mouse, bunny, hedgehog and squirrel. The designs use a lot of backstitch and long stitch to make the animals look furry and prickly.

The full collection will be available in just over two weeks and you can see a preview in our online catalogues. We've already had enquiries about the Winter Elf so do let us know if there is something you'd particularly like and we'll order as soon as we can.


Patterns

Karen Kluba has revised and re-released Baltimore Rose Wedding Sampler as so many customers had asked. It was always a very popular design.

Mirabilia Designs' latest pattern is Cathedral Woods Goddess, a regal lady in greens and browns who lives in the deep, dark woods. We have sold out and have already re-ordered so we're sorry if you missed her first time around.


Bargain City

For the month of July there are cities in the Bargain Basement London, Paris, New York, Madrid and Moscow and in different styles.


And Finally

Our title comes from the poem A Tree Song by Rudyard Kipling (in the book Puck of Pook's Hill)

«Of all the trees that grow so fair,
Old England to adorn,
Greater are none beneath the Sun,
Than Oak and Ash and Thorn.
Sing Oak and Ash and Thorn, good Sirs
(All of a Midsummer morn)!
Surely we sing no little thing,
In Oak and Ash and Thorn!»

What a debt we owe our trees! They protect us from the worst of the sun and soak up some of our excess Carbon Dioxide. Let's plant more.

We hope you have been able to avoid the extreme midsummer (or midwinter) weather and we wish you well through the month of July.
by Arts and Designs on Fri, 28 Jun 2019, 18:23
Earlier Stitchcraft News ...
We shall get there some day ... A warm welcome to our June newsletter
Dance upon the mountains like a flame ... Welcome to our May 2019 edition!
The First of April ... Hello and a warm welcome to our April 2019 newsletter.
Many are our Joys in Youth ... Greetings and welcome to our March 2019 Newsletter ...
Winter is the Better Season ... Welcome to freezing February - or feverish February - depending on where you live.
As sleeps the patient rose ... Happy New Year and a Hearty Welcome to our January 2019 Newsletter!
Ring every day the chimes ... A very warm welcome to our December 2018 newsletter!
November comes And November goes ... Welcome to the November 2018 newsletter!
Summer has two Beginnings ... A Windy Welcome to the October 2018 Newsletter!
September days are here ... Welcome to our September newsletter ...
Remember to be Gentle ... A warm welcome to our sultry August newsletter ...
Answer July ... In this month's Issue ...
Knee-deep in June ... Welcome to June's Newsletter!
In the Cherry Blossom's shade ... ... In the Cherry Blossom's shade
See the land, her Easter keeping ... ... Welcome to our Easter 2018 newsletter
The winds of March were wild and drear ... ... A warm (especially if you live in Britain) welcome to our March newsletter.
Fair Maid of February ... A very warm welcome to February's newsletter!
The New Years Come, The Old Years Go ... ... Welcome to our last newsletter of 2017 (and first of 2018).
I heard the bells on Christmas Day ... A warm, festive welcome to our December newsletter!
The Black Cat and The Philosopher ... Hello and welcome to our Halloween newsletter ...
O wad some Power ... ... A warm welcome to our Autumnal newsletter.
Faith is the Bird that feels the light ... Welcome to September's Newsletter!
If ever any beauty I did see ... ... ...
She sights a Bird ... Welcome to our July 2017 newsletter
There are Moments ... ... "There are Moments, above all on spring evenings, when the lakes that hold our moons are sucked into the earth and nothing is left but wine and the touch of a hand."
Ne'er cast a cloot 'till May be oot ... A warm Spring welcome to the May 2017 newsletter!
Paint the Meadows with Delight ... A warm welcome to our April 2017 issue ...
Each minute sweeter than before ... A warm welcome to our March 2017 newsletter!
I wonder if the sap is stirring yet ... ... A warm welcome to our February 2017 newsletter!
One Little Person ... «One little person, giving all of her time to peace, makes news.
Warlocks and witches in a dance ... « Warlocks and witches in a dance;
Let Love Take Root ... ... ...
No Man Needs a Vacation ... ... ...
A Fur Coat in Texas in August ... Hello and welcome to our August newsletter!
If there is a limit to all things ... Welcome to the July newsletter!
Lux Tua Via Mea: Your Light's My Way ... Greetings and a warm welcome to our June newsletter.
Love, whose month is ever May, ... ... Welcome to May's Newsletter
Shamrocks, Walls and a Touch of the Blarney ... Welcome to your April 2016 newsletter!
Zen and the Art of Stitching ... A warm welcome to our March Newsletter.
Year of the Monkey ... We hope you enjoyed your Christmas and New Year celebrations.
It's Raining Cats and Dogs ... Happy New Year
The stockings were hung by the chimney with care ... ... ...
Treacle Scones ... Welcome to our November newsletter ...
Drawing the Impossible ... A warm welcome to our October newsletter.
On a bank of flowers, in a summer day ... Perhaps summers were better when Burns wrote the poem whose first line forms our title this month.
Imagination Rules the World ... We were inspired by the 200th anniversary of the Battle of Waterloo on the 18th June 1815 and so this month's title is a quotation attributed to
When pleasant sights salute the eyes ... «It is the month of June,
Ne'er cast a cloot ... ... Ne'er cast a cloot ...
Happy Easter! ... In this month's newsletter ...
We are Stardust ... ... «We are stardust
Kings may be blest ... As the birth of our national bard,
Ring in the New ... Welcome to 2015!
'Tis the season to be jolly! ... As the cold nights draw in, it seems a good idea to raise our spirits and Christmas is the ideal way to do it.
Peace, Prosperity and Pleasure ... To Keats it's the "Season of mists and mellow fruitfulness" and to Bryant [it's] "the year's last, loveliest smile".
No spring nor summer's beauty hath such grace ... ... Welcome to our October newsletter - it's a little longer than usual as there's lots to tell you.
Rest is not idleness ... «...
Worth Waiting For ... We hope your summer (or winter) has been as pleasant as ours.
This Sporting Summer ... This year it's certainly another summer of sport with the World Cup in Brazil as well as the usual round of tennis, golf and other tournaments.
People Take Pictures of Summer ... ... «People take pictures of summer, just in case someone thought they had missed it, and to prove that it really existed.»
A spirit of youth in everything ... The title is taken from Shakespeare's Sonnet XCVIII
San Serriffe and the Spaghetti Harvest ... Welcome to our April newsletter ...
No one relaxes in March ... Indoors or out, no one relaxes
A Hint of Spring ... Maybe we no longer think of
A Big Year ... Happy New Year!
Time to Reflect ... Less than 3 weeks to Christmas now so if you didn't manage to finish that cross-stitch Advent calendar in time ...
Now's the Time! ... The astrologers tell us that whoever is determined to achieve something can make significant progress during November.
No Time for Poetry ... There's no quote from a great poem this time!
Autumn is a second Spring ... ... «Autumn is a second Spring when every leaf is a flower».
That beautiful season the Summer! ... ...
The Meadows' Queen ... «The empress of the year, the meadows' queen,
Spring Cleaning ... It's «out with the old and in with the new» this month as many suppliers have been having a Spring clean.
Hot Cross Stitches ... You may be enjoying your break for Easter which falls this weekend.
Moscow, March and Mary ... Commonwealth Day
If we had no winter, the spring would not be so pleasant - Anne Bradstreet ... February was the month of purification for the Romans - who evidently did their spring cleaning earlier than most of us.
January, month of empty pockets! ... Welcome to our January 2013 newsletter, and may we start by wishing you
Childhood's Beginning ... As the Christmas season approaches, we, like everyone else, are preparing for the big day.
Clocks, Crafting and Ceremony ... Our clocks went 'back' last weekend and we've still to adjust to our new time zone after a week.
Anticipation ... «Well,» said Pooh, «what I like best,» and then he had to stop and think.
Departing summer hath assumed an aspect tenderly illumed ... Welcome to the September newsletter!
The important thing in life ... Here in Britain
Summer's lease hath all too short a date ... Vervaco's summer Collection
A Light In The Darkness ... As you may have heard
The Month that May be Named ... Did you remember to wash your face in the morning dew on 1st May?
Soft in Flowered Languor ... April is
March marches in and the year marches on ... Welcome to our March 2012 newsletter.
A Whole New Day ... A huge welcome to February - which of course has one extra day this year.
... and gie's a hand o' thine! ... A warm welcome to our December newsletter.
December 2011 - Beads, Tapestries and Hotheads ... December is upon us again.
Transylvania and Turnip Lanterns ... Welcome to the end ...
Lanarte Autumn releases, Taller de Canamazo and Disney Dreams ... Welcome to October - normally a time for misty mornings and central heating.