Of witches and winter breaks
A wild and witchy welcome to this month's newsletter! We're sending it out a day later than usual.

If you've already been celebrating Halloween we hope you had a fun time and the hangovers from the 'witching hour' haven't been too bad!

We ourselves love the British tradition of 'Guy Fawkes night' which we hope to enjoy next weekend!


This month we're talking about new kits from Bothy and Lanarte, the latest Bella Filipina design, new bead boxes and more printed Aida, Evenweave and Linen fabrics from Fabric Flair.

We also have an important announcement concerning our Winter break this year.

Now, to business ...

Kits, Charts and Supplies

Bothy Threads have released their Autumn 2023 catalogue and we have chosen shoes, sheep, Wrendale designs, embroideries and tapestries.

Check out their catalogue for the entire range and let us know if there's anything that especially takes your fancy.

Lanarte's latest design The Purrfect Stare (illustrated) recently arrived from Belgium.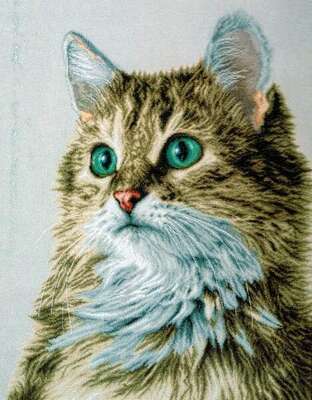 This superb kit has been a long time coming. It's a substantial piece of work and it's been in demand so far despite the hefty price tag.


The latest Bella Filipina design Olivia, the Forest Witch is already very popular. The beads and treasures are on order for the embellishments pack and we hope they'll arrive soon.

We've replenished our stock of Fabric Flair and added more new designs and fabric variants.

If you're looking for more bead storage, we've added new bead boxes with fourteen compartments which complement the seven compartment version and are only slightly pricier.


Winter Break

This year we've decided to take an extended break and to shut down the website for most of the month of December - starting on the 8th and continuing into January next year.

We just need a chance to recharge our batteries

We'll send you a reminder in our next newsletter at the end of November.

We've been under pressure this past year from encroaching bureaucracy, price rises and Royal Mail and other supplier problems. This has meant a lot of extra behind the scenes work (still going on!).

What kept us going was the continuing kindness and forbearance of our customers many of whom had to wait months earlier in the year after Royal Mail's systems completely collapsed and we couldn't send anything overseas.

So a big shout out from us to you all. We definitely have the best customers in the world!


by Arts and Designs on Sat, 28 Oct 2023, 17:14
O hushed October morning mild

A warm welcome to October 2023's newsletter.

We hope you've had a great summer or a great winter. Here in Scotland we're looking forward to some 'mellow fruitfulness' as the leaves turn russet, the days get shorter and the log fire brings warmth to our toes. We also have some upcoming ceilidhs and those are a great way to warm up too.


Shipping Charges

Before we get started we need to tell you about shipping.

As you may know, we've always had free shipping everywhere on kits and patterns. The huge recent rises in international shipping costs have made it impossible to keep this on so we're going to keep free shipping on kits and charts to the UK only.

There will now be charges for shipments elsewhere but we'll be absorbing part of them.

Don't forget that our shopping cart displays the shipping cost up front.


Designs

Nora Corbett has some lovely new designs. Goddess Garden under the Mirabilia label is a fountain and there are two more small floral patterns under the Nora Corbett label.

Unfortunately, Wichelt who manufacture and distribute Nora's patterns seem to be falling further and further behind in their despatches. It now takes 8 weeks from the time we place our order to the time they despatch it. We don't know why but we hope they recover soon.

There hasn't been a new Bella Filipina design this month - possibly as Drin, the designer, has been concentrating on a stitch-along.

We now have all the beads needed for the Mad Tea Party so bead packs are available.


Free Pattern

Julie has put a little free design on our facebook page. Please visit and indicate if you like it. If it's popular she will try to produce more free designs.


Kits

Anne has produced an up to date catalogue for Alisa and we have a lot more of their small realistic animal portraits. The cute Rabbit is one of a number of furry cuties.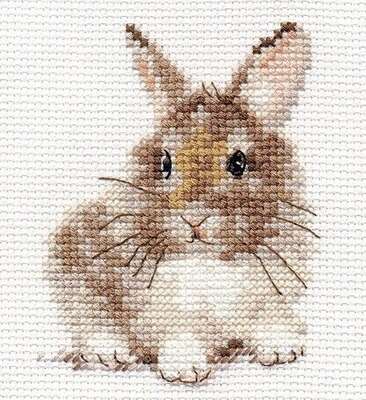 English maker Bothy Threads' Autumn Collection will be released on the 17th October. We're told there will be some Christmas designs and some more of their popular ranges. We'll publish the catalogue as soon as we can.


Frames

For our UK customers we have a variety of hanging frames both circular and oval and in various colours.

Our experiences with shipping frames overseas have not been good in the past so we've decided to restrict these ones to UK delivery only.


And Finally

Our title this month comes from October by Robert Frost, American poet, 18741963

«O hushed October morning mild,
Begin the hours of this day slow.
Make the day seem to us less brief.
Hearts not averse to being beguiled,»

We wish you a mellow and fruitful autumn and perhaps a beguiled heart ...
by Arts and Designs on Fri, 29 Sep 2023, 18:12
Haply I think on thee!
A warm welcome to our September 2023 newsletter!

If you're new to these newsletters we usually issue one main letter a month highlighting new additions to our stock along with news about needlecraft matters. Each week between, we send you a list of new items that match your criteria (so you might not receive any if we haven't added anything that's of interest to you).

In this month's issue we're featuring kits from Luca-S, Heritage Crafts, Bothy Threads and Permin. We have some new stitching hoops from Nurge and more positive news about Kreinik metallic threads.


Kits

We have some lovely new kits from Luca-S dogs, cats, flowers and wildlife. Excellent quality kits at very competitive prices!

Heritage Crafts have a new designer. Mel's Stitches kits feature escapist, eye-catching, colourful fantasy landscapes and are worked in whole cross stitch and backstitch.

There's also a new watercolour lady violinist in full swing from the excellent John Clayton reminiscent of the expressive Dutch musician, Janine Jansen.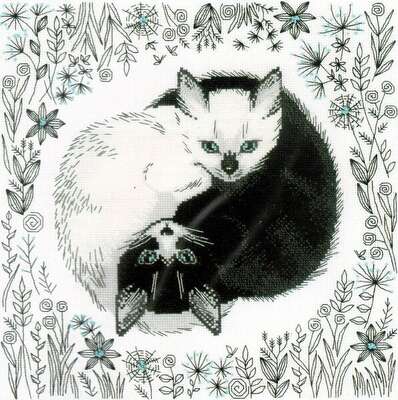 Yin and Yang are a cross stitch kit by Riolis.

We've also added two cute coasters from the artwork of Valerie Pfeiffer whose designs are perennial favourites with stitchers the world over.

Bothy Threads` latest collection has more Wrendale, Morris cushions, samplers and a Christmas street. So far we've chosen two of the popular Shoe designs, a dragonfly embroidery, sewing mouse and a baby elephant. We've published the catalogue and we'll be happy to answer questions or order anything from it. Just ask!

Permin have just released their fourth collection of the year. The third collection was all about Christmas but this one is varied with birth samplers, cushions, samplers and cartoon quips in hoops. We have online catalogues for both.

And while we're on the subject, Anne has produced an up to date catalogue for Golden Fleece kits which feature a huge range of genres including stunning wildlife, fabulous cities, sublime classics and lots more.


Charts

For once, there's not a lot to say here!

Bella Filipina's latest design Mad Tea Party has been very popular, so much so that we sold out of it and its companion The Poison Apple. They are both winging their way over from the far side of the planet and should be back in stock very soon.


Supplies

Just in, a range of Nurge stitching hoops, the popular rectangular brand from Turkey featuring clever, effective design and sturdy build quality.

We've also found yet more needle minders if you're building a collection.

Mill Hill beads, and of course all bead embellishment packs are taking even longer to be delivered - now about six weeks. Unfortunately the Magnifica beads are still not being manufactured which makes the embellishment pack for the popular Mirabilia design Nightingale unobtainable. We last obtained Magnifica beads in February 2022! We can only guess that there's a raw materials supply problem somewhere which is preventing manufacture of these.

Kreinik #4 (very fine) metallic threads do seem to be coming back on supply, although we still can't get the complete range.

We've increased the price of DMC stranded cotton. We know this is a staple for stitchers and we've held the price down for as long as we can. The prices we pay - of just about everything from postage (which is also going up again soon by the way), to packaging and payment fees have made this increase inevitable. We hope to hold the new price until at least Christmas but it may have to go up again afterwards.


And Finally

Our title comes from Shakespeare's Sonnet 29 and it seems to urge us to happy memories, as of summer, and to rejoice in them rather than dwelling on the past.

«Haply I think on thee, and then my state,
Like to the lark at break of day arising
From sullen earth, sings hymns at heaven's gate;
For thy sweet love remember'd such wealth brings
That then I scorn to change my state with kings.»

We hope you've enjoyed your summer and it's given you a lot of happy memories, too!
by Arts and Designs on Fri, 01 Sep 2023, 18:27
Their glory is my rich reward
Greetings and a sunny welcome to our June 2023 newsletter.

In this month's letter we're talking about kits from Bothy Threads and Glorafilia, silks from Au Ver a Soie and even more pretty needle minders for your collection.


Kits

Bothy Threads' Spring 2023 collection has arrived in stock and we have chosen the three new Shoe Art kits, another Menagerie and more Wrendale and Country Estate designs for your stitching pleasure.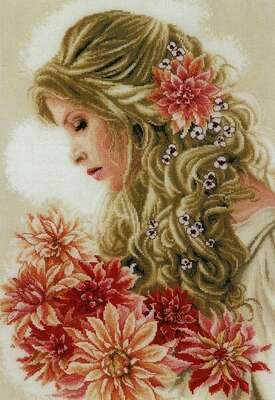 Bothy are moving away from transparent plastic wrapping for their kits to cardboard containers. Good news if you're sensitive about the use of plastics in packaging.

We have two new mini needlepoint kits of William de Morgan birds by Glorafilia. From the same manufacturer we have some realistic birds on cushions by designed by Celia Lewis.

Permin have recently moved premises which caused a lot of delays to deliveries. It has all settled down now and they have even managed to produce a new catalogue, the second this year.


Silks

Following a customer request, we now have an introductory range of Au Ver a Soie silks in stock.

This pure silk floss from France is supplied in bobbins and is better suited to very fine fabric - 46 count or higher. It's available in 50 metre or 150 metre bobbins.

We can order other colours and Soie d'Alger (for less fine fabric) on request.


Needle Minders

We have found several more needle minders from different companies some stitching related, some cute and some just pretty.

We have even found a place to keep them so that we can admire them ourselves while we're working!


And finally ...

If you've ever kept summer-blooming Dahlias then you'll know how fragile they can be over the frosty winter months. Our title is from a poem called Flower Gardener by Robert William Service, a popular British-Canadian poet (1874-1958):

«My dahlias are my pride today,
And many my creations be.
They're worth a fortune, people say,
But what does money mean to me?
Their glory is my rich reward,
And as their radiant heads they raise,
I dedicate them to the Lord,
With love and praise.»

Whatever your pride might be - topiary or tapestry, cultivation or cross-stitch - we wish you a warm, peaceful and productive summer!

by Arts and Designs on Fri, 02 Jun 2023, 18:54
The first blossom was the best blossom
Hello and welcome to the May 2023 newsletter.

In this issue we're featuring new kits from Anchor, Bothy Threads and Heritage Crafts, and new and new-ish patterns from Bella Filipina and Nora Corbett.

We've also got some new needle minders to help store those pesky things.


Kits

Heritage Crafts have added more designs for the celebration. They've also added a lovely new owl by Elaine Serenum called Spirit Guide making a set of four so far.

Bothy's Coronation Collection has been released

There's also a range of new kits from Anchor in different styles, blackwork, freestyle and counted cross stitch. Some use Anchor's new linen threads and some their new neon polyester floss and some the traditional stranded cottons.

We've chosen a few to keep in stock and you can see the complete catalogue here.


Patterns

We now have the lovely new Bella Filipina pattern The Poison Apple, from the fairy tale of Snow White.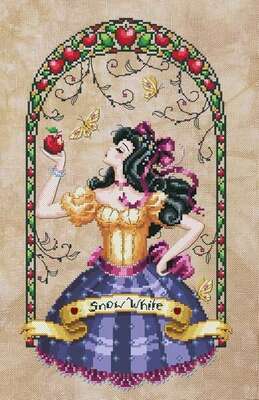 As usual the materials are lagging behind the pattern but they're all on order and shouldn't be too long!

The latest Nora Corbett designs are a departure from the usual. The Boerum Decorum series features exotic birds and flowers.


Mind that Needle

We know that needle minders have become very popular and we've been trying to find more. We have three new designs from Bothy this month with more on order from another supplier.

They get snapped up so quickly we haven't needed to find a place for them in the store so far!


Buttoning Up

Mill Hill's current button supplier is retiring. From the Autumn they will be using Just Another Button Company buttons in the Button and Bead kits. Of course the current range of buttons will slowly disappear and there will be no individual buttons.


Disappointing Distributors

Mill Hill and Wichelt who manufacture and supply Mill Hill beads, Nora Corbett patterns and embellishment packs for Nora Corbett and Mirabilia are now taking at least six weeks to despatch our orders so we're that far behind on new Nora patterns. They don't seem to have been able to get back to normal after the pandemic and we can't work out why!

Kreinik has published a list of metallic flosses which are no longer being manufactured.

As with Mill Hill and Wichelt the problems in obtaining many of the more popular #4 braids started three years ago and continue.

One of the most frequently requested is 9294 which we haven't been able to obtain since last August.


And Finally

«The first blossom was the best blossom
For the child who never had seen an orchard;
For the youth whom whisky had led astray
The morning after was the first day.» - Louis McNiece, Irish Poet, 1907-1963

We'll be rejoicing soon as our new King is crowned and this will be a first for most of us. We'll all treasure the experience and we wish the King, Charles III, well.

We're taking a few days off over the coronation weekend so we hope you enjoy the pomp and circumstance that make up this unique ceremony.


by Arts and Designs on Fri, 28 Apr 2023, 18:25
Whan that Aprille ...
Greetings, dear reader, and welcome to our April '23 newsletter!

In this month's newsletter we're featuring kits by Bothy Threads and by Heritage Crafts, and patterns by Bella Filipina and Mirabilia.


Kits

Bothy Threads has engaged a new artist - Lucy Pittaway - and she's designed some cute sheep and country designs which you can see in our online catalogue.

We have a few of our own favourites in stock.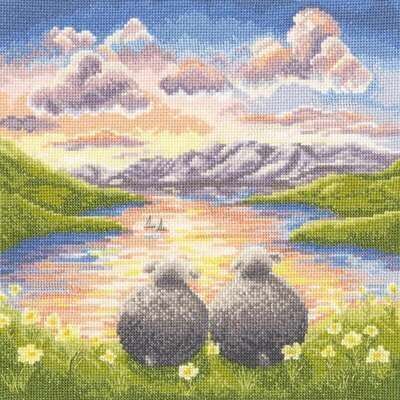 Bothy's new needle minder based on one of those designs has been very popular.

Next month, Bothy are going to release some new designs especially for the Coronation of King Charles III - and a new needle minder to mark the occasion!

Heritage Crafts have another very stylish design by Elaine Serenum, two new houses by Karen Carter and two new Golden Years kits. You can see them in the Heritage 2023 catalogue.

They've also taken on a new designer - David Merry - who has produced a set of British birds in whole cross stitch and backstitch in outline only. We haven't had time to get any of these yet but let us know if there's any you like and we'll stock up specially.

Heritage Crafts has also released a new kit to commemorate the forthcoming coronation and we'll be stocking it (we like it better than the Bothy one!).


Patterns

The sea gods Pontus and Thalassa feature in the latest design by Bella Filipina. With the delay in getting our beads orders from the USA we're sorry that there will be a few weeks wait before we can make up more embellishment packs for this.

Mirabilia's latest design is Camille in Bloom. She's a little smaller than the usual ladies but, with the background and frame stitched, she's still a large project!

Patterns from the recent Nashville Fair are still coming in and there are some even for Halloween and Christmas to give us all plenty of time.


Stitching Retreat

Julie will be attending a stitching retreat in Cumbernauld near Glasgow in the middle of April and she's looking forward to meeting up with you if you're going to be there.


Europe

We've had a lot of trouble with deliveries to the EU following problems with Royal Mail and new EU Customs regulations. We hope we've now got through the worst of it and we've started sending orders to EU countries again. So far there have been few reports of delays but we're still cautious.


And Finally

Our title comes from Chaucer's 600 year old epic The General Prologue to the Canterbury Tales.

"Whan that Aprille with his shoures soote,
The droghte of March hath perced to the roote,
And bathed every veyne in swich licour
Of which vertu engendred is the flour;" - Geoffrey Chaucer, English Poet, 1344-1400

April showers are now part of our common vocabulary and tradition and we all look forward to the rebirth that Spring brings (sorry, Australia and New Zealand!) and the blossoms 'engendered by the sweet liquor'!

We hope your enthusiasm for your craft remains strong and that you have a blossoming April.
by Arts and Designs on Fri, 31 Mar 2023, 18:37
Dear March - Come in
A very warm welcome to our March newsletter!

This month we have kits from Bothy Threads, Anchor and Heritage Crafts; patterns from Nora Corbett and Drin at Bella Filipina.

There's also news for customers in the EU.


Kits

Bothy Threads` Winter 2023 collection is now available. We're featuring the new Wrendale Designs, Birds by Madeleine Floyd and Bees by Eleanor Teasdale as well as embroideries. The new look kits come in cardboard boxes and are complete with wooden hoops.

You can see the complete catalogue here.

Bothy have updated their Kings and Queens kit and have cleverly squeezed in King Charles III. They're running out of space now so we'll be interested to see what happens when William takes over the reins (or should that be reigns?)

Anchor have new four blackwork kits in two pairs, bee and moth, circles and triangles. These are all on 14 count Aida and two of them have French knots.
Winter Forest - cross stitch kit by Elaine Serenum
New introductions from Heritage Crafts are a lovely new Elegance lady by John Clayton and two exciting designs from the artwork of Elaine Serenum one of which is illustrated (we couldn't not have a Hare somewhere!).


Patterns

Nora Corbett has returned to flowers with her latest two patterns Orange Princess and Angelique Tulip. She also has added another Winter Greenhouse.

Some of her earliest Flower Fairy designs have been discontinued Poppy, Lilac and Rose so far. Hopefully that will be all for a while.

It took a few weeks but finally Nightingale and the Nightingale Embellishment pack are back in stock.

Drin of Bella Filipina's latest design is titled Phoenix Queen. We have all the required beads on order and hope to make up the bead pack when those come in. Unfortunately, Mill Hill are still very slow at despatching and their beads are still taking a month to arrive after ordering.

The Nashville Needlework Market is on from 3rd to 5th March, so there should be a flood of new designs available later this month and in April. Perhaps in next month's newsletter ...


New Book

It's been a while since we featured a proper hardback book so we're delighted to see they're still being produced!

A customer requested A Cross Stitch Christmas which is a hardback book by Craftways and which is full of lovely Christmas designs. Although pricier than a typical pattern, it's good value as there are lots of projects inside.

We're sorry it's only available to our UK customers this is because it's so heavy and shipping overseas would be prohibitively expensive!


Needles

Our John James needle supplier has informed us that some sizes and types have been unavailable for months in particular tapestry size 24 which is the most popular for cross stitch. The problem seems to be with the packaging. Somewhere there must be a mountain of size 24 tapestry needles.


Prices

DMC floss wholesale prices are going up soon. We will hold our prices until April when unfortunately we will have to revise them.

Overseas shipping charges have been hiked several times recently (for the same reasons as your energy bill whatever those reasons might be) and that's why our prices have been going up.


EU Customers

Jim has been tearing his hair out for the past few months trying to find a solution to the problem of EU imports. We've seen all kinds of problems over the past year from our products being misclassified as dangerous goods by one EU country (!) to postal strikes to a collapse of Royal Mail's IT systems so we couldn't send overseas anyway.

We think we've now got over most of it and we'll be installing a new system for EU customers this weekend. Our shopping cart will calculate and collect tax at the time you purchase so you won't be charged extra when it gets to your country's Customs. We hope this will also speed the Customs clearance process. The tax our cart collects is sent to your own government and you should get an invoice/receipt by email.

One word of warning although we've tested it out its internals are hugely complicated and it could all go horribly wrong! We may have to withdraw it quickly if that happens. We thank you in advance for your patience and understanding.


And Finally

Our title is from a poem of the same name by one of our favourites Emily Dickinson, the prolific American poet who lived from 1830 to 1886.

«Dear March - Come in
How glad I am
I hoped for you before
Put down your Hat
You must have walked
How out of Breath you are
Dear March, how are you, and the Rest
Did you leave Nature well
Oh March, Come right upstairs with me
I have so much to tell »

How ingenious to think of a month as a living person - and how pleasant it would have been to visit Emily and hear her stories.

Don't forget to visit someone you haven't seen for a while it's such a pick-me-up, especially for an older friend or relative.

In the meantime, enjoy your stitching and be happy as a March Hare.




by Arts and Designs on Fri, 03 Mar 2023, 19:38
See a Pin
Greetings and a Happy New Year!

Welcome to our February 2023 newsletter in which we have a few new kits from Heritage Crafts and Permin with more to come soon from Bothy Threads. Plus a re-release of some Nora Corbett designs.

We've also some news on the recent Royal Mail problems that have stopped us sending anything outside the UK.


Kits and Charts

First off, Heritage Crafts have taken to releasing a few kits at a time rather having than a few big splurges. First off the press this year are two tapestry kits of sunny landscapes by Karen Carter.

With the new year comes the new catalogues. Permin is the first of these with many new kits including Birds and Animals, Cushions for Kids, Birth Samplers and much more.

Bothy's new Collection will be released early in February. Bothy are especially popular in the United States and Japan so we hope the overseas shipping problems will be resolved in time for this release. All the new collection will be packaged in their new 'eco-friendly' cardboard packaging.

Because Mill Hill Magnifica glass beads continue to be unavailable, Bella Filipina have started suggesting substitutes in their patterns. Where possible we have changed the embellishment packs accordingly. We don't know if or when Magnifica will be back so maybe other designers will start to specify substitutes.

Mirabilia's most recent design Nightingale sold out very quickly we're very sorry if you were disappointed. We had hoped to have more in stock next week plus more of the embellishment packs in a few weeks but it looks like our suppliers are sold out themselves. Our guess is they're having to do another print run and so it will take a bit longer to replenish stocks.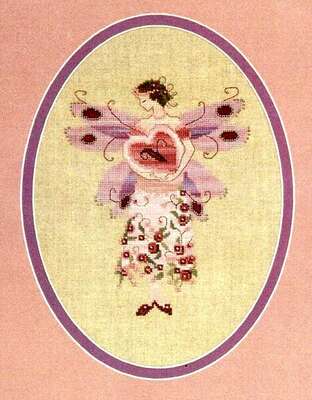 Mirabilia's Fairy Holiday Collection was introduced in kit form between 2005 and 2007 but has now been reintroduced in pattern-only format.

There are six patterns which work stand-alone or together as a group.



Overseas Shipping Problems

As we're located in Britain, almost everywhere is overseas! The packages we send to North America, Australasia and Japan all go out via a Royal Mail depot at London Heathrow and there was a big IT problem there in the second week of January.

This meant that Royal Mail couldn't send any international parcels. They've been trying to recover ever since and some packages we despatched on the 9th and 10th of January seem to have been processed (but we think the 11th is still waiting in a warehouse). We're waiting until they tell us that the backlog is clear and we can re-start sending international parcels and we hope it won't be too much longer.

We're sorry if your order got caught up in this and we thank you for waiting patiently while Royal Mail have been sorting out this mess.


And Finally

With a decidedly postal theme today we thought we'd take our inspiration from Terry Pratchet's book Going Postal which also features a post office full of undelivered mail.

"See a pin and pick it up and all day long you'll have a pin" - from Going Postal by Terry Pratchet, English author, humourist and satirist (1948 2015)

May we wish you a pleasant and productive February and a Happy Valentine's Day, whether you're frozen in the snows of Connecticut or roasted in the Canberra sun.

Until next time ...
by Arts and Designs on Fri, 27 Jan 2023, 19:01
I'm wishing at this Christmas time ...
Greetings and a Christmas cheerful welcome to our December 2022 newsletter!

Everyone is now in the Christmas mood and busily preparing for the big day. We've bought even more decorations this year although we have far too many already. It's hard to resist, isn't it. If you're in Australia or New Zealand, you'll be buying charcoal for the barbie. OK, that's a guess as we've never been there but we know you'll have a great time.

All this Christmas activity means that this month sees very few new introductions except from the 'hardy annuals' Nora Corbett, Bella Filipina, Cottage Garden and Glorafilia.

We've got some news on UK postal strikes, our Christmas break and on deliveries to the European Union which have been a bit hit and miss over the past year and half.


Patterns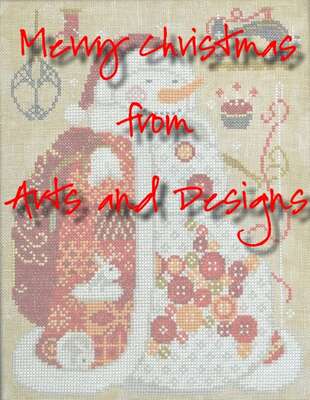 Portrait Queen is a lovely new lady by Mirabilia set in a frame with entwining red roses. As usual it's up to Nora's impeccable standard.

Bella Filipina's latest creation Magwayen is proving to be very popular and is currently sold out. We'll be re-ordering soon and should have the bead packs next week.

Cottage Garden Samplings have started a new series, this time of snowmen. The series starts with The Needleworker.


Kits

Glorafilia have added a tapestry kit titled Arts and Crafts White Peacocks. This is designed in the Arts and Crafts style with its emphasis on craftsmanship and is suitable for a picture or even a very stylish cushion.


Supplies

It seems that the Kreinik company is at last beginning to recover. They're now manufacturing most of their #4 (very fine) metallic braid - although it is taking a bit of time to filter through to us retailers. They mostly come in bigger reels now and are labelled in white. A pity as their old colour codes were helpful.

We have a lot of them to store and Anne found these sturdy storage boxes quite suitable.

Unfortunately Mill Hill Magnifica Beads are still not being manufactured. There's no word on what's happened unless you know different!


UK Postal Strikes

It won't be a surprise to our British readers but the UK postal workers are holding a series of strikes during December and this means the mail will be somewhat stop and start. We're listing the dates of the strikes in a calendar that you can visit for the latest information.


European Union

As mentioned above deliveries to EU countries have become unreliable. We believe this is because of new import rules introduced in the middle of last year and it has caused many of our customers and us a lot of headaches.

It seems that postal services have taken advantage of these new arrangements to slap on a massive fee for customs processing even for small packages. As a result we've temporarily suspended sales to the EU.

The good news is - we believe we've got the answer. We'll be introducing a new system in the new year that will avoid these ludicrous charges and also speed up Customs processing (we hope!). We really hope that we can all get back to where we were before all the nonsense started!


Christmas Holidays

Because of the mail strikes, the last posting date for Christmas mail to the UK is 16th December so we're going to make that our last day, too. We need a break and we also need to change our systems to handle all the new rules and regulations that have appeared over the past couple of years.


Bargain Basement

There's a variety of table linen in the Bargain Basement this month including hardanger, surface embroidery and counted cross stitch. Very keen prices as usual!



And Finally

Our title is drawn from the poem 'A Friend's Greeting' by an American poet Edgar Guest (1881-1959) who was hugely popular a century or so ago. This is the final stanza of the poem:

"I'm wishing at this Christmas time
that I could but repay
A portion of the gladness
that you've strewn along the way;
And could I have one wish this year,
this only would it be:
I'd like to be the sort of friend
that you have been to me."

Christmas is a time for family and friends and we dearly hope you will have plenty of both this year.

May we thank you for your custom, kindness and friendship through the past year and wish you a Very Merry Christmas.

by Arts and Designs on Fri, 02 Dec 2022, 19:10
How well I know what I mean to do
A fiery Welcome to our November newsletter!

This month we're catching up on releases from Lanarte, Nora Corbett and Cottage Garden Samplings. Bothy Threads have an affectionate tribute to our late, dearly-loved Queen Elizabeth.


Kits

Lanarte have added a new design in the culture collection of an Indian lady in traditional dress with sumptuous fabric decorated with beads and sequins.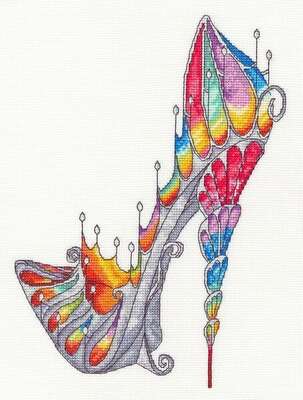 Bothy Threads Autumn Catalogue is now out and we have some of the new designs in stock. There's an affectionate tribute to the late Queen Elizabeth II, two more colourful shoes by Sally King. There are more Wrendale designs, Morris style tapestry cushions and cross stitch and a new range of Christmas cards. The catalogue has 42 new kits altogether and you can see all of them in our online catalogue of the Bothy Threads Autumn 2022 Collection. If there's something you see that's not in stock then we'll be happy to order it for you - Bothy are just down the road and we can stock up quickly.


Patterns

Nora Corbett has added another two fairies to her Rose Couture Collection. Gigantic French Rose and Malmedy Rose have a lot of materials in common. Malmedy Rose uses nearly the same beads as Gigantic French Rose - just one extra clamshell is needed - so you might consider buying just one embellishment pack to do both patterns.

There's also a new design called Conservatory from Nora's Winter Greenhouses series.

The twelfth and final pattern from the Year in the Woods series by Cottage Garden Samplings is The Reindeer.

Bargain Basement

There are cartoon animals in the Bargain Basement for the month of November.


And Finally

November 5th is bonfire night here in the UK when we celebrate a failed plot in 1605 to blow up Parliament and the King.

Our title is inspired by fire it's been at the heart of our civilisation since humans came into being. It stands for warmth, security and comfort - especially on cold winter nights.

«How well I know what I mean to do
When the long dark autumn-evenings come:
And where, my soul, is thy pleasant hue?
With the music of all thy voices, dumb
In life's November too!»

from By The Fire-Side by Robert Browning, English poet 1812-1889

As a stitcher you will be looking forward to quiet evening hours by the fireside and - like the poet - you know exactly what to do!

Until next month, enjoy your stitching and your home fire if you're lucky enough to have one.
by Arts and Designs on Sat, 05 Nov 2022, 19:12
Earlier Stitchcraft News ...
Sing a song of seasons! ... A hearty welcome to our October newsletter.
No spring nor summer beauty ... A very warm welcome to our September 2022 newsletter.
Thought Makes Man Wise ... Greetings and a sunny welcome to our August newsletter!
Six Impossible Things before Breakfast ... Greetings, and welcome to our slightly delayed June Newsletter .
When May was young; ah, pleasant May! ... Hello and a warm welcome to the May '22 newsletter!
April golden, April cloudy ... A warm welcome to our April 2022 newsletter!
Have some wine ... Greetings and welcome
By Which You May Know ... Hello again and welcome, dear reader, to February's newsletter.
May each day bring thee something fair ... A Happy New Year to you and yours and welcome to the January 2022 newsletter!
December's smile ... A warm Christmas pudding welcome to our Christmas newsletter.
Fall, leaves, fall ... Hello and
When the witches go riding ... Greetings and welcome to our October edition in which you will find ...
Thirty days hath September ... Hello dear stitcher and welcome to our September newsletter.
One day you discover you are alive ... A summery welcome to our August newsletter
Three Things ... A hearty welcome to this midsummer (or midwinter if you're in Oz, NZ or Antarctica) edition of our needlecraft newsletter.
My heart is like a singing bird ... A summery welcome to our latest newsletter in which you will find news about
Oh the cheerful Budding-time! ... Hello and welcome to our May 2021 newsletter with a jaunty air and a spring in our step!
Like a Burnish'd Throne ... Hello wonderful person and welcome to April's newsletter!
the Hope of what will be ... Hello and welcome to our March 2021 newsletter.
Thorough bush, thorough brier ... Hello and a very warm welcome to February's newsletter.
So let us melt, and make no noise ... Hello and welcome to our January newsletter.
A Thousand Christmas Trees ... Hello and a hot chestnuts roasting on an open fire welcome to our December newsletter!
To bring man nearer unto man ... Hello and welcome to November's newsletter.
Your corn is ripe today ... A big howdy-do to our October 2020 newsletter!
Learn little Maid, each useful Art ... Hello and and a warm welcome to September's newsletter.
Hope is the Thing with Feathers ... ... Welcome to our August newsletter.
We'll talk of Sunshine and of Song ... Welcome to our July 2020 newsletter!
Afoot and light-hearted ... Greetings and welcome to our June newsletter.
Reasons to be Cheerful ... A stir-crazy welcome to May's Newsletter.
Seeking refuge with needle and thread ... Welcome to our April Newsletter!
Summer in the Light ... Hello and a windy welcome to March's newsletter!
What a Tangled Web ... A wet and windy welcome to our February newsletter!
A Guid New Year to Ane an' A' ...
Awhile no cares encumber ... Welcome to our December 2019 Newsletter
Treasure your legacy of skills ... Welcome to our November Newsletter!
Here's to October ... A warm welcome to our October Newsletter!
All in the golden afternoon ... Hello again and welcome to our September newsletter.
In the blue and glowing days ... A sunny welcome to our August newsletter!
Sing Oak, and Ash, and Thorn, good sirs ... A hot and sticky welcome to our July '19 newsletter!
We shall get there some day ... A warm welcome to our June newsletter
Dance upon the mountains like a flame ... Welcome to our May 2019 edition!
The First of April ... Hello and a warm welcome to our April 2019 newsletter.
Many are our Joys in Youth ... Greetings and welcome to our March 2019 Newsletter ...
Winter is the Better Season ... Welcome to freezing February - or feverish February - depending on where you live.
As sleeps the patient rose ... Happy New Year and a Hearty Welcome to our January 2019 Newsletter!
Ring every day the chimes ... A very warm welcome to our December 2018 newsletter!
November comes And November goes ... Welcome to the November 2018 newsletter!
Summer has two Beginnings ... A Windy Welcome to the October 2018 Newsletter!
September days are here ... Welcome to our September newsletter ...
Remember to be Gentle ... A warm welcome to our sultry August newsletter ...
Answer July ... In this month's Issue ...
Knee-deep in June ... Welcome to June's Newsletter!
In the Cherry Blossom's shade ... ... In the Cherry Blossom's shade
See the land, her Easter keeping ... ... Welcome to our Easter 2018 newsletter
The winds of March were wild and drear ... ... A warm (especially if you live in Britain) welcome to our March newsletter.
Fair Maid of February ... A very warm welcome to February's newsletter!
The New Years Come, The Old Years Go ... ... Welcome to our last newsletter of 2017 (and first of 2018).
I heard the bells on Christmas Day ... A warm, festive welcome to our December newsletter!
The Black Cat and The Philosopher ... Hello and welcome to our Halloween newsletter ...
O wad some Power ... ... A warm welcome to our Autumnal newsletter.
Faith is the Bird that feels the light ... Welcome to September's Newsletter!
If ever any beauty I did see ... ... ...
She sights a Bird ... Welcome to our July 2017 newsletter
There are Moments ... ... "There are Moments, above all on spring evenings, when the lakes that hold our moons are sucked into the earth and nothing is left but wine and the touch of a hand."
Ne'er cast a cloot 'till May be oot ... A warm Spring welcome to the May 2017 newsletter!
Paint the Meadows with Delight ... A warm welcome to our April 2017 issue ...
Each minute sweeter than before ... A warm welcome to our March 2017 newsletter!
I wonder if the sap is stirring yet ... ... A warm welcome to our February 2017 newsletter!
One Little Person ... «One little person, giving all of her time to peace, makes news.
Warlocks and witches in a dance ... « Warlocks and witches in a dance;
Let Love Take Root ... ... ...
No Man Needs a Vacation ... ... ...
A Fur Coat in Texas in August ... Hello and welcome to our August newsletter!
If there is a limit to all things ... Welcome to the July newsletter!
Lux Tua Via Mea: Your Light's My Way ... Greetings and a warm welcome to our June newsletter.
Love, whose month is ever May, ... ... Welcome to May's Newsletter
Shamrocks, Walls and a Touch of the Blarney ... Welcome to your April 2016 newsletter!
Zen and the Art of Stitching ... A warm welcome to our March Newsletter.
Year of the Monkey ... We hope you enjoyed your Christmas and New Year celebrations.
It's Raining Cats and Dogs ... Happy New Year
The stockings were hung by the chimney with care ... ... ...
Treacle Scones ... Welcome to our November newsletter ...
Drawing the Impossible ... A warm welcome to our October newsletter.
On a bank of flowers, in a summer day ... Perhaps summers were better when Burns wrote the poem whose first line forms our title this month.
Imagination Rules the World ... We were inspired by the 200th anniversary of the Battle of Waterloo on the 18th June 1815 and so this month's title is a quotation attributed to
When pleasant sights salute the eyes ... «It is the month of June,
Ne'er cast a cloot ... ... Ne'er cast a cloot ...
Happy Easter! ... In this month's newsletter ...
We are Stardust ... ... «We are stardust
Kings may be blest ... As the birth of our national bard,