The Black Cat and The Philosopher
Hello and welcome to our Halloween newsletter ...

Well, actually it hasn't got much to do with Halloween - it's not spooky and it doesn't mention witches or black cats (well, only a little).

Our title is from a quote by H L Mencken, a US journalist of the first half of the 20th Century famed for his pithy comments (more later).

Now, on to business!

This month we have

John Clayton charts from Heritage Crafts

Another re-released Lavender and Lace pattern

New Nora Corbett patterns

A sampler from Needle Work Press

Halloween (there, I've said it) at Hawk Run Hollow

Hardanger kits from Permin

Printed Cross Stitch

What's happening in Canada?

Bargain Basement: Mini-kits

Charts and Patterns

Heritage Crafts have released some of John Clayton's Collections as charts - Dancers, Flights of Fancy, Flower Panels, Internationals and Power and Grace. We are happy to order any of these. The kits are still available should you prefer to work that way.

Lavender and Lace have re-released Spirit of Christmas. Hopefully more of their retired designs will become available again soon.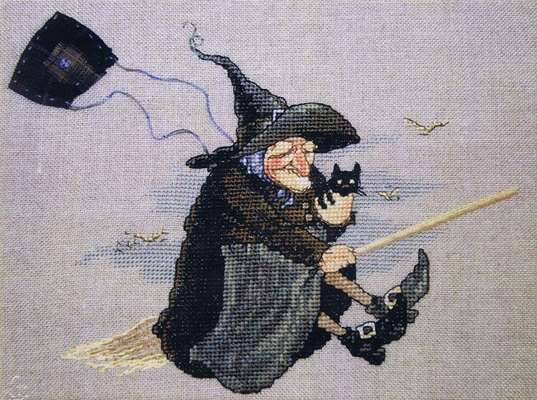 Miss Cherry Blossom is the latest design by Nora Corbett of Mirabilia Designs «she wanders through a tranquil lush garden ...»

We are collecting Letters from Mermaids by Nora Corbett. There's one for each letter of the alphabet - up to V so far - so we are eagerly awaiting the last four. They are colourful and sparkle with beads. They could be used to make a little girl's name on a door plaque or bunting, as monograms or even a complete alphabet sampler. Plenty of scope for your creativity!

When Anne came across a new pattern from Needle Work Press based on an original sampler by a girl called Jannet Speirs, she couldn't resist buying it. Her grandmother shared a name with this girl and both were Scottish although born a century apart. Anne's grandmother was an accomplished needlewoman knitting, embroidering table cloths and her speciality was crochet but we don't believe she ever worked a sampler!

We finally managed to get copies of Halloween at Hawk Run Hollow a bit late for this year but it's a big project. They've now sold out and we have more on order.


Kits

Permin have produced several pretty new small hardanger kits for Christmas a gift card wallet, bookmark, biscornu, pin cushion and scissors case.

Anne has been trying out a printed (as opposed to counted) cross stitch kit from Needleart World. These no-count cross stitch kits have coloured squares some with symbols, printed accurately on Aida blocks with a key along the edge of the fabric. Unlike printed needlepoint canvases where the printed colours match the wools or cottons used, these kits have brightly coloured contrasting printing. When the stitching is complete you wash away the temporary printing leaving only the stitching plus the permanent background. It's colourful and works really well!

The no-count cross stitch kits also have a printed full colour chart which Anne had to refer to sometimes. The Koi Carp project was very successful so we're planning to add more of these to our catalogue.


Stranded Cottons and Dye Lots

Anchor stranded cottons now come with batch numbers on the skein labels, as do DMC stranded cottons. If you place an order for several skeins, we'll try to make sure that they come from the same dye lot.


Canada

If you don't live in Canada then you can ignore this section!

A lot of packages to Canada - especially the west - have been severely delayed recently. The east seems largely unaffected. There are conflicting reports as to the cause of the considerable delays but we believe they're due to a new Customs facility at Vancouver into which packages go, never to be seen again. We have been forced to add transit insurance to all Canadian orders but those in the east can claim a refund (but not after despatch!).

We strongly advise customers in the west of Canada not to purchase anything at the moment as delivery times are unacceptably long. We are constantly reviewing the situation and we will remove these restrictions as soon as we are sure the normal, very good service has been resumed.


Bargain Basement

There are mini kits in our Bargain Basement for November as usual at half their previous low price. All are under six inches or 15 centimetres square and although small are not necessarily easy as some are worked in petit point on fine fabric.

These would make ideal 'stocking fillers' as Christmas sneaks up on us.


And Finally ...

This month's title is inspired by a quote from H L Mencken (1880 - 1956) and is of course nothing to do with Halloween at all:

«A philosopher is a blind man in a dark room looking for a black cat that isn't there. A theologian is the man who finds it.»

We couldn't resist a little witchery and the picture above is called Babayaga by Nimue Fee Main of France which comes in chart and kit formats.

We hope you and yours enjoy your Halloween celebrations. We ourselves will turn out the lights and start looking for that black cat.


by Arts and Designs on Fri, 27 Oct 2017, 18:52