One day you discover you are alive
A summery welcome to our August newsletter sorry if we're a little late this month!

In the patterns department we have much more from the industrious Nora Corbett and more designs for Halloween from various makers.

On the kits side there are new offerings from Letistitch and Lanarte with Bothy Threads about to release a new collection.


Patterns

Nora Corbett has been busy again. There are three new Zodiac Girls Cancer, Leo and Virgo and additions to the Bridal Bliss Pixies Calla Lily Bride and Pussy Willow Mother of the Bride.

Halloween seems to be on designers' minds at the moment and we have lots of new patterns this month - more to be added as time allows.


Kits

It's never too early to stitch for Christmas and we have new Letistitch releases just in.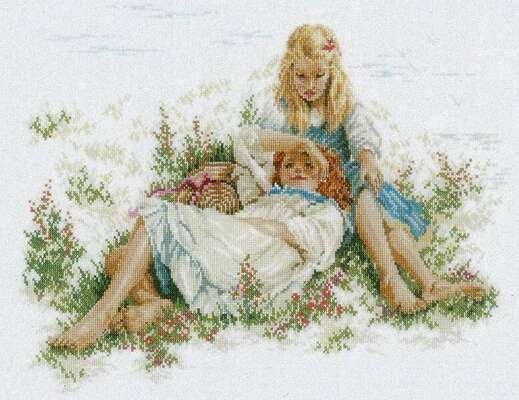 We have two new Lanarte kits. The cat is definitely new but Summertime from the artwork of Dutch Painter Willem Haenraets is a re-release from many years ago and very welcome too.

Bothy Threads will release their Christmas Collection next week with 30 cross stitch and 5 tapestry designs both from their usual contributors: Wrendale Designs, Margaret Sherry and Karen Tye Bentley and from some entirely new artists: Becky Bettesworth, Sharon Turner and Hilary Yafai. We'll post the Bothy catalogue online on Tuesday (10th August) in our online catalogues section.


Thread and Floss

We have expanded our Rainbow Gallery Petite Treasure braid to include more colours and we plan to add more colours soon.


Bargains

The Bargain Basement has Zodiac and Birthday months during August. As usual they're at half the original discounted price.


And Finally

This month's title is from the novel Dandelion Wine by Ray Bradbury (US writer 1920-2012):

«One day you discover you are alive.
Explosion! Concussion! Illumination! Delight!
You laugh, you dance around, you shout.
But, not long after, the sun goes out. Snow falls, but no one sees it, on an August noon.»

We hope that before this August is out, we'll re-discover that we're alive, and laugh and dance and shout like the boy in the story. Perhaps we can recapture the age of innocence and be amazed again by the novelty and unexpected beauty in the world.

May you enjoy a pleasant and productive August!
by Arts and Designs on Fri, 06 Aug 2021, 18:48