Each minute sweeter than before
A warm welcome to our March 2017 newsletter!
In this month's Issue:
What's New in Kits? the latest collections from Lanarte, Permin, Dimensions, Bothy Threads, Vervaco and Thea Gouverneur ...

A new kit from our own Anne Peden and a re-released kit from Eva Rosenstand

New patterns from Stoney Creek, Nora Corbett

Pink Ladies!


Needlecraft Kits

Having got over the Christmas hiatus our designers' new season's kits are coming in apace!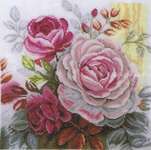 Lanarte's first 2017 Collection has a lovely Spanish lady on black, a snowy owl and lots of flowers. Marjolein Bastin has kits with flowers and chickens in her own detailed style.

We have many more kits from Permin's First 2017 Collection with table covers in cross stitch, printed table covers and hardanger table covers. There are also hardanger Easter egg ornaments and some lovely flower pictures.

From Dimensions new Spring Collection we have chosen an elegant peacock from their Gold Collection, a cute kitten and a pretty wedding record which frames a photo.

For their Spring catalogue, Bothy Threads has designs from two new artists. Beryl Cook was a well known artist with a distinctively humorous style and her plump (and sometimes naughty) ladies are instantly recognisable. Rosina Wachtmeister is an Austrian artist who paints and sculpts stylised cats in colourful surroundings. There are also four new dog designs by Hannah Dale of Wrendale Designs and four new Gorjuss kits on Aida with a beautifully colour printed vintage background.

Thea Gouverneur has three new designs for Spring. Honey Bee on Echinea is a very detailed close-up of the insect, Our Lady of Perpetual Help is a reproduction of a religious icon and Delft Blue Houses (in stock soon) is another Dutch street scene in outline.

Vervaco's first 2017 collection should be with our supplier next week with more of the very popular sepia and monochrome designs. They have also revived some of their Walt Disney kits and have lots of new ones, many from the popular Frozen certainly very popular with our granddaughter! Those are expected in April.

Madonna, a traditional picture of the Virgin Mary and child is a classic relaunch from Eva Rosenstand.

Not to be left out, Anne Peden - our own designer - has added a new blackwork design of an Indian Lady in Traditional Sari, edged with gold and available on 27 count evenweave.


Needlecraft Patterns

Stoney Creek's Home of the Month series is now complete with twelve simple designs.

Nora Corbett seems to be absolutely tireless! This month there are two new designs from the Pixie Blossoms Collection Anemone and Inkberry Holly and next month we'll have Andromeda, the latest Mirabilia design with all the beads and special threads required.




Pink Ladies (Not the kind you drink)

It's 'pretty in pink' in our Bargain Basement for the month of March with ladies in pink at half price.

April's newsletter will be a little late as we'll be at a trade fair in Cologne - we hope to have lots of news for you!


And Finally ...

As it's March, we took our title from a poem by the great English poet William Wordsworth (1770-1850).

« It is the first mild day of March:
Each minute sweeter than before,
The red-breast sings from the tall larch
That stands beside our door.

There is a blessing in the air,
Which seems a sense of joy to yield
To the bare trees, and mountains bare,
And grass in the green field.»

from To My Sister by William Wordsworth

by Arts and Designs on Fri, 03 Mar 2017, 16:36