She sights a Bird
Welcome to our July 2017 newsletter

This month we have ...

... well, very little actually!

New releases have become thin on the ground as the year moves towards the summer and thoughts turn to sun-drenched beaches and a phone-free zone.


Kits and Patterns

Zoe - she wears a yellow lace dress - is a stunning new cross stitch kit from Heritage Crafts - another of John Clayton`s Elegant ladies collection. and is available in evenweave and Aida.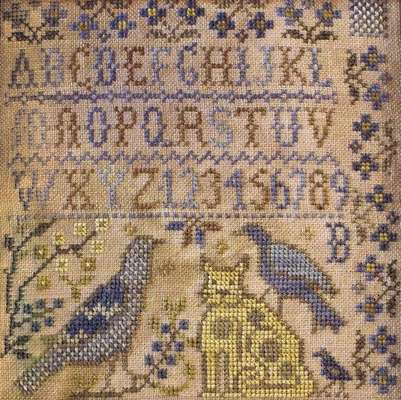 The third cross stitch pattern of Blackbird Designs' Loose Feathers series for 2017 has arrived.
Number three of nine is called She Sights a Bird and is inspired by US civil War era poet Emily Dickinson's poem of the same name. The birds - and the cat - are shown in this traditional sampler design.

French designer Nimue Fee Main has completed the set of four fairy children from the artwork of Erle Ferronniere. Cocoon and Bell are available in cross stitch either as kits on 34 count Murano or as charts.


Stock Clearance Bargains

Our Bargain Basement has an African feel for the month of July with animals and ladies from that continent.

Characterised by colourful dress and stylish design, these cross stitch kits are great value. And, as usual for the Bargain Basement, offers are half their previous, heavily discounted price.


And Finally ...

Our title is from a poem written about 1862 by Emily Dickinson (1830-1886)

She sights a Bird - she chuckles -
She flattens - then she crawls -
She runs without the look of feet -
Her eyes increase to Balls

Some people think that Emily didn't really like cats as they never seem to have much success in her poetry!

Whether you're an ailurophile or ailurophobe - or neither - we wish you a mild, pleasant and peaceful July.



by Arts and Designs on Fri, 30 Jun 2017, 18:19