Sing Oak, and Ash, and Thorn, good sirs
A hot and sticky welcome to our July '19 newsletter!
This month
New kits from RTO, Luca-S, Bothy Threads and Lanarte

New patterns from Karen Kluba and Nora Corbett

Bargain cities
Kits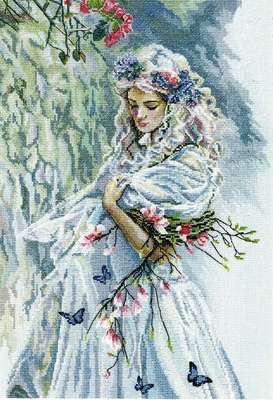 We have some interesting kits from RTO`s summer collection. Listening to the Silence is a lovely lady among flowers and Tree Nymph (Illustrated) is an ethereal figure with flowers also in woodland. The other designs are set in jungles Jaguar, Zebra and two designs of exotic blue flowers with palm leaves.

Also new this summer from Luca-S there are flowers, fruits and a pretty pillow of Paris complete with blue linen backing fabric and zipper.

The new Bothy Threads kits are now in stock. We've chosen three New England seaside designs, two Bayeaux tapestry excerpts, two new Wrendale designs, two tapestry cushions and a Tree of Plenty. You can see the full summer collection in our online catalogue and we'll be happy to order any of the kits we don't currently have.

The early release of kits from Lanarte`s third 2019 Collection has a lovely fantasy picture of a lady from the Romance series and for cute little animals from Marjolein Bastin mouse, bunny, hedgehog and squirrel. The designs use a lot of backstitch and long stitch to make the animals look furry and prickly.

The full collection will be available in just over two weeks and you can see a preview in our online catalogues. We've already had enquiries about the Winter Elf so do let us know if there is something you'd particularly like and we'll order as soon as we can.


Patterns

Karen Kluba has revised and re-released Baltimore Rose Wedding Sampler as so many customers had asked. It was always a very popular design.

Mirabilia Designs' latest pattern is Cathedral Woods Goddess, a regal lady in greens and browns who lives in the deep, dark woods. We have sold out and have already re-ordered so we're sorry if you missed her first time around.


Bargain City

For the month of July there are cities in the Bargain Basement London, Paris, New York, Madrid and Moscow and in different styles.


And Finally

Our title comes from the poem A Tree Song by Rudyard Kipling (in the book Puck of Pook's Hill)

«Of all the trees that grow so fair,
Old England to adorn,
Greater are none beneath the Sun,
Than Oak and Ash and Thorn.
Sing Oak and Ash and Thorn, good Sirs
(All of a Midsummer morn)!
Surely we sing no little thing,
In Oak and Ash and Thorn!»

What a debt we owe our trees! They protect us from the worst of the sun and soak up some of our excess Carbon Dioxide. Let's plant more.

We hope you have been able to avoid the extreme midsummer (or midwinter) weather and we wish you well through the month of July.
by Arts and Designs on Fri, 28 Jun 2019, 18:23