We'll talk of Sunshine and of Song
Welcome to our July 2020 newsletter!

Unlike many unfortunate industries, needlecrafts haven't been in a hiatus - quite the opposite as stitchers have been working with renewed vigour.

The pandemic has continued to affect delivery times as the delivery services have struggled to cope with the extra demand and once again we are grateful to all our customers for their saintlike patience. We can only hope that things continue to improve over the next few months.

This month sees new kits from the weel kent Permin, Glorafilia and Lanarte and patterns from Fairy Wool in the Wood.


Patterns

We know many of you are eagerly awaiting the latest Mirabilia design, Miss Dancing Flower. We do have her on order and we hope she'll be quick-stepping across the Atlantic soon.

Small is beautiful. If you're looking for a small, quirky project that's quite quick to do then these designs by Fairy Wool in the Wood will certainly fit the bill.


Kits

Permin have released their Christmas Collection for this year 2020 Collection 3. Why not have a look at our online catalogue and let us know if anything there takes your fancy!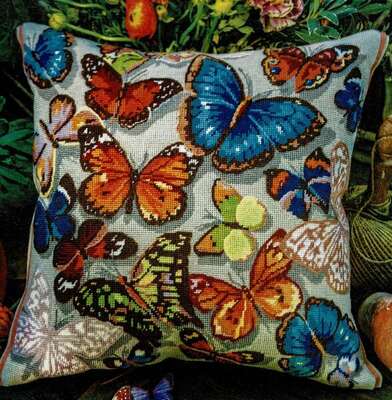 Glorafilia have four new kits this month. Two of them are stamped canvases, one with butterflies (illustrated) and the other with tropical flowers and a hummingbird. The other two are traditional Florentine designs and their canvases are plain (except for the centre mark) with the design printed on a separate chart. The beauty of these patterns is that after you have stitched the first row, the remaining rows just follow the same scheme.

We have two new Lanarte kits from their latest collection - the romantic Close Harmony and, from Marjolein Bastin, the colourful Flower Power Bouquet on black fabric. We haven't been able to get hold of the rest of Lanarte's new releases so far but we'll keep trying. Watch this space.


Magnifiers

Following a customer enquiry, we have a new magnifier which comes with four different strength lenses. This magnifier is a headband style and you can use it with or without your specs.


Kreinik Filaments, Mill Hill Beads and Caron Collection Flosses

One of our suppliers advises «We recently received a delivery from Kreinik. This was by far not everything [that they ordered], because this coincided exactly with their closure. Then it took more than 2 months before we received it. Kreinik has also been closed for a long time and is now struggling with a huge backlog.»
Our usual supplier of Kreinik filaments, Mill Hill beads and the Caron Collection floss currently has a lead time of three weeks before shipping from the US.

And talking of Kreinik, they have brought out five new colours in their metallic ranges. 2829 Seafoam Green, 5025 Jammin Yam, 5026 Sweet Tart, 5027 Electric Apple, 5028 Dandelion Gold are available in various weights - blending filament, #4, #8, #16 braid and 1/16". So far we have only been able to obtain Seafoam Green and Electric Apple in #4 braid but hope to get more as restocking times improve.


Fabric: Peaceful Purple

Permin have now replenished their stocks of 32 count Peaceful Purple, the fabric used in Mirabilia's Princess Elliana, and we have it on order so it should be available soon.


Bargains on the Beach

Beaches may be off limits where you live so we have the seaside and beaches in our Bargain Basement for the month of July. As usual at half previous low price and while stocks last.


And Finally ...

This month's title is from To A Butterfly (March version) by William Wordsworth (1770-1850)

...
Come often to us, fear no wrong;
Sit near us on the bough!
We'll talk of sunshine and of song,
And summer days, when we were young;
Sweet childish days, that were as long
As twenty days are now.


Even if the butterflies are too nervous to sit near us won't it be great to sit together with friends again! What will you talk about? We hope that the lockdown in your own location is not too oppressive and that we can all put this sorry episode behind us as soon as possible.

Until next month, happy stitching!
by Arts and Designs on Fri, 03 Jul 2020, 18:47