The First of April
Hello and a warm welcome to our April 2019 newsletter.

At the time of writing it isn't quite April yet, but we always like to look forward as our rear-view mirror seems to be getting more misted up as time goes by.

In This month's Issue ...

Patterns from Doodlecraft and Nora C.

New kits from the near East

Permin, Glorafilia and John Clayton (Heritage Crafts)

Kit Reviews and the Bargain Basement
Patterns

First off, new maker DoodleCraft has introduced a range of decorated games board designs. These heirloom quality designs are by Debbie Harding who has lots of good ideas combining blackwork and cross stitch. If you don't play Chess, there's Snakes & Ladders, Ludo - or Dragons and Beanstalks!

Nora Corbett has been busy as usual. This month there are three new designs - two new Intriguing Insects, Miss Beetle in blue black and Miss Ladybug in red and black, and another addition to the Holiday Village of a town house decorated for Christmas.


Kits

Cross stitch is big in Eastern Europe and we now have some lovely new kits from another Russian company called MP Studios. MP Studios use Zweigart fabric and DMC stranded cottons and produce good quality colour charts to go with their great designs.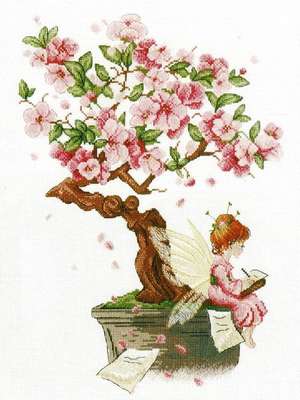 Golden Hands (another Russian company!) produces stunning designs which we couldn't resist despite there being no English instructions. Don't worry, however, as English instructions are included with each kit - just in case your Russian is a little rusty.

And, like buses, Russian cross stitch companies always come in threes. Andriana has some fantastical, distinctive designs that will be a pleasure to sew and show.

We have some new tapestries (needlepoint) from Glorafilia. Some designs have made a welcome re-appearance and others are completely new but all of them are of top quality.

John Clayton's latest Elegance lady is a bride called Laura. She stands in a rose arbour in her long white gown on her big day. Spring wedding anyone?

Permin have a Collection 2 for 2019 and have re-released some older designs. The new Collection has pretty flower cards, new cushions and table covers and a new hardanger design. One new idea is some cross-stitched little birds with colourful overall patterns.

Permin's Classic Collection has lots of flower designs and an Adam and Eve sampler with animals in silhouette in the Garden of Eden.


Reviews

Anne has stitched Magic by the (not very well-named) Oven Company see her review here.


April's Bargains

There are nursery designs in the Bargain Basement this month, some birth samplers, some height charts and some pictures. As usual they are at half previous low price for the month of April or while stocks last.


And Finally ...

In case you never found out about San Serriffe and the Spaghetti Harvest (and who would want to?) you can read all about them in our Newsletter Archive. There's also the odd snippet of information on needlecrafts!


The last word to Mark Twain (US, 1835-1910):
«The first of April ... is the day we remember what we are the other 364 days of the year.»


by Arts and Designs on Fri, 29 Mar 2019, 20:19