As sleeps the patient rose
Happy New Year and a Hearty Welcome to our January 2019 Newsletter!
In this month's issue:
Anchor's Hoop Collection Emroidery Kits

Zelda and Harriet are here

Blackwork birds by Anne

Bargains
Needlecraft Kits and Patterns

Anchor have a new embroidery collection called the Hoop Collection.
These kits are pre-printed on 50% cotton/50% linen fabric and come complete with hoop to work and mount.
The Princess Collection has seven designs, four on 20 centimetre hoops and two on 12 centimeter hoops.

The Best Friends Collection has Dad, Mum and Baby elephant on different size hoops and a Turtle Family.

The Bunny Collection is especially for the nursery and there are also five more grown up designs about kitchens and coffee.

Although they use a variety of stitches, these kits are suitable for beginners and quick and easy projects for the more experienced.

Christmas got in the way of ordering new products (how inconvenient!) but we now have Zelda the latest Nora Corbett design from Mirabilia.
She was inspired by Zelda Fitzgerald - an icon of Jazz-age America and the wife of F. Scott Fitzgerald. The pattern is richly finished with beads.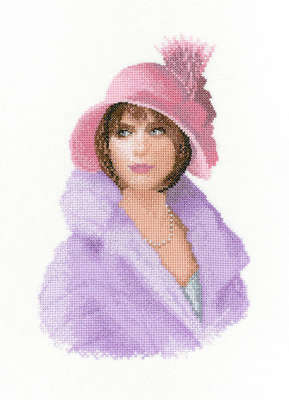 Harriet (illustrated) is the latest of John Clayton's Elegance ladies. Wearing furs and a cloche hat, she also looks very much of the Jazz Age.

Anne's latest blackwork birds are a family of coal tits.
Available either as a chart (paper or download) or as a kit with 28 count cream Jobelan, this design was inspired by visitors to our garden.


January Bargains

With Valentine's Day in mind there are 'hearts' in the Bargain Basement although not all romantic as some are baby samplers.


And Finally ...

We hope you enjoyed your Christmas - we were closed for a couple of weeks over the Christmas period while we visited family in England.

Our title this month comes from A Calendar of Sonnets: January by Helen Hunt Jackson (H.H.), US Poet, writer and activist 1830-1885
...
O Heart, when Love's sun goes
To northward, and the sounds of singing cease,
Keep warm by inner fires, and rest in peace.
Sleep on content, as sleeps the patient rose.
Walk boldly on the white untrodden snows,
The winter is the winter's own release.

You can read more about H.H. at https://en.wikipedia.org/wiki/Helen_Hunt_Jackson

Just before we go, 'Blue Monday' - the most depressing day of the year, apparently - is on its way but let's just ignore it and be positive about the future however it may turn out. The future isn't stitched up yet!


by Arts and Designs on Fri, 11 Jan 2019, 18:25