In the blue and glowing days
A sunny welcome to our August newsletter!

As you might expect in the Summer holidays, there's very little that's new in needle-crafting this month.

New Releases

Regular as clockwork, Mirabilia brought out two new Nora Corbett designs in the middle of July. Miss Honey Bee and Miss Queen Bee are the latest designs by Nora from the Intriguing Insects series.

Our image this month is by Lanarte and you can see her details here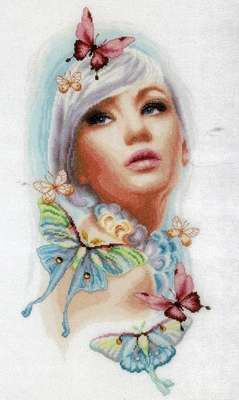 Heritage Crafts have added a new design to their Simply Heritage collection The Misfit by Peter Underhill and they have re-released William in the Window by John Clayton.


Reviews

Julie tried out the new Super Tight Plastic Embroidery hoops by Siesta Frames. The inner frame has a 'lip which fits snugly into the groove of the outer frame and they have a strong adjustment screw. She was delighted with the results since she didn't have to adjust the tension as she did with a wooden hoop. We have added more sizes and we hope you will also find them an improvement on wooden hoops.

Anne has been busy stitching this month. She stitched the very popular Chickadee kit by Valerie Pfeiffer from Heritage Crafts and you can see her review here.

She also stitched a small Needlecart World kit Nasturtium Fan and you can see here how it worked out.


Sew and So

Like so many in the needle-crafting world, we were saddened to hear of the demise of Sew and So. They gave us useful advice when we first started nearly 15 years ago and we were very grateful for it. It's a pity that a well-run and friendly online shop has fallen foul of a badly managed conglomerate and there are lessons to be learned for all UK small businesses. We wish their staff the very best for the future and we hope to live up to the standard of good service online that Sew and So pioneered.


Bargain Basement

We have Imaginating kits in our Bargain Basement this month at half previous low price.


And Finally

Our title is from the poem Summer Sun by Robert Louis Stevenson (Scottish writer, 1850-1894)

«Great is the sun, and wide he goes
Through empty heaven with repose
And in the blue and glowing days
More thick than rain he showers his rays.»

We hope that the sun is showering his rays on you whichever hemisphere you happen to be in and that your summer is long, fruitful and relaxed!
by Arts and Designs on Fri, 02 Aug 2019, 17:42