Your corn is ripe today
A big howdy-do to our October 2020 newsletter!

In this month's issue we report on new patterns by Bella Filipina, Mirabilia, Nora Corbett and Michael Powell, cross stitch kits by LetiStitch and Long Stitch kits by oor ain Anne Peden.

The postal services have definitely improved over the past couple of months and we hope that the restrictions which have been causing the problems will be gradually eased as time goes on.


Patterns

Mayari, Deity of the Moon is a lovely new design by Bella Filipina. She sparkles with Kreinik metallic floss and Mill Hill beads and treasures.

There was a long delay in getting The Queen Bee by Mirabilia as the makers are running about a month behind in their deliveries. She is very regal in her red dress seated upon her throne - although some people have criticised the design. What do you think?

We were a bit slow in ordering the latest Nora Corbett Orchid Party designs. Lady Orchid Moth and Green Lady Slipper have come and gone and we have of course re-ordered but there's a month delay in delivery.

Not new, but new to us are designs by Michael Powell of wobbly cottages and wobbly Christmas designs. A few at the moment and more to come.


Kits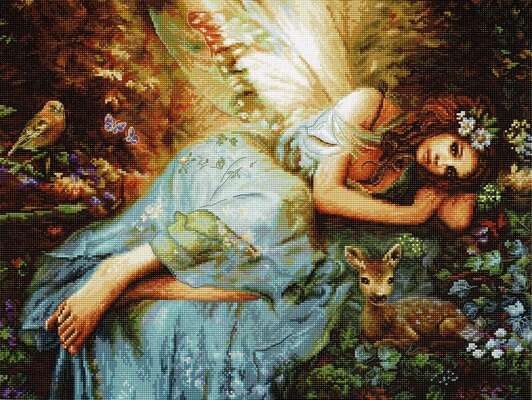 Letistitch is a Moldovan needlecraft company who produce great designs and good value, quality kits. Their latest offerings include Spring Fairy which is a romantic image of a fairy in a blue dress in a sylvan setting, and Into Dreamland which shows a red-haired girl reading dreamily in a rose garden.

Anne has a new long stitch flower design - Wisteria with the long purple flowers on a cream background. This is the latest in a series of long stitch kits that we are now producing.


Bargains

There are designs with a seasonal -all seasons - theme in the Bargain Basement this month as usual at half the previous low price.


And Finally

Our title today is from a quote by the Scottish Enlightenment philosopher David Hume (1711-1776).

«Your corn is ripe today; mine will be so tomorrow. 'Tis profitable for us both, that I should labour with you today, and that you should aid me tomorrow. I have no kindness for you, and know you have as little for me. ... Here then I leave you to labour alone; You treat me in the same manner. The seasons change; and both of us lose our harvests for want of mutual confidence and security.»

Le Bon David (as he was known) is saying what we all know in our heart: if we continue to support each other then we will all be the better for it.

We hope you are enjoying your stitching as the winter or the summer draw in and we wish you a peaceful and supportive October.
by Arts and Designs on Fri, 02 Oct 2020, 18:13