Seeking refuge with needle and thread
Welcome to our April Newsletter!

What's On and what's Off

We are continuing to work as nearly to normal as we can manage and thankfully most mail services are still operating, albeit with a reduced service.

Most of our suppliers are soldiering on but some have decided to close so we can't renew our stocks at the moment for Heritage Crafts or Bothy Threads. Bella Filipina has also told us that they can't send our order.

This month we're rather short of new kits - but there are plenty in the pipeline just waiting for the current situation to improve. More on this next month!


Patterns

Following the Nashville show a few weeks ago we've had a busy month of new patterns. Most US designers had charts ready for Nashville. Many of those patterns have already come and gone from our stock but don't worry if you've missed something as we have more on order.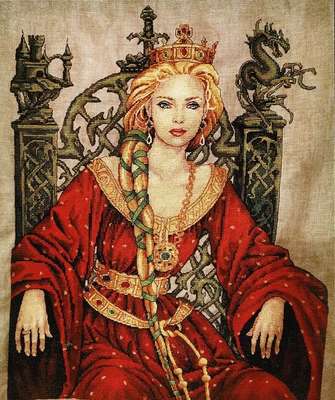 French designer Nimue recently came out with Guinevere (illustrated), a stunning interpretation of the beautiful queen of Arthurian legend. We believe King Arthur will join her in the not too distant future. As for Sir Lancelot - well, we'll have to wait and see.

Among the new designs from Nashville are several from Blackbird Designs, Rosewood Manor, Jeannette Douglas, Hands Across the Sea, Cuore e Batticuore, Heartstring Samplery, Ink Circles and Jardin Prive.

We also have charts from designers new to us Blackberry Rabbit, The Blue Flower, Madame Chantilly, Serenita di Campagna (previously Dewdrop)

See all the new releases in our Spring 2020 patterns gallery!

Nora Corbett has two new fairies from the Orchid Party Collection and another pretty house from the Holiday Village.

The latest sampler Seeking Refuge by The Scarlett House has a verse that's particularly apt for the current situation:

«When the world seems to be out of control
I find a way to nurture my soul
Seeking refuge with needle and thread
The angst and anxiety no longer I dread»

We have been rather busier than usual and it's clear that many stitchers have found solace in these trying times. We hope that you and yours avoid the worst effects of the pandemic and that we can all return to normal as soon as possible.


by Arts and Designs on Fri, 27 Mar 2020, 19:07