Like a Burnish'd Throne
Hello wonderful person and welcome to April's newsletter!

There's not a lot of news this time except to say that we will be on holiday/vacation soon (from 31st March until 7th April inclusive - so the checkout will be closed). We apologise for the inconvenience but we do need the break!

So let's get straight into this month's updates ...


Patterns

Echo Lake is a stylish new design from Mirabilia in Art Nouveau style. As usual there's glitter and beads and an embellishment pack is available. Although this was released over a month ago, the supplier has sent it to us only recently they're clearly having major problems.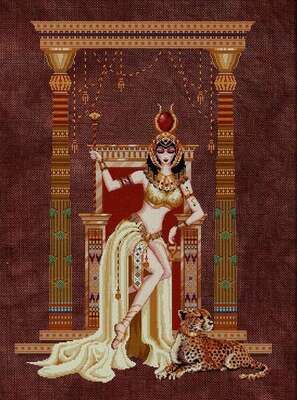 Bella Filipina's new design is Cleopatra wearing a crown and sitting on her throne with a cheetah at her feet. Perhaps she's waiting for the arrival of Antony!


Vintage Fabric

Permin have four new `vintage` fabric colours in 32 count linen Vintage Laurel, Vintage Milk Chocolate, Vintage Star Sapphire and Vintage Waterlily. These are a special price as an introductory offer.


Thread and Floss

As well as Dinky Dyes silk packs for specific patterns, we are building up our stock of individual Dinky Dyes Silk skeins which we know are used in other popular patterns. Keep checking as there are more to come!

We now have silk packs for the popular Northern Expressions designs Twisted Band Sampler and Twisted Rainbow Sampler.

We had heard a lot about CXC stranded cottons, a cheaper Chinese alternative to DMC. Julie decided to order a complete set and Anne has written a review of this range.


Supply Problems

Our deliveries of floss are mostly improving apart from Kreinik metallic floss. Perhaps it would be worth looking into alternatives.


Bargains for April

There are samplers in the Bargain Basement for April as usual at half previous low price. There's a wide selection, some traditional and some modern.


And Finally ...

Our title is from Antony and Cleopatra (Act 2 Scene 2) by William Shakespeare as Enobarbus describes the queen to Agrippa and Maecenas ...

«The barge she sat in, like a burnish'd throne,
Burned on the water: the poop was beaten gold;
Purple the sails, and so perfumed that
The winds were lovesick with them; the oars were silver,
Which to the tune of flutes kept stroke, and made
The water which they beat to follow faster ...»

Nowadays, most of us have less ostentatious means of transport and fortunately what we lack in grandeur we make up for in other ways.

We wish you a happy and peaceful Easter and the chance to get some sun - even if it is only in your own garden!
by Arts and Designs on Fri, 26 Mar 2021, 19:29