Ne'er cast a cloot 'till May be oot
A warm Spring welcome to the May 2017 newsletter!

There's lots to say this month as many new kits and patterns have been released this Spring.

In this issue ...

Mickey and Minnie are back - new kits and collections from Vervaco, John Clayton, Permin, Luca-S and Bothy Threads

New ranges from European makers - Nimue Fee Main (France) and Haandarbejdets Fremme (Denmark)

Yet more from Nora Corbett and Mirabilia

Special offer on the new Lanarte collection

Bargains for early birds

New Kits and Collections

Vervaco's Disney Mickey Mouse and Minnie Mouse are back in stock. Disney's Frozen has also arrived with Elsa, Anna and Olaf in cushions and rug format. It's been a few years since we had new Disney cross stitch kits but Vervaco have brought them back and lots more new Disney designs are expected in their Second 2017 Collection.

Rose is another lovely lady from John Clayton's fabulous Elegance series by Heritage Crafts. She's wearing a pink evening gown and is standing in front of a white grand piano.

We are delighted to have some unusual and charming fantasy fairies by Nimue Fee Main, a maker from France. The kits have lots of fine detail and special floss and beads and their large scale charts are also available.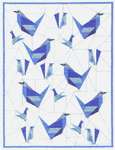 Danish has always been a byword for good design (and good bacon) and so we are proud to stock cross stitch kits by Haandarbejdets Fremme, The Danish Handcraft Guild which has been creating counted cross stitch designs and making cross stitch kits for nearly 90 years. The guild was first established in 1928, as a national association for preserving the best of traditional Danish embroidery and for promoting innovations in design, technique and application. Their latest kits, stitched on linen and with Danish Flower Thread, are stylish and refreshingly different.

Permin - also of Denmark! - has a Spring Collection from which we've chosen a Garden Bird Bellpull hanger and a set of four country pictures which come with mount (or mat) which is printed with a motif to match the individual picture.

New in from Luca-S are two very pretty bird and flower pictures and the cutest owl with a patterned breast.

Bothy Threads Summer Collection has four sweet new animal designs from the artwork of Hannah Dale of Wrendale Designs, pretty birth samplers and the most colourful set of cartoon elephants you'll ever see.

Lanarte`s Second 2017 Collection is now in stock with lots of pretty flowers, teddy bears, ladies and traditional flower design by Marjolein Bastin. These are all reduced by 15% for the month of May as an introductory offer.


New Charts

Mirabilia Designs' latest pattern Royal Games I has already been very popular and we apologise to anyone who asked to be notified when available as both deliveries sold out very quickly. More have now arrived and hopefully there will now be enough to go around! We also have more embellishment packs. There's another design in the Royal Games series in the pipeline - of the Queen of Diamonds combined with the Queen of Clubs.

Meanwhile Nora Corbett has two new Petite Mermaids Tesoro Mia and Solo Tua also with embellishment packe.


Bargains

In the month of Dawn Chorus Day (7th May) we have lots of bird kits at half price in our Bargain Basement. But be quick as some were snapped up as soon as they emerged (or should that be hatched?)


And Finally ...

Our title is a proverb that is common to many European countries - we have used the Scottish version. It means "don't stop wearing your winter clothes until the end of May". Some people think that the word 'May' in the proverb refers to the Hawthorn which flowers early in May and therefore that the proverb means at the start of May and not its end. These are people who have not experienced May in Scotland. As with all proverbs ths one has to be taken with a pinch of salt (which we're not going to explain).

We hope your climate allows the casting of at least some of your 'cloots' and your May is happy and productive.


by Arts and Designs on Fri, 05 May 2017, 18:55