Ring every day the chimes
A very warm welcome to our December 2018 newsletter!
In this issue ...
Just for a change we decided to tell you about new patterns first this month ...
New Patterns from Nora Corbett and Blackbird Designs

New Kits from Anchor and Bothy Threads, and Diamond Painting kits from Vervaco

New stranded cottons from DMC

Canada postal problems and our Christmas Holidays

Mike Vickery kits in the Basement
Patterns

Nora Corbett has a new series. The Intriguing Insects released this month are Miss Moth and Miss Dragonfly so let's see if more follow soon! Actually one thing that is quite intriguing is that Miss Moth is misprinted as Miss Moss on the pattern. Perhaps someone with a lisp in the wrong job.

Blackbird Designs have a new large alphabet sampler. Merrily, Merrily We Welcome Spring is based on an antique sampler and has four alphabet sets, house, birds and flower motifs. (It's out of stock today but we have more coming and they should be in next week.)


Kits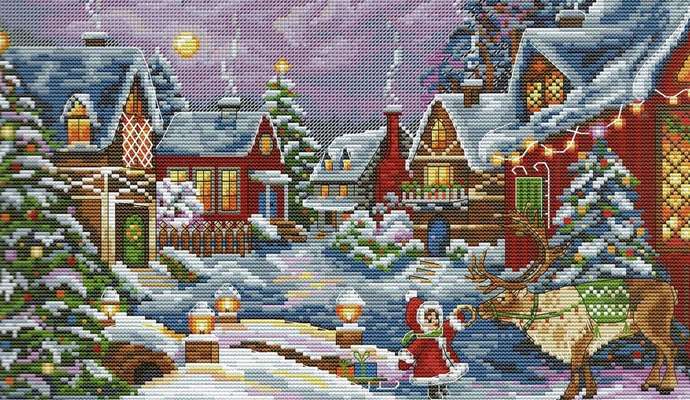 We're pleased to see some new Anchor kits after a few years' lapse. There's a birth sampler, height chart and several wildlife designs.

Bothy Threads Winter Collection has a baker's dozen of new kits - Henry VIII sampler, a lovely 12 Days of Christmas and more dotty and spotty designs from Hannah Dale of Wrendale Designs. Anne's favourite from the collection is called Parasols. There's also a new set of long stitch designs from Rose Swalwell of Derwentwater designs - Long Stitch Seasons has hedgerow flowers in close-up in a set of four.

On a different tack entirely, Vervaco`s third 2018 (Diamond Painting) Collection is all diamond painting with Hello Kitty and Disney characters. The kits come with high quality colour printed, 100% polyester fabric; pre-sorted 'diamonds' by number; plastic bags for storing sorted 'diamonds'; 'diamond' applicator tool, craft tray and wax caddy; complete instructions. Suitable for ages from 8 years. You can see the catalogue here and if you are interested in any of the diamond painting projects please let us know.


Stranded Cotton

DMC have a released a new stranded cotton called Etoile. There are 35 of the standard colours - but with added sparkle. Each strand had a little sparkle at intervals and these are staggered along the six lengths.

Anne tried them out on one of the free designs from the DMC Creative web site and and you can see her review here.


Other News

If you are in Canada ... we have seen serious delays with post to Canada over the past month or more - on top of the long standing Customs delays in Vancouver. The postal strike has apparently been resolved but there will still be considerable delays because of the backlog. We hope that customers whose packages are already in the system won't have too much longer to wait.

We are having an extended break over the festive season partly because we want to have the chance to be festive ourselves and partly because we have to change the way we label your packages due to new postal requirements (nothing to do with the Br**** thing). This change needs a lot of new software and we want to be sure it's all working properly before we 'go live'. We'll be doing this over the Christmas and New Year period (and enjoying the holidays too!).


Bargains in the Basement

We have put some Vickery Collection kits in the Bargain Basement for the month of December, as usual at half previous price. These have some Celtic design and some brightly coloured fun samplers.


And Finally ...

Our title is drawn from the poem A Christmas Carol by Henry Wadsworth Longfellow (US, 1807-1882)

«In December ring
Every day the chimes;
Loud the gleemen sing
In the streets their merry rhymes.
Let us by the fire
Ever higher
Sing them till the night expire!»

Well, we don't see many gleemen singing carols nowadays and it's our loss as it would bring some much-needed feelings of society back to our streets. Maybe in this cynical, commercial age we should remember our rich, warm and vibrant culture - and even bring some of it back to life.

We hope you have the opportunity for family and social gatherings over the Christmas period.

Whether you're in a cold or a hot climate we wish you the very best for the Christmas season!
by Arts and Designs on Fri, 30 Nov 2018, 20:24