What a Tangled Web
A wet and windy welcome to our February newsletter!
In this month's newsletter
New kits from Glorafilia and Julie Lynes

New patterns from Nora Corbett and Bella Filipina

Rainbow gallery floss and Anchor crochet cotton
Kits

There are two new Glorafilia cushion front kits in the style of the Victorian Arts and Crafts designer William de Morgan. These may be stitched in tent stitch throughout or texture added using a variety of tapestry stitches.

Julie Lynes has designed some more bottle aprons this time for the popular tipple derived from the Juniper berry Gin! Julie's Gin Bottle Aprons are available as kits that include a blank apron and are quick and easy to stitch.

It's the season for new kits and Lanarte and Vervaco have announced their first Collections for 2020 which should be available later this month.

Bothy's spring collection will be released on the 11th February and they are tempting us with titbits on their facebook page. New kits are also on the way from Oven, MP Studios and Golden Fleece.

Anne finished stitching the little Lanarte kit Rock Cat, one of a series with quirky dogs as well as cats. Anne has written a short article reviewing this kit.


Patterns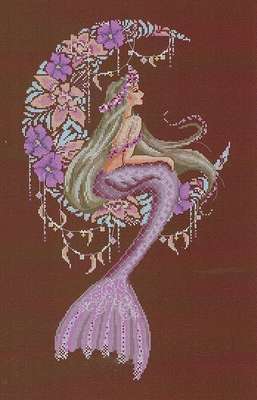 We are pleased to announce that we've just started stocking a selection of patterns by Bella Filipina. The mermaids are stitched in DMC floss with lots of Kreinik floss and Mill Hill beads. Very attractive and challenging designs and a challenger to Nora Corbett's dominance in this area.

This month Nora Corbett has introduced two new pond Pixies. Water Sprite sits on a lily pad and Dewdrops carries a leaf with water dripping from it.


Thread and Floss

We now have all the Rainbow Gallery floss which are substitutes for the Needlepaints flosses used in Lavender and Lace designs. Unfortunately the L & L designs are getting harder to find so let's hope that they are all reprinted soon.

Crochet Cotton Comeback! After an extended absence from the market, Anchor Mercer crochet cotton is again available in thicknesses 20, 40, 60, 80 and a range of colours. Please let us know if you'd like us to order some for you.


February's Bargain Basement

We have motto kits in this month's Bargain Basement as usual at half previous low price and while stocks last.


And Finally

As you probably know, the UK has now officially left the European Union. We in Scotland voted to remain in the EU partly because we believe it has generally been a force for good in the world. We are leaving against our better judgement. Things will remain as they are until the end of this year but prices will likely increase next year when the transition period ends and we have to pay Duty on goods imported from the EU.

Our title this month is from Marmion Canto VI, stanza XVII by Scots writer Sir Walter Scott (1771-1832):

«Oh! what a tangled web we weave
When first we practise to deceive!»

Perhaps we should add that this is not one of the mottos in the Bargain Basement.

As always we wish you a pleasant and mild February and remind you (and ourselves) to Be thankful for all your blessings (which is in the Bargain Basement!).



by Arts and Designs on Fri, 31 Jan 2020, 18:45