Thought Makes Man Wise
Greetings and a sunny welcome to our August newsletter!

In this issue we have new patterns from Nora Corbett and Mirabilia, Blackbird Designs and Bella Filipina. There are new kits from Heritage and Riolis, and charms by Birdhouse Enterprise. So let's get going ...


Patterns

The popular Deck the Halls by Blackbird Designs has been reprinted. It contains six strawberry patterns for Christmas and has many other ideas for decorations.

Two of the latest Nora Corbett designs are from the Rose Couture Collection and the other two are more unusual. Floral Dream and Moon Glow have (tasteful) naked ladies in outline with colourful blankets.

Tea, two ladies at a garden party by Mirabilia is now in stock (unfortunately sold out at the time of writing!) The previous design Rosamund is back in stock but since magnifica glass beads are still unavailable we can't get hold of the bead packs! Why not think of a substitute and make a personalised piece.

Aquila, Queen of the Skies is the latest design by Bella Filipina. We are also awaiting beads to make up the bead packs for those.


Kits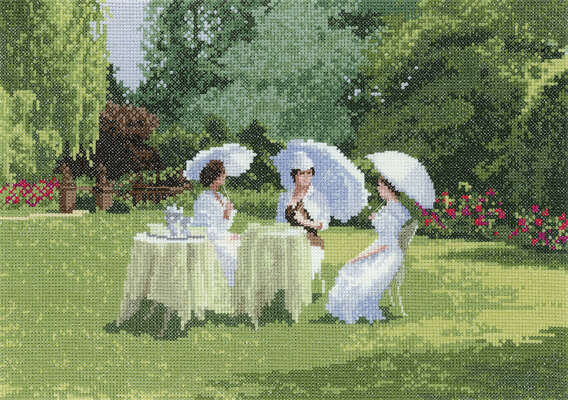 Tea in the garden seems popular at the moment. Heritage have a new John Clayton design called Ladies who Lunch of Edwardian ladies on the lawn. They have also released two new Golden Years designs of Norman and Betty exercising.

A new cross stitch kit the Garden at Giverny by Riolis is a reproduction of one of Monet's many paintings of his garden at Giverny. As with all Riolis kits, it's good value for money and a must for fans of French Impressionism.


Treasures

We have a few stitching related Birdhouse Enterprise charms to get your creative juices flowing.


Bargains

With only some of July remaining we have Summer Flowers in the Bargain Basement which will continue for the whole of August. Why not have a browse and find something you like for a perfect summer project.


And Finally

As we're on the subject of Tea, our title today comes from the Teahouse of the August Moon, originally a novel by Vernon J Schneider (US writer, 1916-1981) which was made into a play and a movie.

The play version opens with a snippet of oriental wisdom: «Pain makes man think. Thought makes man wise. Wisdom makes life endurable.» In the modern age we certainly don't think nearly enough and so we put our trust in others to do it for us.

We didn't issue a July newsletter as we were on holiday in the deep south of England where the sun shines a lot more than it does at home. We had plenty of time to think but I'm not sure if we became wiser as a consequence!

May we wish you a happy and thoughtful summer with lots of stitching time and good company.
by Arts and Designs on Fri, 29 Jul 2022, 18:34