Here's to October
A warm welcome to our October Newsletter!

With the usual apologies to our antipodean cousins who are of course celebrating the arrival of Spring we have an Autumnal (Fall) flavour this month.

There are new patterns from the ever-prolific Nora Corbett (Mirabilia) and Plum Street Samplers, new kits from John Clayton and Peter Underhill (Heritage Crafts) and new ranges of floss from Rainbow Gallery.

And a reminder that we'll have a stand at the Creative Craft Show at the SEC in Glasgow (24-27 October). If you can come along we'll be delighted to see you!


Patterns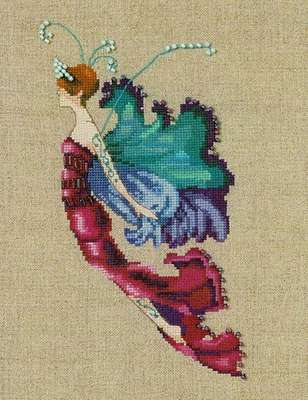 There are two new designs from Nora Corbett this month. Red Cabbage Sprite is an Autumn Pixie in a red dress with blue and green wings. The Victorian House is another in the Holiday Village series and is decorated for Christmas. There are now four buildings in the series - and probably more on the drawing board.

Plum Street Samplers continue to pile up animals cows, sheep, goats, foxes, turkeys, hens, llamas, pigs and now ... sloths. We can't wait to see which animal they come up with next (we may have an office sweepstake).

We've had many requests for Lavender and Lace patterns but sadly we've been unable to obtain these recently. The designer Marilyn Leavitt-Imblum died in 2012 and prints of her designs have been dwindling since. We checked the Lavender and Lace Facebook page and found a posting in June saying that the following patterns need to be reprinted
L&L11 Spirit of Christmas

L&L12 Enchanted Alphabet

L&L24 Oh Christmas Tree

L&L25 Angel of LoveL

L&L48 Firefly Fairies

L&L54 Secret Santa

L&L62 Dance of the Roses

BR11 Rose Sampler

but there is no indication of when that will happen.

There is a complete listing of designs reachable from the L&L Facebook page.


Kits

With plenty of time left until Christmas Peter Underhill of Heritage Crafts has brought out a Santa kit in the Simply Heritage series. We love the slightly subversive undertones in this witty design.

John Clayton and Heritage Crafts have also added a new lady to their Elegance Collection. Paula in a red dress and sparkly shoes is sipping a cocktail. We expect to have her in stock next week.


Supplies

We now have more Rainbow Gallery floss in stock including Petite Treasure braid in gold.


Permin have informed us that there are no longer manufacturing 32 count Milk Chocolate linen. This fabric is used in many Nora Corbett and Mirabilia kits.

We have several pieces still in stock in both fat quarter and 46 by 46 centimetre sizes and there are several close shades like Amber and the new Dark Chestnut.


Anne's October Review

Anne stitched and reviewed Winter Ruby Christmas Tree Decoration by MP Studios which is a Christmas bauble sewn on plastic canvas with an ingenious 3-D appearance.


October Bargains

We have cartoon kits in our Bargain Basement for the month of October as usual at half previous price. There's quite a varied range.


And Finally ...

This month's title is from an essay by A A Milne, creator of Winnie the Pooh. The essay is called A Word for Autumn and is from a 1920 publication titled Not That It Matters.

«Yes, I can face the winter with calm. I suppose I had forgotten what it was really like. I had been thinking of the winter as a horrid wet, dreary time fit only for professional football. Now I can see other things - crisp and sparkling days, long pleasant evenings, cheery fires. Good work shall be done this winter. Life shall be lived well. The end of the summer is not the end of the world. Here's to October - and, waiter, some more celery!»

We ourselves may not be able to face the winter with calm. The embarrassing fiasco that is 'Brexit' has left us all entirely uncertain as to its consequences on our business - and our society.

We hope your own Autumn is somewhat less fraught. Here's to October may it never end!






by Arts and Designs on Fri, 27 Sep 2019, 18:46