All in the golden afternoon
Hello again and welcome to our September newsletter.

As you're a stitcher you will always be thinking ahead and now that the schools are back, it's time to start thinking about - shh... you know what again. New kit releases from Bothy Threads and Heritage Crafts give a hint of what's coming up over the next couple of months.


Patterns and Charts

We have dozens of brilliant new cross-stitch charts by Jody Rice of Satsuma Street. They are all fun to do and come in high quality full colour.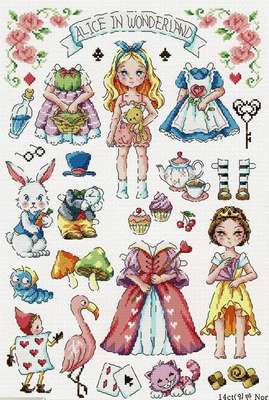 Also new in this month are charts by Soda Stitch with fairy tale themes. Create your own variation with the 'paper doll' Alice in Wonderland sampler from this range.

The latest Mirabilia Garden Prelude is stunning. It's a lady playing a violin in the Metropolitan Cloisters. Our first delivery sold out very quickly and we now have more charts in stock. The embellishment packs also sold out quickly and there are more coming in next week.


Kits

Heritage Crafts have introduced a new Thread Bears kit William at Christmas - with a little teddy gazing wistfully out of the window waiting for Santa.

Bothy Threads have released their Autumn Collection which has lots of designs with Christmas in mind including four cute Christmas cards from the artwork of the late Margaret Sherry.


Hangers

We are trying out a new bellpull hanger from Permin. It's metal with black enamel and is available in sizes from 16 centimetres to 65 centimetres. We only have a few sizes at the moment and would be happy to order any of the others.


Bargain Basement

There are maps in the Bargain Basement for the month of September and as usual they're at half the previous discounted price. Don't miss out and lose your way!


Offline

We've been online for nearly 15 years now and so we've decided to go offline to see what the real world looks like! Which is just a roundabout way of saying that we'll have a stall at the Creative Craft Show in the SECC, Glasgow at the end of October (Thursday 24th to Sunday 27th). If you live near Glasgow why not come along - we'd love to see you there!


And Finally

Our title comes from the poem by Lewis Carroll (1832-1898) in Alice's Adventures in Wonderland:

«All in the golden afternoon
Full leisurely we glide;
For both our oars, with little skill,
By little arms are plied,
While little hands make vain pretence
Our wanderings to guide.»

We trust your afternoons are golden and we wish you a leisurely September.
by Arts and Designs on Fri, 30 Aug 2019, 20:07