Many are our Joys in Youth
Greetings and welcome to our March 2019 Newsletter ...
In this month's issue
Lots of new kits from Lanarte, Bothy, Heritage, Alisa, Textile Heritage and Riolis

New patterns from Blackbird, Nora (of course!) and Cottage Garden Samplings

Cartoon animals in the Bargain Basement
We visited the largest UK trade stitching fair in Birmingham two weeks ago. Many new collections were launched there and the kits are now trickling in to stock. So here we go ...


Kits

Lanarte`s first collection of 2019 has Bewitching Youth (illustrated), two pretty bird and flower designs by Marjolein Bastin and a re-release of the popular Water Pump with Birds.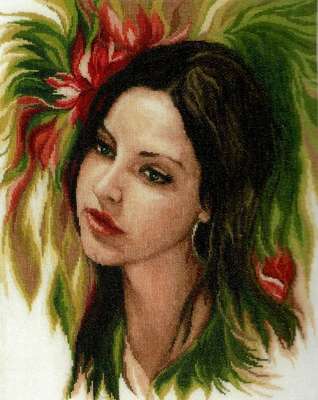 Bothy Threads` Spring Collection has more of the popular Hannah Dale designs, some as tapestry cushions, more Bebunnies, two new fairies and London and Paris posters. We have most of them in stock and you can see the complete collection in our online catalogue.

Heritage Crafts have added two series, one from Nigel Artingstall and the other featuring Lavender Lister. Nigel Artingstall is a British wildlife artist and the new kits include a kingfisher, hare, grebe and wood mouse. These realistic images are lively and detailed and the stitching completely covers the design area. There are new cartoon designs of Lavender Lister, four in all and two of them on new patterned Aida by Zweigart. There are also new kits by Heritage's popular designers Karen Carter and Peter Underhill.

And talking of wildlife we have two new kits from the Russian company Alisa featuring little song birds. These come with linen Aida in natural which makes a more ... natural background.

We now have some pretty kits from Textile Heritage, a long established Scottish manufacturer but new to our range. We have started with stitchers' items needlecases, pincushions and scissors keeps in lots of different styles. They also produce a large range of bookmarks, greetings cards, lavender sachets, coasters, keyrings and small pictures. Lots of kits to make small gifts or gifts in themselves for stitchers.

Prize for the most unusual new kit this month goes to Riolis and the kit is called Underwater Kingdom (but perhaps Octopus's Garden would have been a better title!). With rising sea levels maybe this will be the view from your living room in a few years.

The new ranges of kits from Anchor and Maia are yet to come but we'll let you know all about them as soon as we can.


Patterns

Some customers have been waiting for number nine, the last of the For the Birds Series by Blackbird Designs and it has finally arrived. It has already sold out but will be back soon.

December Blue Topaz is the most recent fairy by Mirabilia. The design has sold out already and we have re-ordered. Please accept our apologies if you missed it first time round.

This is a very busy month in the stitching world! We now have the eighth of the Songbird`s Garden series by Cottage Garden Samplings and Festive Little Fobs Coffee Edition from Heartstring Samplery - the last of the 2018 series. Plum Street Samplers have continued to pile up animals this time in a Lump of Llamas.


Bargain Basement

There are cartoon animals in the Bargain Basement this month cats, dogs, birds, mice, cows and sheep all at half the previous low price while stocks last.


And Finally ...

The year is yet young and we hope it will bring knowledge, delight, peace, harmony and friendship. Of course we expect to be confounded but we leave the last word to William Wordsworth (1770-1850):

«Many are our joys
In youth, but oh! what happiness to live
When every hour brings palpable access
Of knowledge, when all knowledge is delight,
And sorrow is not there!»

by Arts and Designs on Fri, 01 Mar 2019, 19:23