Fall, leaves, fall
Hello and welcome to our November newsletter.

We know many of you will be celebrating Halloween this weekend and we talked about it last month so we'll not say anything more!

In this month's issue we have new kit offerings from Luca-S, Bothy Threads, Heritage Crafts, Lanarte and Maia and in patterns the latest design from Mirabilia/Nora Corbett. The Kreinik metallic thread saga continues with little sign of any improvement.

There's more below so please read on ...


Kits

Anchor have re-released four lovely landscape kits in their Maia range very much in the countryside theme (illustrated).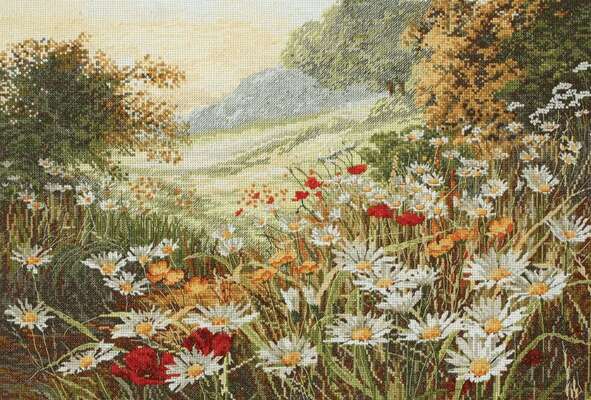 We have some lovely new counted cross stitch table covers by Luca-S. There are two new Christmas themed designs on 28 count sparkly evenweave and two designs on 25 count evenweave with a traditional porcelain blue feel. They are all hemmed and ready to stitch and are great value like other Luca-S products.

Bothy Threads have released their Autumn 2021 Collection - having previously released their Christmas Collection! This time there are a few Christmas cards by Wrendale, more Wrendale kits, some lovely cushions with an Arts and Crafts influence (not by Wrendale), Fashion through the Decades and more. We have chosen a few kits to start and you can see the catalogue for the complete collection. As usual, please let us know if there's something you like that isn't in stock as we can re-stock quickly from Bothy.

The very talented John Clayton of Heritage Crafts has designed a new elegant lady kit. Stella sits on a bar stool and sips a cocktail - she's a companion to Paula who was introduced recently. Also new from Heritage Crafts, Celebration a versatile special occasion sampler from the Karen Carter Collection.

For those who like garden images, we have four lovely kits with flowers and insects by Lanarte, all new. They are all available in either 27 count evenweave or 14 count Aida.



Patterns

Like clockwork on the 15th of each month, Mirabilia release a new design from Nora Corbett. October was no exception and The Three Mermaids is their latest offering. We have it in stock now for immediate despatch.


Kreinik

Like a moribund movie franchise, the Kreinik saga continues. In a galaxy far, far away ...
We keep looking for alternatives to the now very elusive Kreinik braid. DMC Diamant works well as a replacement for Kreinik #4 braid. We now have the complete range of fourteen colours so not a complete solution but definitely worth a look if you're stuck. We have checked the colours and produced a conversion chart for Kreinik to Diamant.

We've expanded our range of Glissengloss Rainbow Blending Filament and now have 57 shades (there are 105 in the Kreinik range). We've checked the colours and yes, there's now a conversion chart from Kreinik to Rainbow Blending Filament.

We know that this comes up in most of our newsletters but to re-interate, we only received one of the Krenik #4 braids out of the 20 we ordered last time. Caron Waterlilies is also becoming more difficult to obtain only 60 % of out last order and only one third of the previous order (sounds like a near 100% improvement! ed).


Barginaceous

Classic Embroidery retired a few years ago and some of their excellent products are still available. For the month of November we have their remaining kits and charts in the Bargain Basement at half previous low price.


And Finally

This month's title is from a poem by Emily Bronte (English write and poet, 1818-1848)

«Fall, leaves, fall; die, flowers, away;
Lengthen night and shorten day;
Every leaf speaks bliss to me
Fluttering from the autumn tree.
I shall smile when wreaths of snow
Blossom where the rose should grow;
I shall sing when night's decay
Ushers in a drearier day.»

Emily Bronte's celebration of the turning of the seasons is one we might all emulate. Like the cycle of life, it's a process to be embraced and not feared. Who cannot be happy to be out and about on a misty day in the company of autumnal trees and with the prospect of a warm homecoming and the embrace of a loved one!

Until next month, enjoy your Halloween celebrations and your stitching!
by Arts and Designs on Fri, 29 Oct 2021, 18:57