Awhile no cares encumber
Welcome to our December 2019 Newsletter

We hope that all the political nonsense going on around the world hasn't been keeping you awake at night. Our solution - turn off the news and do something more constructive instead.

In this month's issue ...

Kits from A to ... er ... V - Anne Peden, Bothy Threads, Glorafilia, Julie Lynes and Vervaco/Disney

Charts from Satsuma, Nora Corbett

Gorjuss Bargains

Kits

We have two lovely new needlepoint kits from Glorafilia. These have flowers in Jacobean style and may be worked in a variety of stitches or completely in tent stitch.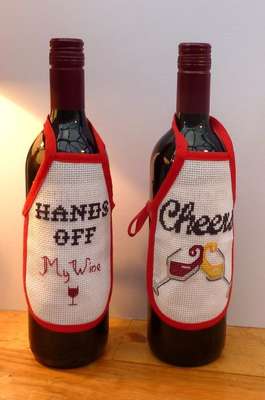 Also new and in time for Christmas are two new wine bottle aprons for Christmas designed by Julie. Quick to do and with a suitably festive motto.

Bothy Threads Winter Collection has lots of new collections Elly the elephant, long stitch cats, traditional style cushions and flowers based on Japanese wood block designs as well as some more Historical, Wrendale and Love designs.

As Disney bring out the second Frozen film, Vervaco have two new kits of Anna and Elsa taken from it. Your daughter or grand-daughter will love it.

Anne has been busy with new designs for Christmas. Her plastic canvas and ribbon Christmas Tree ornaments can be worked quickly and are very eye catching. There are more colours in the pipeline.


Charts

There are two fairies in the Orchid Party by Nora Corbett Miss Cymbi and Imperial Lady D both are elegant and colourful.

Jody Rice of Satsuma has a Zodiac series each circular cartoon design stitched on black.


Gorjuss Bargains

They don't come with better discounts than this! Our Bargain Basement this month has Gorjuss kits by Bothy threads, both tapestries and cross stitch kits and all at half their previous low price.


And Finally ...

Our title comes from one of our favourite poems - London Snow by Robert Bridges (English poet and writer, 1844-1930)

«When men were all asleep the snow came flying,
In large white flakes falling on the city brown,
Stealthily and perpetually settling and loosely lying,
...
But even for them awhile no cares encumber
Their minds diverted; the daily word is unspoken,
The daily thoughts of labour and sorrow slumber
At the sight of the beauty that greets them, for the charm they have broken.»

We hope your December is blessed with moments that touch your heart and we wish you a peaceful and productive month.

by Arts and Designs on Fri, 29 Nov 2019, 20:48