Afoot and light-hearted
Greetings and welcome to our June newsletter.

Have we got news for you! Well, no actually, as the recent situation has all but dried up new releases in the needlecraft world (and elsewhere too we suppose). So let's make the best of it and have a look at this month's paltry fare ...

Kits and Charts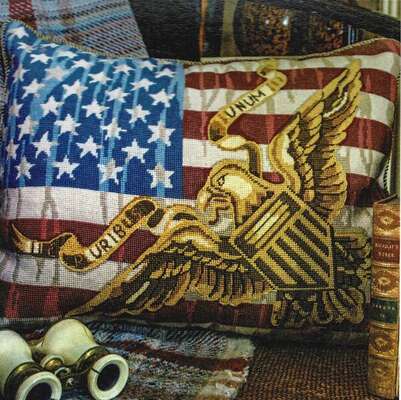 If you're feeling especially patriotic these days, Glorafilia have released two new designs the flags of the United States (illustrated) and the United Kingdom. Striking golden motifs complement the red, white and blues.

UK kit supplier Bothy Threads recently re-opened after being shut down for two months. However, they soon found that they were unable to cope with demand and we haven't so far been able to obtain any more of their kits.

Most of our suppliers continue to work hard to keep up supplies. Jon at Heritage Crafts has been working alone to fill orders (Gold Star to Jon!). We have been able to replace a few Heritage kits.

Generally, kits are taking longer than usual to come back into stock. We are selling so many DMC threads that there are always some shades out of stock. By the time they are replaced others have sold out. We're sorry if you are having to come back to complete your list.

There are five months until Hallowe'en but we stitchers have to think ahead. Anne has designed a Hallowe'en mobile on plastic canvas.

She has also stitched and reviewed the Witch's Shoe pattern by Sue Hillis. You can see the review of the Witch`s Shoe here.

The latest Nora Corbett patterns from the Pond Pixies series, Lotus and Water Reeds, are now on their way from the US after being released on 15th May. The company is taking longer than usual to send orders which also includes beads, Caron Waterlilies, Kreinik metallic threads and embellishment packs.

Princess Elliana, the most recent design by Mirabilia continues to be popular. If you missed it we have more patterns and embellishment packs on order. The model was worked on 32 count Permin Peaceful Purple linen which is currently sold out. Permin hope to have it available again in late June.

We are always looking for better ways to keep our stranded cottons so we were delighted to find the floss organisers from Dubko. They have space for 36 colours and can be labelled with floss number or symbol.


Bargain Basement

For June there are wild animals in the Bargain Basement (none of them caught illegally!) - and as usual they're at half the previous low price.


And finally

This month's title is inspired by a poem from 19th Century US writer Walt Whitman (1819-1892).

«Afoot and light-hearted I take to the open road,
Healthy, free, the world before me,
The long brown path before me leading wherever I choose.

Henceforth I ask not good-fortune, I myself am good-fortune,
Henceforth I whimper no more, postpone no more, need nothing,
Done with indoor complaints, libraries, querulous criticisms,
Strong and content I travel the open road.»

We hope that as your country eases out of lockdown your own road is opened for you and we wish you the freedom to live again.
by Arts and Designs on Fri, 29 May 2020, 19:29