One Little Person
«One little person, giving all of her time to peace, makes news. Many people, giving some of their time, can make history.» Peace Pilgrim (Mildred Lisette Norman, 1908-1981)

Well, things have been rather peaceful in the needlecraft world and there isn't a lot to talk about this month!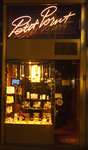 Kits

We now have the fourth and final collection for 2016 from Lanarte and Marjolein Bastin with angel, fairies and flowers and lovely floral kits by Marjolein.

Bothy Threads have new designs from the artwork of Hannah Dale of Wrendale Designs a barn owl, a fox and a highland cow. There are also five more colourful and traditional samplers by Moira Blackburn and a new series of blackwork flowers. Bothy have had a busy year with 70 new kits released. To make space for those and others in the pipeline 55 of their current kits have been discontinued.

Festive Chicks by Valerie Pfeiffer and Heritage Crafts is very cute for Christmas and is available in 27 count evenweave or 14 count Aida.


Designs

Mirabilia's Veronica in her luscious green ball-gown from Nora Corbett has been very popular and there's an embellishment pack too.


The Future and the Past

We're thinking ahead to next year in our Bargain Basement with lots of half price hearts - ideal for Valentine's Day.

If you visited the website in mid-November you might have noticed the 'skeleton staff' announcement. This is because we were in Vienna (for an anniversary). We can recommend the architecture and culture of Vienna, but not the prices! We spotted the tiny Petit Point shop in the main shopping street near to St Stephen's Cathedral. It has exquisite brooches and tiny handbag/umbrella ornaments at 30-60 Euros. If you're planning a visit to Vienna, drop us a line and we'll give you more information.


And Finally ...

It seems that the emotional excess surrounding the recent US Presidential election has now subsided. We guess that things will not really change that much over the next few years and we hope that everyone will follow Peace Pilgrim's simple formula and make history.

Christmas is of course about another little person - but someone whose message was pretty much the same.

We hope your Christmas is everything you wish for and the world in 2017 is everything we all wish for.







by Arts and Designs on Fri, 02 Dec 2016, 19:37