Oh the cheerful Budding-time!
Hello and welcome to our May 2021 newsletter with a jaunty air and a spring in our step!
In this month's letter
Julie's Japanese Garden

New limited edition Marjolein Bastin kit

A second 2021 collection from Permin

A new catalogue from Anchor for Spring/Summer

Bargains

News for our EU customers
Kits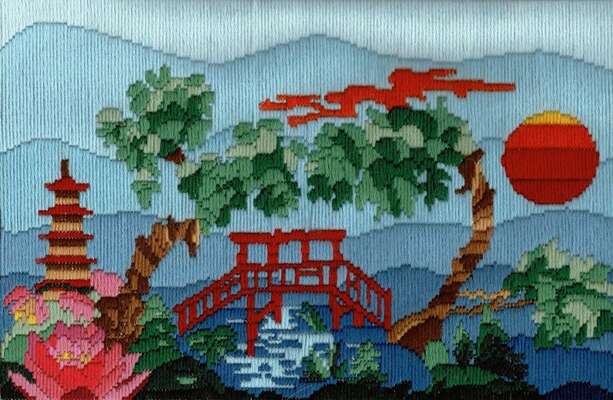 Julie has designed a striking and colourful long stitch kit called Japanese Garden on 14 count canvas worked with Anchor tapestry wools. It has all the emblems that you'd expect and is suitable for an intermediate long-stitcher.

It's taken us all year so far (!) but we finally have the new limited edition Marjolein Bastin kit by Lanarte. It's a large project (24 X 35 in) full of wildlife detail animals, birds and flowers. It has been very popular so we will re-order as long as Lanarte keep making them!

Permin`s second 2021 Collection is now available. We have a few of these already in stock and would be happy to order any you are interested in. Pretty birth samplers, monochrome flowers, printed table covers...

Anchor have a new collection out for Spring/Summer 2021. There are cross stitch kits, needlepoint kits and free embroidery kits.

There are another two Bridal Bliss Pixies from Nora Corbett: Gladioli Maid of Honor and Passion Flower Bridesmaid which has been very popular. We expect new stock back in soon although the maker has been struggling recently.


Supplies

Permin have informed us that unfortunately, due to the rise in the cost of raw materials, their fabric prices will increase on the 1st August.

Kreinik metallics continue to be a problem. We have heard that they're only producing half their range at the moment and our most recent orders from the US have returned less than a tenth of what we wanted. If you're stuck for sparkle, then you could get creative with floss from other makers like Anchor metallic or Rainbow Gallery

If you're stuck for a metallic, let us know and we'll try to get an alternative.


Bargains

You don't normally get owls in your basement but there are some in our Bargain Basement for May and as usual they're at half the previous discounted price.


News for our EU customers

Frankly, things have been a bit of a mess since Britain left the EU at the start of this year with new rules and regulations causing delays and unwarranted charges. The EU is also removing the import TVA/VAT allowance on 1st July but there is hope on the horizon!

We are planning to participate in a new Europe-wide scheme where we pay your TVA/VAT when you make a purchase. We hope this will fix the customs and delivery issues.


And Finally

Our title comes from a poem by Christina Rosetti (1830-1894) (who features in this column quite a lot! )

The poem is called simply Seasons and is in four stanzas, one for each season. This is the one for Spring:

«Oh the cheerful Budding-time!
When thorn-hedges turn to green,
When new leaves of elm and lime
Cleave and shed their winter screen;
Tender lambs are born and 'baa,'
North wind finds no snow to bring,
Vigorous Nature laughs 'Ha, ha,'
In the miracle of spring.»

As we continue on our slow journey back to normality, we hope that you have spring in your steps (even if it's autumn where you are) and that your stitching continues to lift your spirits.
by Arts and Designs on Fri, 30 Apr 2021, 18:16