There are Moments ...
"There are Moments, above all on spring evenings, when the lakes that hold our moons are sucked into the earth and nothing is left but wine and the touch of a hand." (A Breeze of Morning, ch. 11, p. 70), Charles Langbridge Morgan

A Sunny Welcome to the June 2017 Newsletter!

This month ...

New Hardanger Kits from Denmark

Cross Stitch Kits and Charts from Denamrk, France and the USA

Tempting Tapestry and the nearly extinct Bargain Birds

Hardanger Kits

For all our customers who love hardanger we're delighted to be able to offer more hardanger table mats by Oehlenschlager of Denmark .
Oehlenschlager have been established for 140 years and have a vast catalogue with many superb designers specialising in different types of needlecraft (visit their website at ooe.dk/en/index_en.html).


New Cross Stitch Kits and Charts

Haandarbejdets Fremme is just one of Oehlenschlager's extensive stable and we've added more of their stylish cross stitch kits.

More kits and charts have arrived from Nimue Fee Main of France, including some of the Enchanted Cats series from the artwork of Severine Pineaux.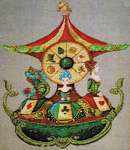 There's now a second chart in the 2017 Loose Feathers series by Blackbird Designs - Light upon the Lawn - a very tradional, 'naive' style design that's already very popular.

The ever-prolific Nora Corbett has two new charts in the Pixie Blossoms series these ones are called Foxglove and Bleeding Heart. (Foxglove has sold out in the last few days but we will soon have more on the way.)


Tempting Tapestry

We've had lots of enquiries recently about Anchor Tapestry (Tapisserie) wools which are becoming increasingly difficult to find in stores, so we've stocked up with all the numbers we were missing and now have the complete range. We also considerably reduced the price so Tapestry (also called Needlepoint) has never been more economical!


Bargain Birds

A few birds in our Bargain Basement have still to fly the nest. They'll be replaced in June by deer which are not dear at half their previous low price. If you'd still like to bag a bargain bird, don't leave it any longer!


And finally ...

Some of us are having a holiday/vacation at the start of June but the skeleton staff will be on hand to despatch orders. Please notre that some items in the supplies category need special packaging and are a bit too difficult for our resident skeleton so these will be unavailable while we're short-staffed.

In a world that seems to be moving slowly but inexorably towards madness, we wish you peace and tranquillity, wine and the touch of a hand.


by Arts and Designs on Fri, 26 May 2017, 19:41