I wonder if the sap is stirring yet ...
A warm welcome to our February 2017 newsletter!

«I wonder if the sap is stirring yet,
If wintry birds are dreaming of a mate,
If frozen snowdrops feel as yet the sun
And crocus fires are kindling one by one:
Sing, robin, sing;
I still am sore in doubt concerning Spring.»

from The First Spring Day by Christina Rossetti (1830-1894)

Here in the not quite frozen north the snowdrops have been out for a month and the early buds are developing. It's been quite a mild winter.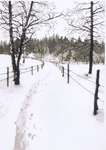 Most of the needlecraft world seems to be in a wintry hiatus but we expect this to change soon with major trade shows later this month and next.

This month we have more from the prolific Nora Corbett, John Clayton, Imaginating and Permin.

There are two lovely new mermaid patterns from Nora Corbett these have Italian names (Bella Vita and Mai Soli) and so must inhabit the warm waters off Italy. Oh that we were there!

Nora has also produced a stunning new design for Mirabilia Miss Christmas Eve has a glittering dress of berries, foliage and satin ribbon. A stylish panel for next Christmas?

There are two new ladies in John Clayton's Elegance series by Heritage Crafts. Grace, a modern young lady in a purple evening gown and Lilly, an Art Deco lady in a silver dress. And for owl lovers there's Christmas Owls by Karen Carter.

Some of Imaginating's designs are now becoming available as complete kits and we have a few of the most sought after. They all come with 14 count Aida and DMC stranded cottons.

Permin have introduced some new kits to tide us over until their next major release - Roses and Forget-me-nots Hardanger Table Mats (a hardanger kit), Summer Farm and Footsteps in the Snow (both cross stitch kits).


Events ...

For our Scottish subscribers, there's an exhibition of embroideries by the East Kilbride Cross Stitching Circle in the East Kilbride Arts Centre, 51 Old Coach Road, G74 4DU from Friday 3rd Saturday 26th February 10 a.m. To 8 p.m. With free admission.

For the month of February we have some big cats in the Bargain Basement as well as fabric remnants.


And Finally ...

When Spring comes along and your neighbour wants to borrow your lawnmower, Chic Murray has the answer.

My next door neighbour said "Is it OK if I use your lawnmower?" I replied, "Certainly, just don't take it out of my garden."

Have a mild February wherever you are.
by Arts and Designs on Fri, 27 Jan 2017, 19:47