If ever any beauty I did see ...
... Which I desired, and got, 'twas but a dream of thee.

A warm and sunny welcome to our August 2017 newsletter!

This month's title comes from The Good-Morrow, a love poem by John Donne (1572-1631).

In this month's newsletter ...

Mermaids

New Collections

Grafitec Canvas

From Africa to Asia
Mermaids

Mermaids abound this month with two new ones from Nora Corbett's La Petite Mermaid collection Cara Mia in pink and Luce Mia in sparkling green.

Several of our customers have been eagerly awaiting Renaissance Mermaid, designed by Nora Corbett for Mirabilia. We're sure they won't be disappointed with the shimmering mermaid whose design was inspired by Botticelli's The Birth of Venus.


New Collections

Vervaco's second 2017 collection has arrived. It features Anna and Elsa from Frozen, the enduringly popular Disney film. There's also a birth sampler with the princesses entitled Sisters Forever - fun to do and ideal for little girls' rooms.

Heritage Crafts have introduced new kits by Peter Underhill and Phil Smith. Peter Underhill's designs are characteristically witty, one with a guaranteed to make you smile spot-the-dog design and the other with a best mates theme. There's also a new kit from Phil Smith in the nostalgic sepia Silhouettes collection for those who remember the days before automatic washing machines. All are easy to do and reasonably priced.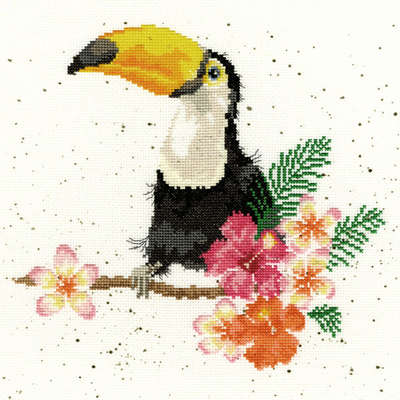 Bothy Threads' Autumn Collection is now in stock with four more distinctive designs from Hannah Dale of Wrendale Designs fox cubs, a toucan, guinea pigs and koala bears. Two of William Morris designs already available as needlpoints are now also in cross stitch sunflowers and bellflowers. There are four more flowers in blackwork and some exciting new Christmas designs, three of which are in Scandinavian style.


Grafitec Canvases

Grafitec have developed a new printing process and their canvases are accurately screen printed on 10 count double canvas.

Anne has been working hard to colour match Anchor Tapestry wools with DMC stranded cottons and we can now offer Anchor Tapestry (Tapisserie) wools as an alternative for use with with Grafitec canvases. .


August Bargains

Moving on from Africa, the Bargain Basement for August now features kits with an Asian theme - from India to the Far East. As always, kits at half price while stocks last!


And Finally ...

As you might guess from our title, love is very much on our minds at the moment.

We will have a skeleton staff for a short while later this month while we attend our son's wedding in the south of England. We're hoping for a dry sunny day but we have bought a large new umbrella just in case!




by Arts and Designs on Fri, 04 Aug 2017, 19:17