O wad some Power ...
A warm welcome to our Autumnal newsletter.

Most of the news this month seems to be about patterns so let's rush in without further ado!


Patterns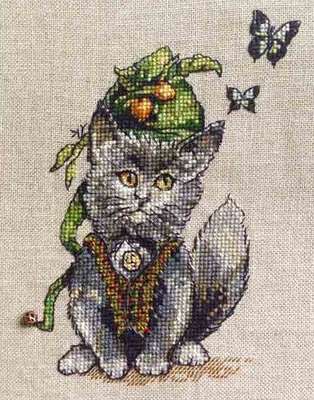 Nimue of France has a sweet new kitten design. The Little Scot wears a scottish bonnet and a tartan (plaid) sash. He's available as a chart or as a complete kit with 32 count natural linen, DMC floss and a tiny bell. Is this how the French really see us Scots?

Some Butternut Road designs by Marilyn Leavitt-Imblum which have not been available for some time are in stock again although this may be just for a limited time. Marilyn also published her designs under the brands Lavender and Lace and Told in a Garden. Sadly she passed away in August 2012. We hope her legacy of excellent designs are continue to be preserved and loved.

We've had lots of enquiries about Hallowe'en at Hawk Run Hollow by Carriage House Samplers. Our supplier now has these patterns just too late for this week's order but we'll certainly add a few to our next order so keep checking in.

Nora Corbett's latest designs are from a new Collection called Butterfly Misses. The first two are Miss Solar Ellipse and Miss Lole's Daggerwing. There are bound to be more to come.

Unfortunately Autumn Queen and Spring Queen by Mirabilia Designs are no longer available. The other two Queens Summer and Winter - are still in print at the moment. It may still be possible to find the patterns online or in your local needlecraft store.


Counting Down to Christmas

Stitchers have to be especially good at planning ahead as projects can take a long time. The countdown to Christmas is well underway now and we have a set of new snowman kits from Janlynn which are stitched on navy with snowflake sequins. They should be quick to stitch but we thought we'd let you know anyway.


Ribbon

Following a customer's request we have expanded our range of Kreinik ribbons and we now have gold in the new 1/4" ribbon.

The company introduced this new size because 'Finishers like the heavier size for trimming stockings, ornaments and pillows. It's also ideal for stitching on 13- and 10-mesh needlepoint canvases, as well as cross stitching on large-scale objects such as screens, wood, and other non-fabric objects. And it can be used in specialty stitches of all kinds for surface embroidery. The colors are exciting, bright, and gorgeous, while the braided ribbon is soft and flexible.'.

The lights are still on in our Bargain Basement for the month of October and we've added half price papercraft stamps - all with a Christmas theme. There's lots of styles to choose from and plenty of time to make your own distinctive Christmas cards.


And Finally ...

Of the bombast and posturing that goes on in the world at every level from dear leaders, dear friends and our dear selves, our national bard Robert Burns had this to say over 200 years ago:

O wad some Power the gift tae gie us, tae see oursels as ithers see us!
It wad frae mony a blunder free us, An' foolish notion:
What airs in dress an' gait wad lea'e us, An' ev'n devotion!

from To a Louse On Seeing One On A Lady's Bonnet, At Church 1786 by Robert Burns

May we wish you a mellow, fruitful and parasite-free Autumn (Fall).


by Arts and Designs on Fri, 29 Sep 2017, 19:11