April golden, April cloudy
A warm welcome to our April 2022 newsletter!

The Nashville show earlier in the year produced a rash of new patterns which are now filtering down to US suppliers and thence to us here in the unfashionable western spiral arm of the galaxy. Anne has been busy adding them to our listings and we hope you approve.

On the kits front, there are new offerings from Glorafilia, Riolis and Anchor.

We're also adding new fabric ranges for the serious stitcher.

If you like to browse through all the latest items we have added then they're always on display here.



Patterns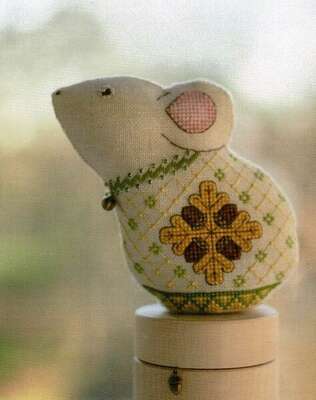 We've added some novel patterns from a designer new to us, Cotton Pixels. There are 3D animals and birds, a halloween sampler and a floral whale, which is not something you see every day. The Acorn Mouse is illustrated.

Our Mirabilia Designs supplier is currently taking a month to deliver orders so we've just got the latest chart of Blossom, a lady bursting with colour and energy in the best traditions of Nora Corbett.

The latest two Bella Filipina designs are now in stock Goddess Aphrodite and Mermaid Treasures: Amethyst.


Kits

Glorafilia have a new set of tapestry designs which are a little bit different. There are four themes flowers, fruits, birds and wild animals. Each theme is available in two variants: a set of four pictures or a cushion front (with extra wools). The canvas is printed with a black outline and there's enough Anchor tapestry wool to finish in tent stitch or be creative with textured stitches. We have chosen the Beautiful Birds and Majestic Animals themes to start with but please let us know if you like the other designs.

Riolis has brought out a new catalogue for 2022 and we have updated our online catalogue to include the latest designs.

Anchor, which includes Maia and Royal Paris, also have introduced new ranges and we've also updated those.

Please visit our catalogues section to view these updated catalogues!


Fabric

We have introduced some new linen fabric by Ubelhor, an Austrian company. It's available in natural in 36 and 40 count and packed in fat quarters. The fabric is similar to Permin's but more flexible.


EU Customers

We're still not sending to most EU countries - please accept our apologies for that. We're trying to get to grips with the problems caused by recent Customs regulation changes which cause delays - and worse - in some EU countries. We continue to hope that things will settle down and normal service will be resumed.


Bargains

There are Janlyn kits in the Bargain Basement this month as usual at half previous low price.


And Finally ...

Our title is from Always Marry An April Girl by Ogden Nash, American Poet (1902-1971).

«Praise the spells and bless the charms,
I found April in my arms.
April golden, April cloudy,
Gracious, cruel, tender, rowdy;
April soft in flowered languor,
April cold with sudden anger,
Ever changing, ever true -
I love April, I love you.»

Here's a fun fact: Nashville was named after a many greats uncle of Ogden Nash, Francis Nash, who fought in the Revolutionary War.

With that dinner table gem we bid you farewell and wish you a peaceful and productive April.
by Arts and Designs on Fri, 01 Apr 2022, 18:25