Thorough bush, thorough brier
Hello and a very warm welcome to February's newsletter.

In this month's issue we have patterns from Bella Filipina and Mirabilia, kits from Dimensions, Anne Peden and Permin, and innovative cross stitching needles from John James.


Patterns

We have three new designs by Bella Fillipina. Triton son of Poseidon and Amphitrite with his golden conch shell, Akoya Pearl Mermaid and Magnolia from the Au Naturel Collection.

Mermaid Perfume is a new design from Mirabilia. With her emerald green tail, she sits on a pedestal and wafts her perfume to lure sailors to their doom.

There are lots of new Valentine designs this month, mostly small enough to finish in time to give to your loved one (or loved ones if you fancy your chances).


Kits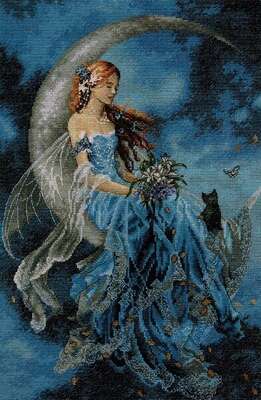 Wind Moon Fairy, a new kit by Dimensions has a lovely fairy and black kitten on a crescent moon.

Anne has designed a new long stitch mini kit, this time it's a rosebud. This kit is competitively priced and quick to do - it would make a good introduction to long stitch if you haven't tried it.

Permin`s first 2021 Collection is now available with new hardanger kits, Eva Rosenstand kits, printed table linen, cushions and pictures. Everything from Quite Busy cushions to Talking Chickens. Have a look at the new Permin Collection 2021/1!


Needles

We have some innovative new twin pointed needles by John James. These work with a hands free frame and are claimed to increase your speed. Might take a bit of practice but definitely worth a try.


February Bargains

Patterns by Imaginating are featured in the Bargain Basement this month with a wide variety of designs.


And Finally ...

Our title this month is from a poem by Shakespeare - who was known to pen the odd bit of verse.

A Fairy Song by William Shakespeare (1564-1616), English poet and playwright

«Over hill, over dale,
Thorough bush, thorough brier,
Over park, over pale,
Thorough flood, thorough fire!
I do wander everywhere,
Swifter than the moon's sphere;
And I serve the Fairy Queen,
To dew her orbs upon the green;
The cowslips tall her pensioners be;
In their gold coats spots you see;
Those be rubies, fairy favours;
In those freckles live their savours;
I must go seek some dewdrops here,
And hang a pearl in every cowslip's ear.»

We would very much like to regain our freedoms to 'wander everywhere'. We hope it won't be long now and we wish you the best of health and happy stitching for the remainder of these difficult times!
by Arts and Designs on Fri, 29 Jan 2021, 19:06