In the Cherry Blossom's shade ...
In the Cherry Blossom's shade
there's no such thing as a stranger
- Kobayashi Issa

A Floral Welcome to our May 2018 newsletter

Flowers and blossoms feature this month and we have news on

Kits by Permin, Thea Governeur, Luca-S, Riolis, Lanarte and Vervaco

Patterns by Ink Circles, Nimue Fee Main, Nora Corbett and Arts and Designs (that's us)

Blossomy Bargains for a floral feast
Kits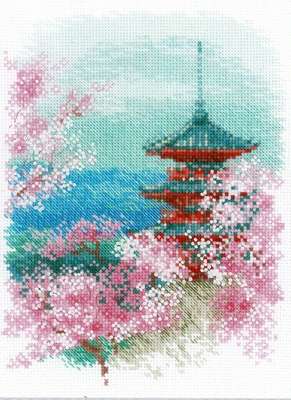 Permin have released their second Collection of 2018. There are landscapes, flowers, printed table covers, cushions, hardanger and baby birth samplers and pictures. We have chosen a few and if you are interested in others you can find them in our online catalogues.

Thea Gouverneur has a lovely new design of American wild flowers. Available in 36 count line and 18 count Aida in white or black, these are on special introductory offer while stocks last.

There are lots of new kits from Luca-S. From the artwork of Gail Elizabeth McCormack there are more romantic flowers and rose patterned china. These are all available on 20 count evenweave fabric and 16 count Aida. They also offer a counted cross stitch table runner with pink blossom and border.

The Riolis Spring 2018 collection has three lovely Japanese designs all with pink cherry blossom a pagoda (this month's picture), a red wooden bridge and a wide design of Mount Fuji. Together they make a lovely tryptich. For a quick project we couldn't resist their cartoon hedgehogs. As a variation on their embellished cross stitch, there are two new kits of flowery plates to be completed in surface embroidery.

Lanarte`s First 2018 Collection has arrived with some lovely ladies and pretty flowers and birds by Marjolein Bastin. Tones seem more muted this year.

We've had lots of enquiries about Vervaco's new collection. It's still not available in the UK but we are watching for it coming in and we'll make the kits available as soon as we can.


Patterns

Ink Circles has added a new pattern called Forests of Sumatra, a companion to Dragons of Sumatra which has been very popular.

Robin`s Jig is a quirky and fun new design by the French designer Nimue Fee Main. There's also a kit version of this design.

Nora Corbett's Mirabilia design for April, Mooka has already sold out but we will be ordering more soon. If you would like one, please click the 'inquire' button and let us know so that we can order as many as needed.

Arts and Designs' own Anne Peden has a second blackwork design of a garden bird, a Cock Sparrow this time available as a kit or pattern.


Blossomy Bargains

With May arriving and the garden blooming we have been inspired to offer flowers in our Bargain Basement this month all at half price while stocks last.


And finally...

When we think of Cherry Blossom, we think of Japan and our title this month is from the Japanese Haiku master Kobayashi Issa (1763 - 1828), known simply as Issa.

Spring is here in the Northern Hemisphere (it's always spring in Australia and New Zealand!) and the Cherry Blossom is out on our trees ready to be washed away by the rain.

If you do find yourself sitting in the shade of a Cherry Tree on a warm spring day, please do remember Issa's aphorism.
by Arts and Designs on Fri, 27 Apr 2018, 20:30