May each day bring thee something fair
A Happy New Year to you and yours and welcome to the January 2022 newsletter!

This month's letter is short as we've shut down for an extended break over the holiday season following a family bereavement just before Christmas and we're resuming only now. There's a lot of catching up to do!


New Patterns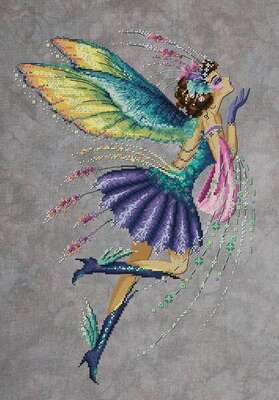 We now have the latest design by Bella Filipina - the rainbow coloured Hummingbird Pixie (illustrated). She's a bit late in arriving but we also now have the October and November designs Arya, Elemental Queen of Air and Crystal Mermaid Aquabella.


New Kits

There are three new Golden Years designs from Heritage Crafts this month and Puffin Shore in the By the Sea Collection by Karen Carter.


New Fabrics

Permin have introduced yet more new fabric colours and we have ordered those in 28 count and 32 count fat quarters. They are also available in 46 x 46 cm pieces and in 14 count and 16 count Aida. Pink Sand is a re-released colour which we also have in 28 count and 32 count fat quarters.


Price Increases

The new year has unfortunately seen lots of wholesale price increases - from Permin, Bothy Threads, Nora Corbett and Mirabilia so far. Royal Mail have also increased their prices which all add to the general dismay. Unfortunately there will be more due partly to rising fuel costs, supply chain problems and other consequences of unhelpful government interventions round the world. As always we'll try to provide the keenest prices.


Bargain Basement

There are cushion fronts in the Bargain Basement this month and at half previous low price as usual. Every cushion deserves a front so pick up a bargain soon.


And Finally

This month's title is from a A New Year's Wish by the somewhat mysterious Helen Van Anderson-Gordon, a US author born in 1859. She wrote several books with a Christian ethos. Other than that there seems to be no information online about her. We think this poem is marvellous.

«May each day bring thee something
Fair to hold in memory -
Some true light to shine
Upon thee in the after days.
May each night bring thee peace,
As when the dove broods o'er
The young she loves; may day
And night the circle of
A rich experience weave
About thy life, and make
It rich with knowledge but radiant
With Love whose blossoms shall be
Tender deeds.»

We hope you find these sentiments as uplifting as we do. It's a lovely wish to start a new year of hope - please pass it on!


by Arts and Designs on Fri, 07 Jan 2022, 19:14