Thirty days hath September
Hello dear stitcher and welcome to our September newsletter.
In this month's issue we have
A new Nora Corbett pattern (of course)

Kits from Bothy Threads, Heritage Crafts, Glorafilia, Permin and Grafitec

more on Kreinik
Patterns

The latest Mirabilia design Botanical Garden has proved to be even more popular than usual. It certainly caught us out - we sold out in a day so please accept our apologies if you were disappointed. We've ordered more and hopefully they'll be back in stock next week.


Kits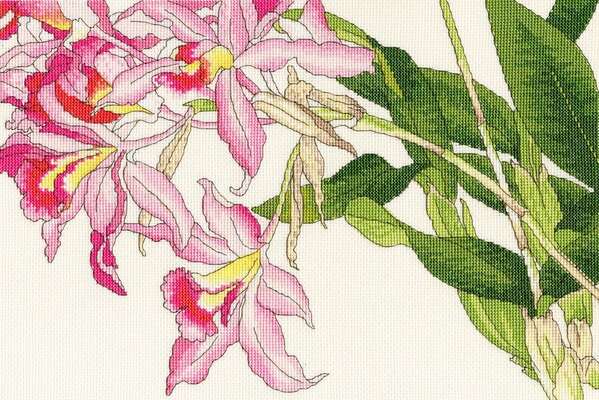 Bothy Threads Christmas collection has been released in plenty of time for you to complete one of their kits. The Japanese-inspired Orchid Blooms is illustrated. There are also some new and unusual designs. Jewelled Leopard and Jewelled Eagle definitely fall into the category 'unusual' (in a good way). There are poster style designs, two vintage and two from the Wild at Heart collection.

Heritage Crafts are getting ahead for Christmas as well with the first three of the Twelve Days of Christmas by Karen Carter.

Also from Heritage Crafts, The Supporter is the latest misfit from Peter Underhill.

We have a pretty new cushion kit by Glorafilia Daisies in the Garden.

Permin of Copenhagen have a new catalogue with more nursery designs, cushions and table covers . There's also a colourful circus sampler. If there's anything you would like, please let us know by clicking the inquire button in the catalogue.

Grafitec canvases are back at our supplier, having been missing for some time. We can also supply the necessary DMC cottons or Anchor wools required.

We've had enquiries about new Merejka, Lanarte and Thea Gouverneur kits which we'll order as soon as they become available from our suppliers.


Kreinik

We're afraid that the Kreinik situation hasn't improved and we are gradually running out of stock, with none of the most popular colours. Anne has produced a conversion chart between Kreinik #4 and Rainbow Gallery Petite Treasure braid. The chart is of course approximate and only covers the most popular the Kreinik shades at the moment. If you're stuck, then this might be a way to make progress.


Europe

The UK now has a different Customs arrangement with the EU so if you live in an EU country you may have noticed that your packages from us have been delayed. We hope this is a temporary situation while Customs officers wrestle with the new system and we expect that things will improve with time.

We plan to ask for some feedback from you soon about how you have found our approach to the problems this new arrangement has brought.


Bargains

The bargain basement has birds in it for the month of September. As usual they're at half the previous low price. We promise to refrain from mentioning bargains flying off the shelves.


And Finally

September is the seventh month of the original Roman calendar (latin septem meaning seven) before they foolishly added January and February. Just think: if they hadn't done that, it would still be summer.

As well as coming from a well-known rhyme, our title this month is in a quote by Julius Henry Groucho Marx (1890-1977), US comedian, actor, writer, stage, film, radio, and television star:

«My favourite poem is the one that starts Thirty days hath September
because it actually tells you something.»

Many places round the world have not had much to cheer about over the past month and our thoughts and best wishes go out to those affected. We hope you are untouched by any of the nonsense and you're able to find some time to set a spell, take yer shoes off, relax and stitch contentedly.

Until next month and with apologies to the Beverley Hillbillies, y'all come back now, hear.
by Arts and Designs on Fri, 03 Sep 2021, 19:02