September days are here
Welcome to our September newsletter ...

This one's going out on Sunday 2nd September as we didn't have time to prepare it for the usual Saturday release. We're very sorry if you were disappointed yesterday!

In this month's issue ...
Problems accessing the website?

New kits from Magic Needle and Bothy Threads

Nora Corbett's Latest Design

Permin's not-so-secret Stitch Along

The DMC Floss card

Teddies and Toys in the Bargain Basement
Problems Accessing the Arts and Designs website?

We moved to a larger web server early in August and some people reported problems seeing the new server. After a lot of head-scratching we worked out what the problem was and we have a fix if you still can't access artsanddesigns.com. The fix is to click this link and ignore your web browser's security warnings (which are wrong in this case as it's just our new website). Click 'proceed' or 'advanced' and proceed to the website to clear the problem. You should only need to do this once to clear the problem for good. Please let us know if this doesn't work for you!

Kits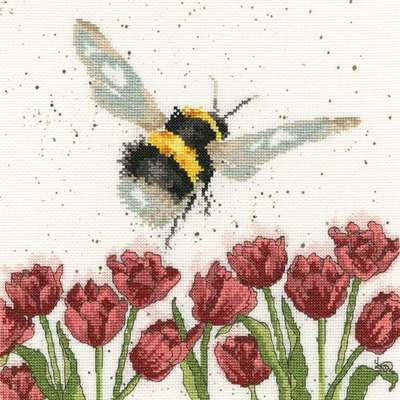 In stock we have a new range of cross-stitch kits from a Russian company - Magic Needle. Only a few to begin with - but we'll put their catalogue online so you can see see the full range.

The designs are great quality covering everything from fantasy to traditional and are printed in colour on large easy-to-read sheets. Floss is pre-sorted on card and fabric and needle (ordinary, not magic) are of course also included.

Bothy Threads have released their Autumn 2018 Collection. These are

Two more magical designs from Lavinia Stamp worked against a backdrop of a full moon

Two contrasting dance inspired designs by Beryl Cook

Two more colourful cat designs by Rosina Wachtmeister on 14 count white Aida measuring 28 by 19 cm. Both use metallic threads and beads are used for the raindrops

Four more cross stitch designs from the Wrendale Collection by Hannah Dale. As usual they are worked on specially printed 14 count speckled Aida;

The first kit from Michelle Grace's art work of a retro take on Little Red Riding Hood

From another new artist for Bothy Threads, Paul Liggins bases his comical artwork on scenes from the Dorset countryside

A new Love Country design by Sarah Reilly shows a hare, fox, badger and robin snuggling up ready for the cold weather ahead

Two cute designs by Nicola Mason - Decorating The Tree uses some sparkle thread while Robin Wreath uses Lana and tiny black beads

Two Christmas Slightly Dotty designs to add to this series. Slightly Dotty Xmas Puds is embellished with beads, sequins and ribbon whereas Slightly Dotty Snowmen isn't embellished

Three cute Christmas card designs by Karen Tye Bentley are worked on misty blue Zweigart Aida and use silver metallic and Lana

Tapestry Kits from The Wrendale Collection by Hannah Dale. Each one is worked in Anchor Tapestry Wools on a full colour printed 10 count interlock Zweigart canvas. They measure 36 by 36 cm. (The cushion pad and backing are not included in the kit.)
We have chosen a few of the kits from the collection to begin with and you can see the whole collection in the online catalogue.


Stitch-Along-a-Permin

Permin have decided to have their own Secret Stitch Along. It's not completely a secret as we know it starts with an elf (which is a clue).

The secret stitch along comes in six parts and the first has the material and all the threads with only the pattern for the first section. The next five parts are printed at two weekly intervals finishing in plenty of time for Christmas (oh dear, what a giveaway).

To save you postage costs - and to help the environment, we have decided to offer it for sale when we have the complete set. Which we admit does rather spoil the fun.


Mirabilia

The latest Mirabilia design is March Aquamarine Fairy in teal and lemon with lots of beads. Although we have already sold out, we should have more back in stock soon.


DMC Floss Card

If you've ever tried to find out the number of a piece of DMC floss, then you'll know it can be really difficult.

We now have the latest floss card from DMC which has real samples of all the stranded cottons including the new shades, Color Variations, Light Effects, Pearl Cotton and Metallic Pearl.

This is an invaluable aid to choosing and identifying colours and will be useful to you for years to come.


Bargain Basement

There are Teddies and Toys in the Bargain Basement for the month of September. They're already selling fast so don't delay!


And Finally ...

Our inspiration this month is the poem September by Hilaire Belloc (1870-1953)

...
By all these lovely tokens,
September days are here,
With summer's best of weather,
And autumn's best of cheer.
...

Amongst the «lovely tokens» are ripening corn and apple trees laden with fruit. Of course if you're in Australia or New Zealand, such things are half a year distant - but we're sure you remember!

Wherever you are and whetever you're doing - Have a golden September!
by Arts and Designs on Sat, 01 Sep 2018, 16:24