Paint the Meadows with Delight
A warm welcome to our April 2017 issue ...

There's lots of news and new designs from lots of suppliers and lots more to come ...

Kits by Vervaco, Riolis, Deco-Line and Imaginating

Patterns by Blackbird Designs

Kits

Vervaco's first 2017 collection has arrived and so far we have chosen wedding and birth records in sepia, a baby boot birth records and a little girl with baby in sepia. There's also a lovely flower picture in pastels of fuchsias and a flowery counted cross stitch table cover. We've also chosen a design of the Madonna and child and a rooster and chicken on black fabric.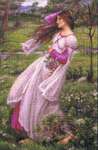 There are two new kits in Riolis Premium Collection Tender Gaze is a mother and child and Windflowers (illustrated) is from a 1903 painting by the Classical/Pre-Raphaelite painter J W Waterhouse. In their Premium Collection Riolis have produced a very high quality series of kits with attractive subjects and elegant packaging. They look spectacular when completed.

Vervaco have renewed their licence with Disney and there are many designs in the pipeline including those from the very popular 'Frozen' and 'Cars'. Those should be available from next week.

Deco-Line have two new embroidery table cover designs for Spring. Both come in either a table centre or runner and one is worked in surface cross stitch only while the other has a variety of stitches.

We have just released new kits by Imaginating including lots of the very popular 'Let's' series by Ursula Michael.


Patterns

Blackbird Designs have released the first of 2017's Loose Feathers. This year it's all about birds. It's Spring Fever is the first of nine in the series which will be released through the year and all worked in Weeks Dye Works floss in a similar colourway. There also three new larger samplers this Spring one the first Christmas pattern of the year.

Following the Nashville Needlework Market in early March we have many new design leaflet by lots of designers which will appear on our web site during the next few weeks.


Supplies

We now offer even more choices in plastic canvas. There's a larger sheet of 7 count clear which would be useful for larger projects. Also a new three inch circle with raised centre (or recessed if you turn it over!). Raised could be a flower centre and recessed makes an ideal wheel. And the other innovation is sheets of metallic style plastic canvas in a choice of gold, silver or copper. Add a measure of your own imagination and you can make something quite unique.


Special Offers

For the month of April we are offering some half price 'ladies in blue' in our Bargain Basement.


News

We saw lots of lovely new kits on our recent trip to the H & H trade show in Cologne. There were some exciting new designers from Denmark, France and Eastern Europe and we will have lots more to show you next month.


And Finally ...

Our title comes from Shakespeare's poem Spring - which is much less about Spring itself than what people get up to in Spring. If you like a cappella music then you will love John Rutter's arrangement of the poem as part of his Birthday Madrigals. There are lots of versions on YouTube.

Don't forget to make some time to relax and enjoy your Spring stitching!
by Arts and Designs on Fri, 07 Apr 2017, 14:30