Summer in the Light
Hello and a windy welcome to March's newsletter!
In this month's issue ...
Lots of new kits by Lanarte, Vervaco, Julie Lynes, Haandarbejdets Fremme, Bothy Threads and Heritage Crafts

VDV bead embroidery kits

New patterns from Mirabilia, AuryTM, Stoney Creek, Cross Eyed Cricket and others

Floss Storage

Hardanger Bargains
Kits

We have the new season Lanarte kits and some of the colourful new Vervaco kits in stock. Some of the Lanarte kits are re-releases of old favourites and others are new designs.

The Lanarte release features some old favourites from Marjolein Bastin and some traditional romantic designs.

The Vervaco catalogue has a horticultural flavour with bright and cheerful garden images to cheer up dull days.

Julie Lynes has designed more bottle aprons not necessarily for wine bottles this time with an Alice in Wonderland theme. A talking point for your next tea party.

It's a busy month for new kits. We have three new designs from the Danish art company Haandarbejdets Fremme a flower cushion and a bunny cushion with a colourful Easter egg table runner. All are stitched with Danish Flower Thread on 100% linen fabric.

The new Bothy collection has arrived with five more Wrendale designs, two more Beryl Cook cartoons, new Margaret Sherry, flowers and sampler.

Betty and Norman are a sweet elderly couple produced by Heritage Crafts from the artwork of Peter Underhill. The kits are all in whole cross stitch with backstitch detail.

Anne has stitched Winter Warmth by Panna and you can see her review of this pretty design from the long-established Russian maker.


Bead Embroidery

We now have some VDV bead embroidery kits in stock. They come with colour printed background and you just add the beads. One big attraction with bead embroidery is that you never have to change thread!


Patterns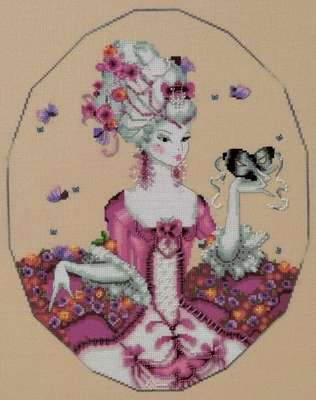 The Duchess of Rouen by Mirabilia, companion picture to The Baker's Wife has arrived. She displays all the elegance of the French court in her gown and jewels.

Mirabilia seem to have discontinued the delightful Crystal Christmas and Queen of Freedom, so we will be unable to replace those. They may still be available elsewhere.

We have some new patterns from AuryTM, Stoney Creek, Cross Eyed Cricket and others.

In early March, there is a Needlework show in Nashville, TN, USA. With four floors of exhibitors there will be lots of new designs on show and hopefully we'll have many of them next month.


Floss Storage

We all have problems storing our threads. Anne keeps hers in plastic ice cream tubs, sorted by number (we eat far too much ice cream). It re-uses plastic containers but the thread still gets tangled and some numbers part company with the cottons. A customer asked us to get Floss-A-Way bags by DMC with grip and seal bags which can be labelled and used to store single colours.

We have also found a system for storing threads short term while stitching a project and we hope to have this in stock next month.


Competition

We hope you had a chance to enter our recent competition on Facebook. If not, then don't worry as we'll be running more in the future! The winner of the Mirabilia pattern lives in the West Midlands, England but there were entries from all over the world. So keep an eye on our Facebook page for the next compo.


Bargains

The Bargain Basement has blackwork this month as usual at half previous low price.


And Finally

This month's title is taken from Great Expectations (a coming-of-age tale in which good does eventually triumph) by Charles Dickens (English writer 1812-1870):
«It was one of those March days when the sun shines hot and the wind blows cold: when it is summer in the light, and winter in the shade. »

If, with the prospect of a pandemic, you do decide to go out a little less this March then it will be a great opportunity to catch up with all those unfinished projects,. Every cloud ...
by Arts and Designs on Fri, 28 Feb 2020, 20:10