Summer has two Beginnings
A Windy Welcome to the October 2018 Newsletter!

Our title is from a poem by American poet Emily Dickinson (1830-1886):

«Summer has two Beginnings
Beginning once in June
Beginning in October
Affectingly again ...»

In this month's Issue ...

Kits from Nimue, Permin, John Clayton, Anne Peden and Luca-S

Patterns from Nora Corbett

October Bargains
Kits

Nimue Fee Main has a new Art Nouveau lady design inspired by Brittany and the traditional Breton costume. Available as a kit in linen and as a chart.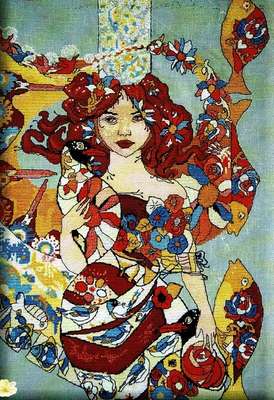 Permin have a new catalogue which includes this year's new releases. We have some Christmas designs including advent calendars and hardanger wine bottle aprons.

We now have in stock the first part of Permin's Secret Stitch Along advent calendar. This comes with all the materials fabric, threads and red plastic rings. The first chart of the design is included and the rest will be downloadable at two weekly intervals.

There are two new Elegance ladies from John Clayton and Heritage Crafts this month. Martina wears a powder pink evening dress. Holly in her burgundy evening dress stands by a white Christmas tree both sparking with gold metallic floss. These kits are available in 27 count evenweave and 14 count Aida.

Anne's latest design in her Blackwork Garden Birds series is a pair of goldcrests in a yew tree. This one comes as a downloadable or paper pattern or as a kit on 28 count cream Jobelan.

We have some lovely new designs from Luca-S. There are two realistic Santa pictures (if that makes any sense!) - that we love - and a cute robin picture for Christmas - and a set of three cartoon birth samplers for other happy events.

Bothy Threads have released a new set of kits of cute soft toy rabbits, from Bebunni. Some are especially dressed for Christmas.

With so many new designs, they have had a clear-out of some older ones, both by Bothy Threads and Derwentwater Designs, so don't delay if you are interested in one of their current kits.



Patterns

Nora Corbett's latest designs are Autumn Flame and Autumn Blaze. These are in the Autumn Pixies series and are in vibrant Autumnal colours.


October Bargains

This month in the Bargain Basement there are many ladies in different styles - elegant, wild, ethnic, victorian, feisty ... - and as usual at half the previous low price. Offers are only for this month and while stocks last.


And Finally ...

Those of you in the southern hemisphere (who we often overlook in this newsletter!) should actually be experiencing the beginning of Summer - although of course that's not what Emily Dickinson meant!

As for us here in Scotland we have had high winds and lots of trees down - which passes for summer here.

Well, at least we have seasons and each one has something new to offer. So we rejoice in the beauty and magic of each season and enjoy it while we can.

We wish you an enjoyable Autumn/Fall/Summer wherever you may be.








by Arts and Designs on Fri, 28 Sep 2018, 19:36