When the witches go riding
Greetings and welcome to our October edition in which you will find ...
Lots of New Nora Corbett designs, Blackbird Designs reprints and lots more patterns from the Nashville show

Long stitch from Needleart World, Glorafilia, Heritage Crafts and Lanarte

Building Bargains
Patterns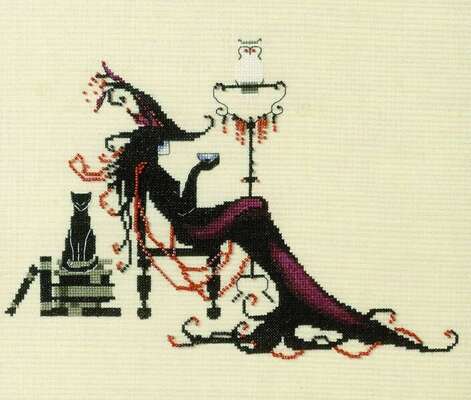 Nora Corbett released lots of new designs this month - Another three Zodiac Girls - Libra, Scorpio and Sagittarius. and she followed those up with two new Bewitching Pixies Witching Hour (illustrated), a very mellow witch and Masqued Mischief striding out with her raven flying behind.

We've had lots of new pattern booklets this month as the new designs from the large Nashville show filter through. Hands across the Sea, Liz Mathews, Carolyn Manning, Lucy Beam, Blue Flower, Scarlett House ...

Some of the older and popular Blackbird Designs booklets have been reprinted. They sold out very quickly and we have already re-ordered. We don't think they're going out of production any time soon.


Kits

The very popular large long stitch kit Tulips by Anchor has unfortunately been discontinued. We've found two new long stitch kits by Needleart World. They are small, complete with hoop and suitable for beginners. We'll keep looking for larger designs.

Blue Flowers Girl is a lovely new design by Lanarte. The chart has a novel coding system using different background colours with black and white symbols if you like trying out new ideas.

There are three new tapestry cushions from Glorafilia. Two Bargello designs in blues and lilacs and a majestic Crane.

The designers at Heritage Crafts have been busy. We have two new Golden Years designs by Peter Underhill, William`s Present by John Clayton and Christmas Jumpers by Karen Carter.


Kreinik ... the Saga Continues

We are still unable to obtain anything much from Kreinik who seem to have had enormous production problems over the last 18 months. We have heard that they're only producing half their normal range but we haven't got anywhere near half of what we've ordered so it remains a mystery. If you happen to know a spell for making #4 braid now would be a good time to use it.


Bargain Basement

There are buildings of various kinds in the bargain basement in October. If only real estate was so cheap.


And Finally

Our next newsletter comes out just before Halloween so we thought we'd get in early as you'll probably be all Halloween'ed out by then.

This month's title is from an anonymous poem which you may have encountered as a child

«When the witches go riding
and black cats are seen
the moon laughs and whispers
'tis near Halloween»

In our neck of the woods the Barnacle Geese are just showing up having flown from Svalbard to overwinter in the estuary a few miles from here. Hopefully they won't collide with any low-flying witches.

Until next month, we hope you enjoy your stitching and those fleeting golden October moments.







by Arts and Designs on Fri, 01 Oct 2021, 19:18