I heard the bells on Christmas Day
A warm, festive welcome to our December newsletter!

We've had a lot of crisp, frosty mornings here recently - just the thing to remind us that Christmas is nearly here again.


In this month's issue ...


New kits from Heritage Crafts, Bothy Threads, Thea Gouverneur, Permin and Riolis

More stranded cottons from DMC

What's in the cupboard?
What's New in Kits?

Another lovely lady from John Clayton's Elegance Collection Isla is in a deep blue layered evening dress set against a rococo fireplace.

Heritage Crafts have another new line in designs - the first of a series based on the photography of Villager Jim. After the Walk features his black labrador Dilly asleep by the fire after her walk in the Derbyshire countryside.

Bothy Threads Winter Collection has eight more designs by Hannah Dale of Wrendale Designs flamingos, parrot, panda, orangutans, peacock, kingfisher, pheasant and elephants. There are also two new samplers by Moira Blackburn, a Noah's Ark birth sampler and a Winter and Spring Celebration.

Thea Gouverneur's latest kit is a superb design based on a Dutch master of a vase of realistic flowers. The large embroidery measures 49 cm (W) X 72 cm (H) (19 X 28 in) and is available on 36 count linen and on antique white and black 18 count Aida. It's on a special introductory offer while stocks last at 15% lower than the final price.

Permin's Winter Collection also includes a new version of the historical sampler Blue Sampler 1852. This one uses pale grey floss on a dark grey background.

Even more from Permin are new hardanger table runners and mushroom wine bottle aprons.

Christmas Town is a colourful new kit from Riolis, a snowy scene on 14 count Aida using woollen and acrylic floss. That's the pop-up design used for our website Christmas greeting this year. Of course the falling snow is done by software - animated cross-stitch would be a break-through!


What's in the Cupboard?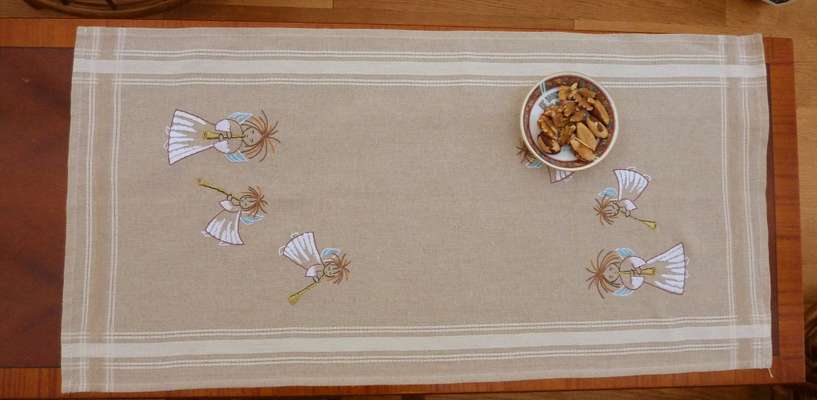 As the years go by and we collect more and more stock, we occasionally come across something we've completely forgotten about. This month's item from the back of the cupboard is Christmas Angels with Trumpets table runner, a sweet little design for free embroidery. Anne took one out and embroidered it for a Christmas present and you can see the result.


Patterns

The fifth of the Loose Feathers series by Blackbird Designs is just in. Sing a Song of Seasons has flowers, birds and a ginger cat.


DMC Stranded Cottons

DMC have produced 35 new stranded cotton shades so there are now 500 DMC colours to choose from. This brand new colour palette adds to the timeless range, with a vast choice of greys and browns which bring an urban touch inspired by the 'loft' spirit; some pastel colours inspired by the vegetable and mineral world; and finally some fuschias and deep purples for a touch of elegance.

We may have to wait a while for new patterns using these!


Bargains

There are samplers in our Bargain Basement at half price for the month of December. These samplers are a mixture of traditional and modern and you might well find one you like!

As always these bargains are half the previous discounted price.


And Finally ...

Our title is from the poem Christmas Bells written by American poet H W Longfellow in 1863:

"I heard the bells on Christmas Day
Their old, familiar carols play,
And wild and sweet
The words repeat
Of peace on earth, good-will to men!"

We can but hope.

Having run out of words, we leave the last one to another American, Ben Franklin:

"How many observe Christ's birthday! How few, His precepts!"

Our warmest wishes to you and yours this Christmas.

by Arts and Designs on Fri, 01 Dec 2017, 20:22