Reasons to be Cheerful
A stir-crazy welcome to May's Newsletter.

This month sees us in continued lockdown. We have been extremely busy and we must say a big 'thank you' to all our lovely customers who have been so patient in the face of postal delays.

Some companies have shut up shop for the time being which means that we cannot get new stocks of their kits or charts. Major UK makers Bothy Threads, Derwentwater Designs and Heritage Crafts remain closed and it's possible that the situation won't change for months. We have had a lot of enquiries especially for Bothy kits. Other companies are soldiering on and we salute them!


Patterns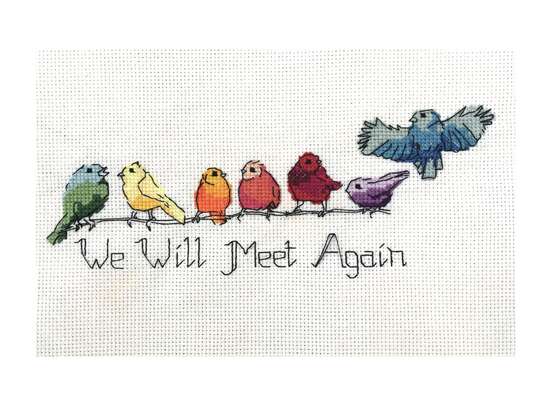 The latest Mirabilia Designs Princess Elliana has a sumptuous dress which uses all the new DMC shades from 01 to 35 as well as lots of beads challenging! The early copies of this sold out very quickly and new stock is on order we hope to have it in soon.

To keep you occupied(!), Julie has designed a free chart called Rainbow Birds (Illustrated). You can download it by clicking here.


Fabric Colours

Permin have introduced several new fabric colours Icelandic Blue, Icelandic Beige, Icelandic Grey and Amazing Grey (which, amazingly, is not that grey). We have fat quarters in 32 count linen and 14 count Aida and they're also available in 16 count Aida and 28 count linen.


Kits

With rainbows in every window, Anne has designed a rainbow mobile of ribbon on plastic canvas. It comes with everything you need including hanging ring and crystals.

Grafitec needlepoint canvases have been popular but it has become increasingly difficult to obtain replacements. Our supplier has therefore decided against stocking them. The canvases and kits in stock won't be replaced. We now have some more Royal Paris canvases and will increase our stock of those.

Lanarte postponed the launch of their latest range after releasing only a few kits. Hopefully the new collection will become available in another month.


Review

Anne has stitched and reviewed Poppy Biscornu by The Tiny Modernist and you can see what she thought here.


Bargains in May

Romance is in the air in the Bargain Basement for May with kits as usual at half original price.


And Finally

Fortunately for us we have had good weather here in Scotland for the last month which has helped to lift our spirits and has inspired this month's theme.

Our title is from the late Ian Dury and the Blockheads single which was a top 10 hit in the UK in 1979. It was written after a near fatal accident on a tour and is a shopping list of uplifting thoughts from the quirky Mr. Dury his own Raindrops on Roses moment:-

«Some of Buddy Holly, the working folly
Good Golly Miss Molly and boats
Hammersmith Palais, the Bolshoi Ballet
Jump back in the alley, add nanny goats»

Why not make your own shopping list of happy thoughts? There is so much in the world to be positive about so ignore those headlines (which are probably wrong anyway) and enjoy your stitching!
by Arts and Designs on Fri, 01 May 2020, 19:05