By Which You May Know
Hello again and welcome, dear reader, to February's newsletter.

Supply shortages and problems with international trade (see later) have slowed everything down so the pickings are quite slim this month!

We do have some new kits from old favourites Permin and Glorafilia and new patterns form the ever-popular Mirabilia and Bella Filipina so please read on.


Kits

The first new collection of the year is from Danish stalwarts Permin with flowers, hardanger, embroidery and new basket projects for the nursery.

Glorafilia have re-released three older designs Medieval Rabbit and Medieval Dog and William Morris style cushion. There's also a new wall hanging of the Lady with Unicorn - which is also available as a cross stitch by Thea Gouverneur.

There will be a new Bothy Threads collection in February - with a few surprise items we don't know what that means but it's piqued our interest!


Patterns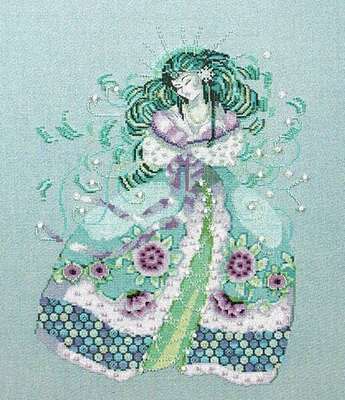 A little late we have the latest design by Mirabilia. The Snow Maiden (illustrated) is based on a Russian fairy tale. The 32 count linen used in the design - Rain Country - has been re-released by Permin and we expect to be available some time this month.

Lakapati, a goddess of fertility is the latest design by Bella Filipina.


Bargains for February

There are delightful kits and patterns in cross stitch and crotchet featuring children in the Bargain Basement for the month of February - and as usual half previous low prices.


Customs Problems

Our shippers have been having delivery problems to some EU countries, especially Ireland, and some items have been returned to us. We have been told that Irish Customs started using a new electronic system in which many items - like foodstuffs - were classified as 'dangerous goods'! Many items sent to Ireland have been sent back and we fear that needlecraft items may also have been thought by these Customs people to have deadly intent ;-)

We have temporarily suspended sales to the EU until the scale of the problem is known and the faulty systems are repaired.

We're sorry for any disappointment and we hope that things return to normal in every way soon.


And finally

Our theme this month is danger and our title is from The Hunting of the Snark, Fit the Second, a nonsense poem in eight 'fits' by Lewis Carol, English writer, 1832-1898
«...
We have sailed many weeks, we have sailed many days,
(Seven days to the week I allow),
But a Snark, on the which we might lovingly gaze,
We have never beheld till now!

Come, listen, my men, while I tell you again
The five unmistakable marks
By which you may know, wheresoever you go,
The warranted genuine Snarks.
...»

This entertaining poem is certainly worth reading in full and has much more of a resonance with our times than you might expect!

We hope you continue to enjoy your stitching (and poetry reading) and we continue to hope that we are all able to return to a free, sane and stable world soon.
by Arts and Designs on Fri, 04 Feb 2022, 19:25