the Hope of what will be
Hello and welcome to our March 2021 newsletter.
In this month's issue ...
new kits from Needleart World, Bothy Threads and Glorafilia

new patterns from Bella Filipina and Nora Corbett

more silks from Caron Waterlilies and Dinky Dyes

A few words on shortages
Kits

We have some new kits from Needleart World in a variety of styles and themes. The kits which come with accurately stamped and washable Aida are now in cardboard instead of plastic so are a little more friendly to our environment.

Bothy Threads Spring 2021 collection has been released and we have chosen a few. If there's anything in their catalogue which interests you, please inquire.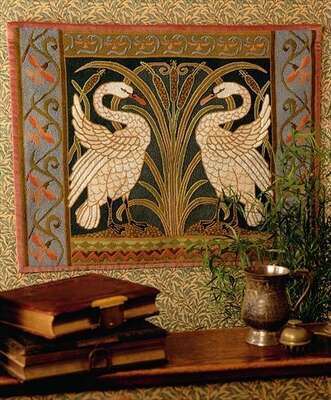 Glorafilia have two new designs - Virginia, a colourful cushion front and the large Swans Wall Hanging which is a re-release of a kit which has been unavailable for some years.


Patterns

Two new designs by Bella Filipina made it over here from the Philippines in record time well done to the couriers! The mermaids, Daughters of the Estuary have already been very popular but for the reasons below, we have to wait a little longer to have all the beads, treasures and Kreinik.

The latest Nora Corbett designs are very cute Winter Bear and Winter Hare from the Holiday in the Forest series are ideal designs for Christmas display.


Silks

The Caron Collection has new shades of Waterlilies. We have almost all the shades from 315 to 340 now.

We are also collecting more Dinky Dyes silks. This month we've introduced floss packs for Glendon Place A-Maze-ing Desserts Collection. The lovely colours had Anne reaching for her recipe books.


Materials Shortages ...

We'd like to explain why we are unable to get some kits and supplies at the moment. Deliveries of our stock from our international - and some British suppliers have suffered as a result of Covid restrictions and Brexit impact.

Most of our patterns/charts are arriving normally without delay. However, there are serious hold-ups on deliveries of Mill Hill beads, Kreinik metallic floss, Caron Waterlilies and Nora Corbett patterns. Weeks Dye Works and Classic Colorworks floss have been harder to come by since the start of lockdowns.

Kreinik production is limited due to restrictions and some colours are temporarily not being produced. If you look at their web site under metallic floss and the weight you would like, you can see what's currently available. At the moment they are listing 85 of Kreinik #4 out of a possible 170 and only 30 colours of #8.

Since the start of this year with new import rules some DMC stranded cottons have not always been available. Of course such problems affect UK needlecraft makers as well and Bothy Threads with a large catalogue haven't had many items - especially tapestry kits - available for some time.

We can only hope that things will get better and thank you for your continuing patience.

Even though we have a new trade deal with Europe, some of our European customers are finding that they have to pay additional taxes to receive their orders. This of course works both ways and there are extra charges for us when importing into the UK. All British companies are in the same boat and it will ultimately lead to price increases.


March Bargains

There's Hardanger in the Bargain Basement for March.


And Finally

Our title is taken from Stanza 18 of the epic poem Ode to Liberty by the English Romantic Poet Percy Bysshe Shelley (1792-1822)

«Come thou, but lead out of the inmost cave
Of man's deep spirit, as the morning-star
Beckons the Sun from the Eoan wave,
Wisdom. I hear the pennons of her car
Self-moving, like cloud charioted by flame;
Comes she not, and come ye not,
Rulers of eternal thought,
To judge, with solemn truth, life's ill-apportioned lot?
Blind Love, and equal Justice, and the Fame
Of what has been, the Hope of what will be?
O Liberty! if such could be thy name
Wert thou disjoined from these, or they from thee:
If thine or theirs were treasures to be bought
By blood or tears, have not the wise and free
Wept tears, and blood like tears?The solemn harmony»

So let's hope we can soon get ourselves out of our 'innermost caves' and into the light of freedom of thought and deed again. We wish you and yours the best in your journey to the light.
by Arts and Designs on Fri, 26 Feb 2021, 19:19