When May was young; ah, pleasant May!
Hello and a warm welcome to the May '22 newsletter!

In this month's issue there are new kits from Permin, Anchor and Heritage Crafts, and various creatures from Nora Corbett and Cottage Garden Samplings.

We also have some news for our long-neglected EU customers and there's hardanger in the Bargain Basement.


Kits

Permin have released a second collection for 2022 with cushions, hardanger, landscapes and cute ostrich and giraffe. We have chosen two winter scenes, a bee cushion and the ostrich so far. Let us know if you are interested in any of the new kits.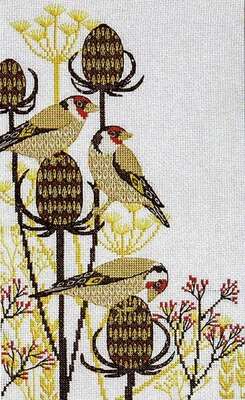 Anchor have a new collection the Birds by Ashley Hutchinson. The designs are elegant and stylish and there are three so far: Nuthatch, Goldfinches (illustrated) and Blue Tits. All of them have a lot of backstitch detail superimposed on the cross stitch.

Heritage Crafts have new designs and we have chosen Hedgehogs in Spring by Nigel Artingstall and the Pessimist by the wonderful Peter Underhill. Their other new designs for 2022 can be seen in their online catalogue.


Patterns

Nora Corbett's June Bug and Luna Moth have alighted.

The latest design in the Year in the Woods series, the Ferret by Cottage Garden has also arrived.


Bargains

There's hardanger in the Bargain Basement this month and as usual it's at half the previous low price. Hardanger is hard so why not try it out while it's at a bargain price!


European Union

We have had a lot of trouble recently with deliveries to the EU and so we decided to suspend them a while ago. The postal services were quick to introduce hefty 'handling charges' which means you have to pay a substantial fee just to get your item through Customs one word might be 'extortion'. We do plan to reintroduce deliveries but we have to have a new condition: if you refuse an item at Customs because you don't want to pay the handling fee, then we will deduct the postage cost from the original payment before refunding. This applies to all items including those with free postage. We think this is fair but what do you think?


And Finally

This month's title is from May by Christina Rosetti (who we meet often in these pages!) a 19th Century English poet.

«I cannot tell you how it was,
But this I know: it came to pass
Upon a bright and sunny day
When May was young; ah, pleasant May!
As yet the poppies were not born
Between the blades of tender corn;
The last egg had not hatched as yet,
Nor any bird foregone its mate.

I cannot tell you what it was,
But this I know: it did but pass.
It passed away with sunny May,
Like all sweet things it passed away,
And left me old, and cold, and gray.»

May '22. We have decided that as the century is 22 years old, we can now miss out the leading digits of the year! If you were around at the turn of the century, you might remember the apocalyptic predictions of things like the millennium bug and how they turned out to be the dampest of squibs.

We hope that the many other dire predictions of our present times will turn out the same way and we hope your May '22 is warm, sunny and long-lasting.

by Arts and Designs on Fri, 29 Apr 2022, 20:03