The Meadows' Queen
«The empress of the year, the meadows' queen,
Back from the East, with all her goodly train,
Is come, to glorify the world again»
(John Payne, 1842 1916)

We have four lovely new designs by Eva Rosenstand, two of country garden landscapes and two of profuse flowers, garden and wild. The kits are all available in two fabrics 26 count 100% linen evenweave and 14 count Aida.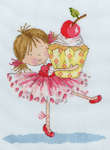 As promised last month we have all the latest Bothy Threads kits a new 'dictionary', this time technology, another Little Jem (see picture), cartoon cats, dogs and teddies ... and a pretty love heart.

Classic Embroidery have two different colour versions of favourite blackwork designs Tallulah in Black is on white fabric and the Blackwork Oriental Dragon has green scales.

Classic's blackwork designs are many and various and a good place to start if you enjoy this delicate art.

Classic have also announced that they will stop producing their Map Collection this summer. We believe the popular Shipping Forecast Map will stay!

Talking of delicate arts, some more of Permin of Copenhagen's hardanger kits have just arrived with lots of new Christmas designs.

And don't forget Rico Design also produce some interesting and less challenging kits in hardanger.

Janlynn have discontinued many of their older kits but of course there are plenty of new ones to take their place. Some of our stock of Janlynn kits have made it to the Bargain Basement to make space for the new ones.

Our most recent designer Mary Gaines has been busy adding more of her downloadable charts and we now offer a large and varied group of these 'instant' patterns.

A customer recently asked us to find larger long stitch kits. We have added a few circular designs by Anchor which although only a little larger are very attractive pictures of the English countryside.

And finally ... we have added galleries of our customers' own work for you to browse, enjoy and comment on (if the gallery owner is willing). If you're an Arts and Designs customer we encourage you to create your own gallery and share pictures of your work.

You can find the galleries here or by clicking the Needlecraft Info -> Customer Galleries tab in the Informtion Menu.

Please visit the galleries, create your own gallery and let us have your comments and suggestions!

And enjoy these meadowy days because it's a whole year before they'll return.
by Arts and Designs on Fri, 31 May 2013, 18:25